Turning memories into a twin size quilt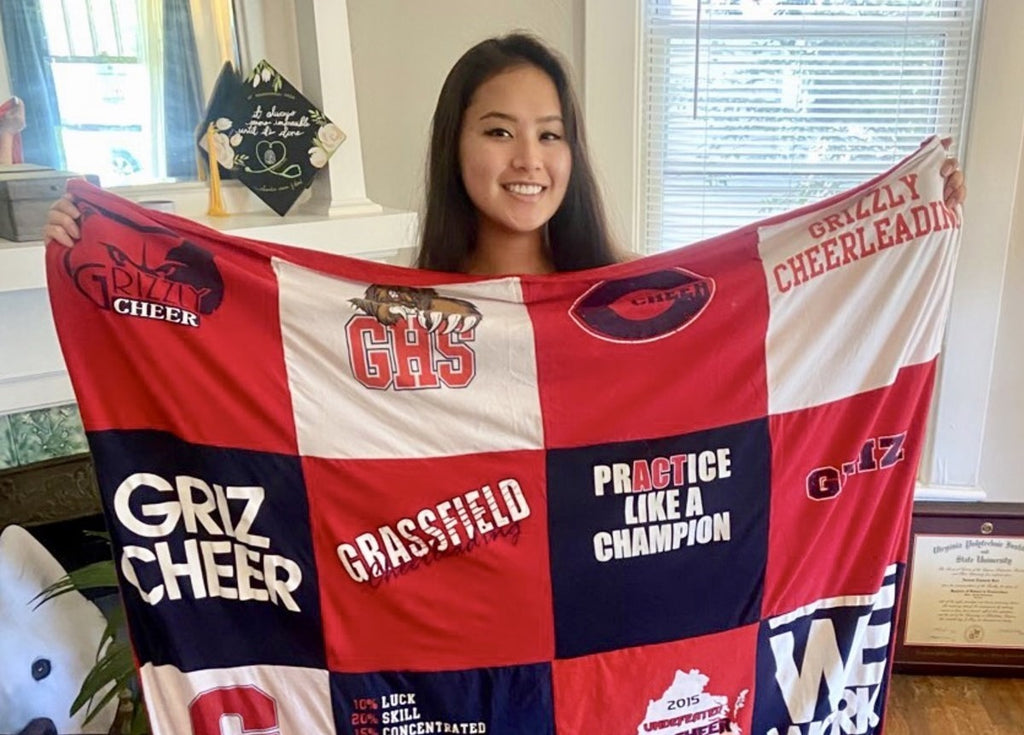 Easily preserve all your t-shirts you no longer use by turning them into a twin size t-shirt quilt. Rather then have those special memories take up important space or collect dust somewhere, why not showcase them in a twin size quilt?
In this blog post you'll find the process of turning t-shirts into 14" panel twin size quilt!
Choosing your T-Shirts
Every t-shirt carries a memory. Over the years you collect lots of them, but after time they become worn. Maybe they don't fit anymore, maybe the style has gone out, or maybe you just stopped wearing them. 
Pull together those old t-shirts, whether their from college, high school, family vacations, or concerts, and put them into a twin size quilt!
T-Shirts, Sweatshirts, and many more
Just because you're making a t-shirt quilt, doesn't mean that you're limited to using only t-shirts! Sweatshirts, polos, and jerseys can go into your twin size quilt. 
Button down, shirts with zippers, scrubs, and many other items can also be used! For a full list of our recommended materials, click here.
Picking your quilt options
There are so many different t-shirt quilt options to choose from. There are different sizes, panel sizes, backing options, and even batting and long-arm stitching!
For larger graphics, and about 24 shirts, we recommend our twin size t-shirt quilt with 14" panels (see graphic below). 
Not sure which option works best for you? Check out this blog post where we describe which options might work best for different situations!
Special tip: Designing your own layout
Want your shirts to be put together in a specific way? MemoryStitch can make that happen! Lay your shirts out the way you'd like them put together, snap a photo, and we'll follow that the best we can while also ensuring your t-shirt quilt turns out the best it can be! Read more here.
Showing it off
Don't be afraid to show off your new t-shirt quilt to your friends and family by uploading those quilt pictures to social media! We'd love to see them too, so make sure to tag us @mymemorystitch!
Ready to get started creating your new t-shirt quilt? Get started here!
Like this post? Check out our other content below!
Which T-Shirt Quilt is Best for You?
Top 5 College Student Gifts - Ultimate Guide
How to Make College T-shirt Quilt from Old T-shirts
The Perfect Gift for your Grad - A T-Shirt Blanket
The best 4 ways to clean out your closet
How to Make a T-shirt Quilt in 4 Easy Steps
Sorority T-Shirt Quilt in 5 Easy Steps
Making a T-Shirt Pillow - Fast, Easy, & Fun
New Years Resolution: Upcyling T-Shirts
4 Different Ways to Make a T-Shirt Quilt
3 things you must know before buying a t-shirt quilt
Making custom quilts in 5 easy steps
Make Baby Onesie Quilt in 5 Easy Steps
Five Biggest Mistakes for T-Shirt Quilts
Three steps to fixing your t-shirt quilt
7 Ideas to make your Graduation Quilt Special
5 Easy Steps to making a Baby Keepsake Blanket
Creating Cool Quilts out of T-Shirts
Harley Quilts made out of t-shirts
Sign up to be the first to receive new content!