5 Best Ideas for old T-Shirts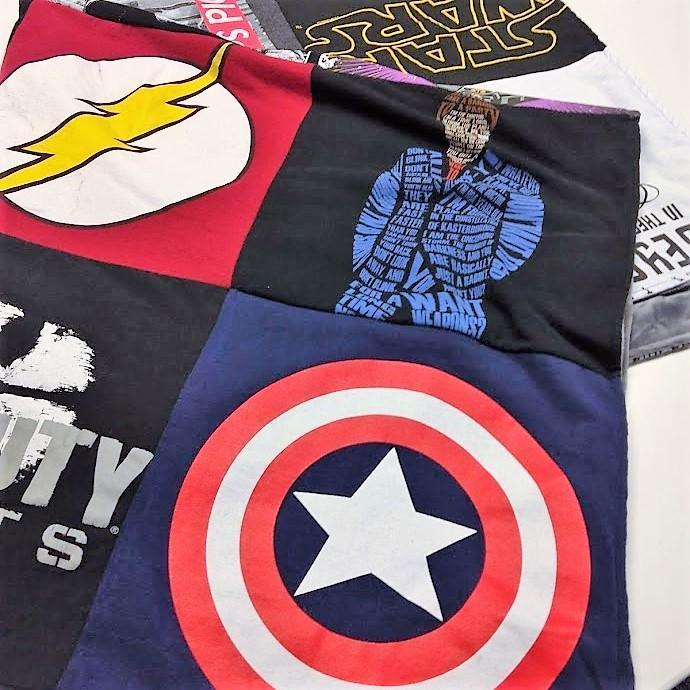 Everyone has old T-shirts lying around: old T-shirts from high school art club, old T-shirts from college intramurals, or old T-shirts that fit you five years ago but just don't cut it anymore.
You're not going to wear them, but you don't want to part with them either. To solve this problem, we've provided 5 easy ideas for recycling old T-shirts. 
Idea #1
Turn your T-shirts into a Rag Rug from EverydayArt.com!  Find similar colored T-shirts or colors that go together, cut them into strips, and turn them into a colorful rug! You'll need a lot of T-shirts, a non-skid rug mat, and a fair amount of time to complete the project.
Idea #2
Turn a T-shirt into a bag! This project requires zero sewing and can be done in a few easy steps from mommypotamus.com! T-shirt bags are great for carrying groceries and are also great for kids! The thicker the shirt, the sturdier the bag, and the cuter the shirt, the cuter the bag!
Idea #3
Turn your T-shirts into a dog toy! This one sounds a little ridiculous, but hear us out. Your dog loves things that smell like you and probably already sits on your favorite jacket or rolls around in your laundry. Instead of tossing two old T-shirts, create a colorful rope toy for your dog from BarkPost.com!
Idea #4
Turn your T-shirt into a throw pillow from diynetwork.com! This project is a simple sewing project that anyone with a little sewing knowledge could do. Find yourself a pillow insert or something to stuff the pillow with, cut your shirt(s) to the right size, and that's left is to sew!
Idea #5
Turn your T-shirts into a T-shirt quilt! While it's a bigger project than the rest of our ideas, you can still do it in four easy steps. It's a great way to keep all of your favorite T-shirts (and memories) together in one place. If the project seems a little too daunting, MemoryStitch would be happy to create your special T-shirt quilt for you!
Like this post? Check out our other content below!
Top 5 College Student Gifts - Ultimate Guide
How to Make College T-shirt Quilt from Old T-shirts
New Years Resolution: Upcyling T-Shirts
How to Make a T-Shirt Quilt in 4 Easy Steps
The Perfect Gift for your Grad - A T-Shirt Blanket
Sorority T-Shirt Quilt in 5 Easy Steps
Making a T-Shirt Pillow - Fast, Easy, & Fun
7 Ideas to make your Graduation Quilt Special
5 Easy Steps to making a Baby Keepsake Blanket
4 Different Ways to Make a T-Shirt Quilt
Make Baby Onesie Quilt in 5 Easy Steps
Five Biggest Mistakes for T-Shirt Quilts
Three steps to fixing your t-shirt quilt
3 things you must know before buying a t-shirt quilt
Making custom quilts in 5 easy steps
The best 4 ways to clean out your closet
Sign up to be the first to receive new content!