5 Biggest Mistakes for Customized Quilts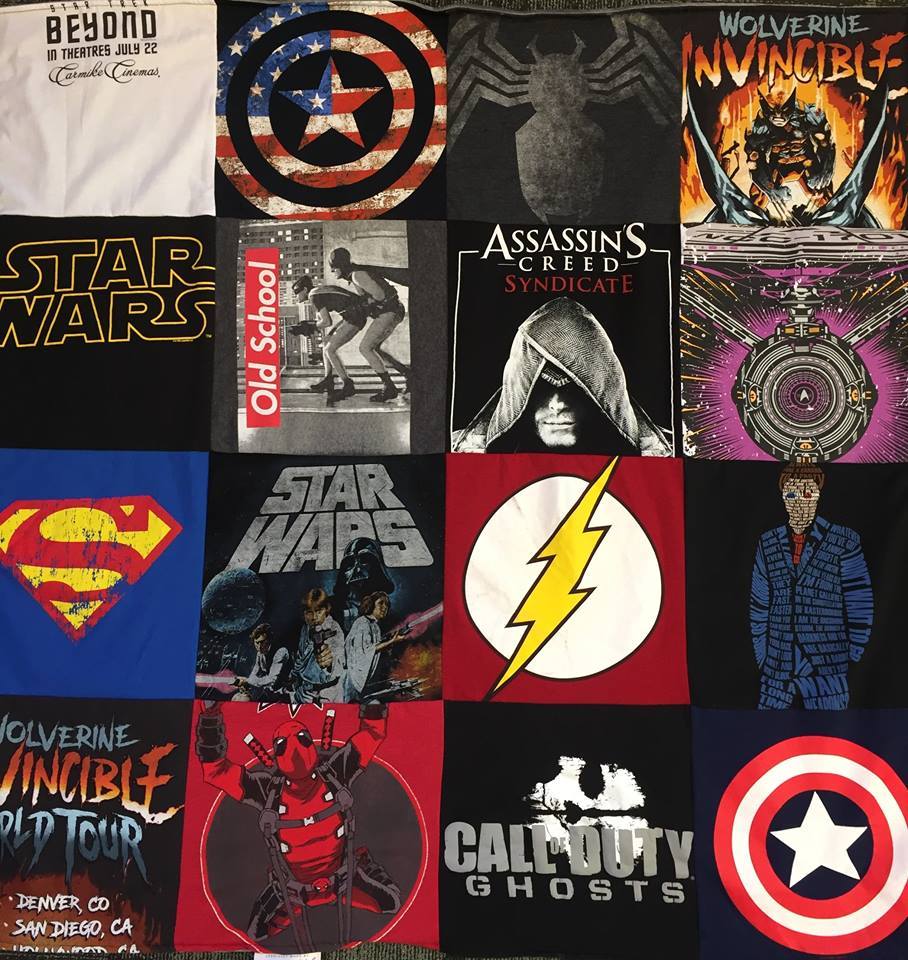 Do you want to give your soon-to-be high school graduate a gift that epitomizes their unique coming-of-age story? How can you represent your child's various interests in a tactile, functional form? It's time to get crafty! Customized quilts made out of t-shirts are now trending! This thoughtful quilt project can become a proverbial time capsule that evokes precious memories of years past -- if done correctly.
Avoiding Customized Quilt Pitfalls
You've got a stockpile of memorable T-shirts, an idea, and a drive to stitch (or to hire someone to stitch) the perfect gift. What's next? Customized quilts made out of t-shirts should be made to last; longevity is a key component in this project. It's time to find out what "not to do," so you "can do" the best for your graduate. Below are five of the biggest mistakes to avoid when making T-shirt quilts:
1. The Fabric Faux Pas
Customized quilts are made to celebrate decades of moments. Many first-time customized quilt makers opt for cheaper materials. If possible, strive to use quality fabric, not a fabric that detracts from your quilt's overall look and message. Long-lasting, durable quilt fabric ensures functionality and preservation. Invest in batting that has a high cotton percentage and trust fabrics that have "quilt shop quality." Keep away from fleece or polyester.
2. The Unacceptable Extra 
In some projects unplanned tucks are acceptable, but customized quilts don't benefit from uneven material lengths or miscalculations ruining your crisp seam. Precision is a must. One tuck can ruin the clean lines and smooth finish every customized quilt and your honored graduate deserves. Stay away from any unnecessary extras!
3. The Lost Logos
Has your new graduate gone through a "cropped t-shirt phase?" For this project stay away from over-cropped t-shirts! The overall appeal of a T-shirt quilt depends on the positioning of the graphics or logos your teenager loves! Center each t-shirt graphic carefully. Graphics come in many shapes and sizes, it may benefit you to choose different quilt block sizes to ensure the full picture is displayed and exhibits aesthetically pleasing symmetry.
4. The Block Bumble
Every quilt block placement is important. Many times quilters can accidentally place a T-shirt quilt block upside down. Double-check any quilt work and make sure each block is placed right side up, not sideways and especially not upside down!
5. The Unplanned  Intersection
Where do the seams of each block meet? Like vehicles, blocks shouldn't overhang at intersections. Center all blocks so that each block grouping forms a perfect "t." Quality customized quilts made out of t-shirts are successful when quality material, consistent stitching, consistent measuring, and good planning are all utilized equally.
When you avoid all the customized quilt-making pitfalls, your graduate can rediscover and appreciate their childhood in a whole new way. A high-quality customized quilt is a multi-purpose scrapbook that combines comfort with creativity. It may just be the perfect way to jump-start new cozy memories for your graduate to keep them warm for years to come!
Like this post? Check out our other content below!
Five Pain Free Ways to Make Buying a T-Shirt Quilt Easy
How to Make Pillows in 3 Easy Steps
Sorority T-Shirt Quilt in 5 Easy Steps
7 Ideas to make your Graduation Quilt Special
5 Easy Steps to making a Baby Keepsake Blanket
Making a T-Shirt Pillow - Fast, Easy, & Fun
Best Fabrics and Shirt Types for your t-shirt quilt
Top 5 College Student Gifts - Ultimate Guide
How to Make College Quilts from Old T-shirts
New Years Resolution: Upcyling T-Shirts
The Perfect Gift for your Grad - A T-Shirt Blanket
3 things you must know before buying a t-shirt quilt
Making custom quilts in 5 easy steps
How to Make a T-shirt Quilt in 4 Easy Steps
4 Different Ways to Make a T-Shirt Quilt
Make Baby Onesie Quilt in 5 Easy Steps
Three steps to fixing your t-shirt quilt
The best 4 ways to clean out your closet
Sign up to be the first to receive new content!