Five pain free ways to make buying a t-shirt quilt easy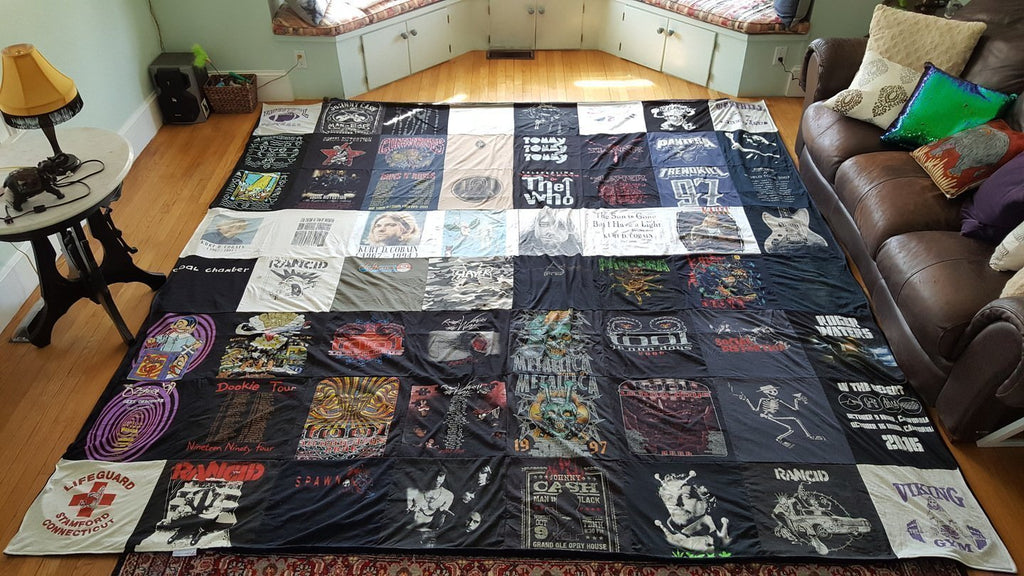 Five pain free ways to make buying a t-shirt quilt easy
Buying a t-shirt quilt shouldn't be hard or frustrating. It should be easy and pain-free. We, at MemoryStitch, have compiled a list of five tips and tricks to ensure that your t-shirt quilt buying experience is smooth, and that the quilt you receive is exactly what you wanted.
1. Take a look at your t-shirts prior to ordering.
How many do you have? What size are the graphics? The answers to these questions will help you determine the quilt size and panel size you select when ordering. Remember! Every t-shirt has two sides, so every t-shirt can count for two panels (if you'd like).
This trick will help reduce confusion when you go to place your order and save you the time and hassle of potentially having to cancel your order if you realize you didn't order the right size.
2. Know which materials work great for t-shirt quilts - and which don't.
Of course the focus here is t-shirts, but there are so many other types of shirts and fabrics you can use in your t-shirt quilts. Like polos, sweatshirts, scrubs, and jerseys! Or fleece, flannel, polyester, or dri-fit materials! You can also use button down shirts and shirts with zippers - which can add a really unique look to your quilt! You can use tank tops and v-necks too, but please note that these materials may require a little extra sewing, which could add to the cost.
Materials like canvas and denim, down and knitted items, and leather and silk are too difficult to work with, and won't create the most snuggly quilt.
3. Understand the difference between a t-shirt quilt and a premium t-shirt quilt with long-arm stitching.
Different companies sell different products, so find one that sells exactly what you're looking for!
T-shirt quilts are an affordable option that are a great way to pull all your memories into one place. They are great for dorm rooms, couch throws, and first apartments. They are easily washable and durable.
Premium t-shirt quilts with long-arm stitching come at a higher price point, but they are more like a traditional quilt. They have batting and long-arm detailing throughout the entire quilt, creating a long-lasting product you can use for years and years to come.
4. Pick a company with a fast turnaround time!
Looking for a t-shirt quilt as a gift, and need it made quickly? Make sure to research turnaround times for all potential companies you could use. Your local sewing shop might be right down the street, but you might end up on a waiting list. Contact the  company prior to ordering to ensure that they can meet your deadline and know any rush production or expedited shipping costs beforehand!
5. Most importantly, find a company that is available by phone if you have questions.
Look for a company that has a customer service line. Give them a call! They'll be happy to help you through the process and answer any questions you might have regarding their services.
Have additional questions or concerns? Give MemoryStitch a call at 855-792-4205 or send an email to info@memorystitch.com.
Like this post? Check out our other content below!
Turning T-Shirts into Custom Quilts
How to Make Pillows in 3 Easy Steps
Best Fabrics and Shirt Types for your t-shirt quilt
Top 5 College Student Gifts - Ultimate Guide
How to Make College Quilts from Old T-shirts
The Perfect Gift for your Grad - A T-Shirt Blanket
3 things you must know before buying a t-shirt quilt
Making custom quilts in 5 easy steps
New Years Resolution: Upcyling T-Shirts
The best 4 ways to clean out your closet
How to Make a T-shirt Quilt in 4 Easy Steps
7 Ideas to make your Graduation Quilt Special
5 Easy Steps to making a Baby Keepsake Blanket
Sorority T-Shirt Quilt in 5 Easy Steps
4 Different Ways to Make a T-Shirt Quilt
Make Baby Onesie Quilt in 5 Easy Steps
Five Biggest Mistakes for T-Shirt Quilts
Three steps to fixing your t-shirt quilt
Sign up to be the first to receive new content!