New Years Resolution: Upcycling T-Shirts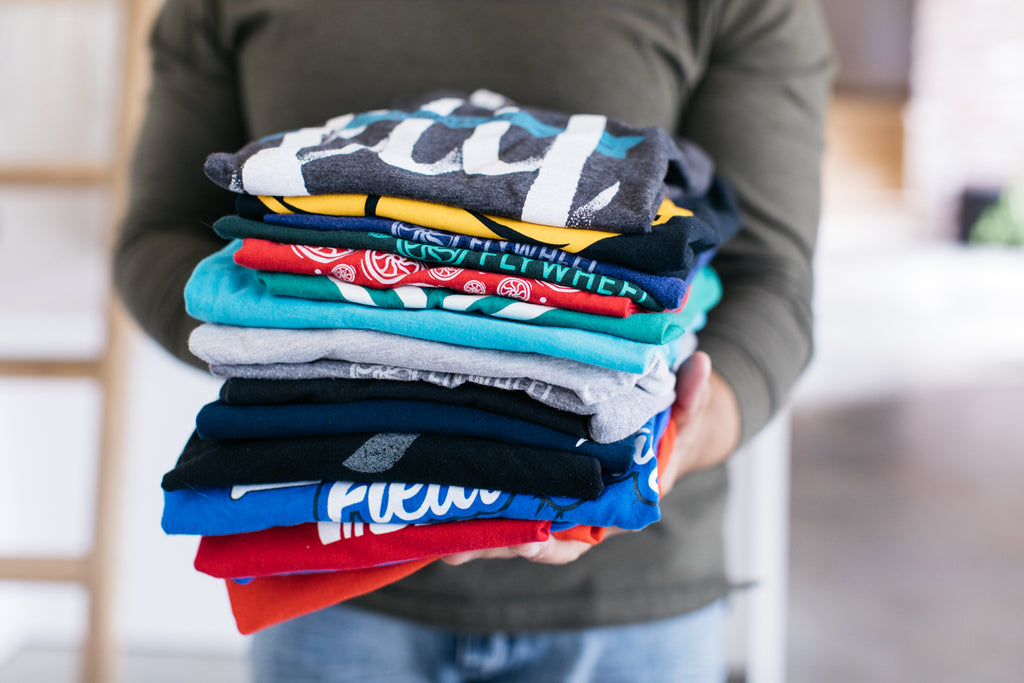 Did you know that the average American throws out about 80 pounds of used clothing a year? Did you know that only 15% of consumer-used clothing is recycled? Source. 2020 is the perfect year to start recycling your used clothing, and maybe even create something new.
Recycle, or "Upcycle," your used clothing this year
Almost 100% of textiles and clothing are recyclable. Source. However, 84% of text waste is still sent to landfills, and synthetic clothing can take up to hundreds of years to decompose. Source. We've compiled a list of ways to recycle your old clothing, or to turn it into something new. 
1. Donate
The first thing that comes to mind when recycling clothing is donating it. Taking a big bag of clothes and textiles to Goodwill is something most of us have done. However, if you'd rather donate to a company or cause that will distribute the needed items to people in need for no cost, definitely check out your local charities or foundations who focus on helping low-income people. Make sure to also check out your local homeless shelters to see if they're taking donations.
2. Resell
If you have items that you've barely worn, or items that are still in great condition, you might consider reselling them to make a bit of your money back. Consider using a local Facebook group to sell items, or there are online resellers such as thredUP for this purpose. Some consignment shops will also buy items from you if you take them in. It doesn't hurt to call around and see which shops near you are currently buying items - and what kind of items they are looking to purchase.
3. Recycle
There are several different resources and organizations that will take your clothing and textiles, even if they're no longer wearable. Every bit of textiles we can keep out of the landfills impacts our environment in a good way. In fact, if we could expand the average life span of clothing by 3 months, it would reduce their waste generation by 5-10%. Source.
Check out this blog for a great list of recycling options. Or find recycling options in your area by putting your zip code into this Recycling Locator. 
4. Upcycle
What better way to preserve some of your favorite items than creating a one-of-a-kind keepsake! Turn your t-shirts or other clothing items into a t-shirt quilt! If you're up to the project yourself, here's a how you can do it in four easy steps. It's a great way to keep all of your favorite T-shirts (and memories) together in one place. If the project seems a little too daunting, MemoryStitch would be happy to create your special T-shirt quilt for you!
Like this post? Check out our other content below!
Top 5 College Student Gifts - Ultimate Guide
3 things you must know before buying a t-shirt quilt
Making custom quilts in 5 easy steps
7 Ideas to make your Graduation Quilt Special
5 Easy Steps to making a Baby Keepsake Blanket
How to Make College T-shirt Quilt from Old T-shirts
How to Make a T-Shirt Quilt in 4 Easy Steps
The Perfect Gift for your Grad - A T-Shirt Blanket
Sorority T-Shirt Quilt in 5 Easy Steps
Making a T-Shirt Pillow - Fast, Easy, & Fun
4 Different Ways to Make a T-Shirt Quilt
Make Baby Onesie Quilt in 5 Easy Steps
Five Biggest Mistakes for T-Shirt Quilts
Three steps to fixing your t-shirt quilt
The best 4 ways to clean out your closet
Sign up to be the first to receive new content!