3 things you must know before buying a t-shirt quilt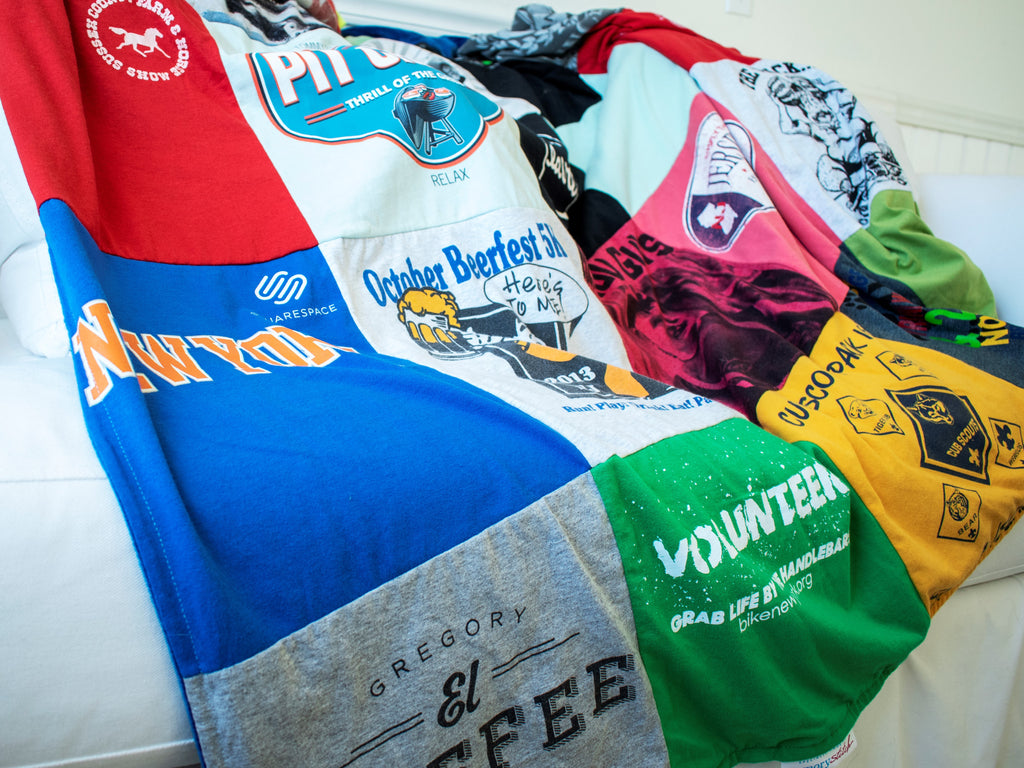 Buying a t-shirt quilt can seem like a daunting process, but it really doesn't have to be. We've compiled a list of three of the most important things you must know before purchasing a t-shirt quilt from an online company.
3 things you must know before buying a t-shirt quilt
1.) The difference between minky and fleece
Most t-shirt quilts you find online are going to be backed with a type of fleece. Do some research before ordering with a company to find out what type they use. Below we've described two of the most common fabrics that you'll find t-shirt quilt companies using.
Fleece fabric is a knit polyester fabric that has texture and print on both sides. It was designed to be a durable and lighter replacement for wool, so it does have that "scratchier" feeling (source). 
Minky, a super soft and plush Cuddle® fabric, is a knit polyester fabric as well, but it is a one-sided fabric, which means the plush texture is on the top side only (source). However, that fur-like feel is going would be the backside of your t-shirt quilt, creating a very soft, luxurious feel. 
You can see the difference in textures below between fleece (left) and minky (right). 
2.) The size of quilt you want, and the size of panel you need
Take a look at your shirts before going to place your order. 
How many do you have? What size are the graphics? The answers to these questions will help you determine the quilt size and panel size you select when ordering. Remember! Every t-shirt has two sides, so every t-shirt can count for two panels (if you'd like).
This trick will help reduce confusion when you go to place your order and save you the time and hassle of potentially having to cancel your order if you realize you didn't order the right size.
3.) How can you talk to the people making your quilt
Check out what kind of support the t-shirt quilt company you're looking at offers. Do they offer email and chat support, so you can discuss any questions you have or specifics about your order? Better yet, do they have a phone number you can call to talk to a representative?
If you're more comfortable talking to someone on the phone prior to placing an order online, make sure to find a company that has that option!
Having a t-shirt quilt made can be a very customized project, so it only makes sense to have a customized customer service experience as well. 
Have additional questions or concerns? Give MemoryStitch a call at 855-792-4205 or send an email to info@memorystitch.com.
Like this post? Check out our other content below!
Turning T-Shirts into Custom Quilts
How to Make Pillows in 3 Easy Steps
Best Fabrics and Shirt Types for your t-shirt quilt
Top 5 College Student Gifts - Ultimate Guide
How to Make College Quilts from Old T-shirts
The Perfect Gift for your Grad - A T-Shirt Blanket
New Years Resolution: Upcyling T-Shirts
The best 4 ways to clean out your closet
How to Make a T-shirt Quilt in 4 Easy Steps
Sorority T-Shirt Quilt in 5 Easy Steps
4 Different Ways to Make a T-Shirt Quilt
Make Baby Onesie Quilt in 5 Easy Steps
Five Biggest Mistakes for T-Shirt Quilts
Three steps to fixing your t-shirt quilt
7 Ideas to make your Graduation Quilt Special
5 Easy Steps to making a Baby Keepsake Blanket
Sign up to be the first to receive new content!