3 steps to fixing your t-shirt quilt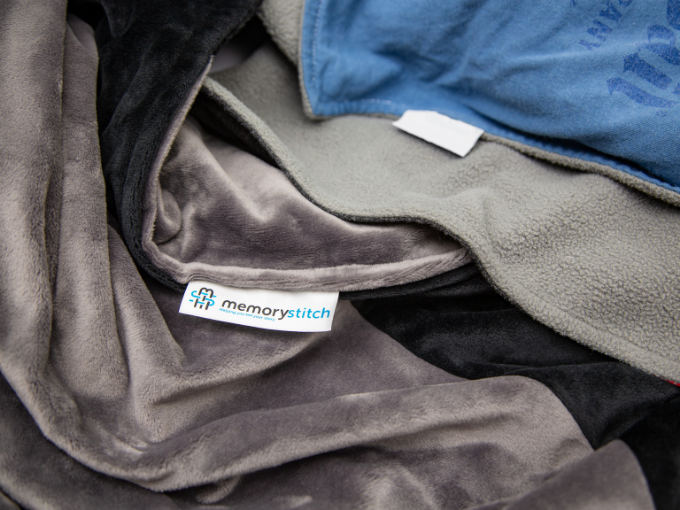 A t-shirt quilt is a keepsake full of important memories. A quilt made of your shirts is a one-of-a-kind item that cannot simply be replaced like a standard throw blanket you might buy at the store. So what can you do if the backing gets stained, the dog chews it up, or maybe the finished product isn't quite the way you expected it to turn out?
We've compiled a list of steps you can take if your quilt needs fixed, updated with new t-shirts, or even just needs a new backing on it.
Did Buster chew the corner of your beloved t-shirt quilt? Did the kids hide their pb&j under their brand new t-shirt blanket, staining the backing? 
Check out these steps you should take to figuring how how to get your t-shirt quilt good as new! 
Step 1: Ask the original quilter
Go back to the person or company who made it. If Buster chewed up a couple of t-shirts, could they take the quilt apart and replace those t-shirts for you? More than likely, whoever made it for you originally will be willing to fix it for you. Price might vary from person to person, company to company, but it doesn't hurt to ask!
If you were happy with the original quilt, and simply want it fixed, going back to the original maker is definitely your best bet!
Step 2: Fix it yourself
Are you a do-it-yourselfer? If there's a small hole that needs patched up, there's a good chance you can do it yourself if you're hoping to save a little money! The internet holds many great how to articles on how to sew certain items, so your approach might change with different fabrics or areas of the blanket, but a good Google search will get you a long way!
If you're interested in making or redoing your own t-shirt quilt, check out our article on different ways to create a t-shirt quilt!
4 Different Ways to Make a T-Shirt Quilt
Step 3: Find a new company
Maybe the company you used originally is no longer in business. Maybe grandma, who made the first one, can't fix this one for you. Maybe you started it yourself before realizing you were in way over your head! Or maybe you just aren't happy with the company you chose originally, and are hoping to receive something a little bit different.
Do you research and find out which companies are available. Do you have any local sewing shops near you? There are also several large online companies that make t-shirt quilts, some of which will probably be happy to fix an old quilt for you!
Make sure you do your research. Contact customer service by email, or phone if they have it available, and talk to a representative about your quilt. Know what kind of backing you're hoping to receive, and let them know exactly what you're hoping to do with the quilt.
Like this post? Check out our other content below!
How to Make College Quilts from Old T-shirts
The Perfect Gift for your Grad - A T-Shirt Blanket
Five Pain Free Ways to Make Buying a T-Shirt Quilt Easy
Sorority T-Shirt Quilt in 5 Easy Steps
Making a T-Shirt Pillow - Fast, Easy, & Fun
4 Different Ways to Make a T-Shirt Quilt
Make Baby Onesie Quilt in 5 Easy Steps
How to Make Pillows in 3 Easy Steps
Best Fabrics and Shirt Types for your t-shirt quilt
Top 5 College Student Gifts - Ultimate Guide
The best 4 ways to clean out your closet
3 things you must know before buying a t-shirt quilt
Making custom quilts in 5 easy steps
7 Ideas to make your Graduation Quilt Special
5 Easy Steps to making a Baby Keepsake Blanket
Sign up to be the first to receive new content!