Harley Quilts made out of t-shirts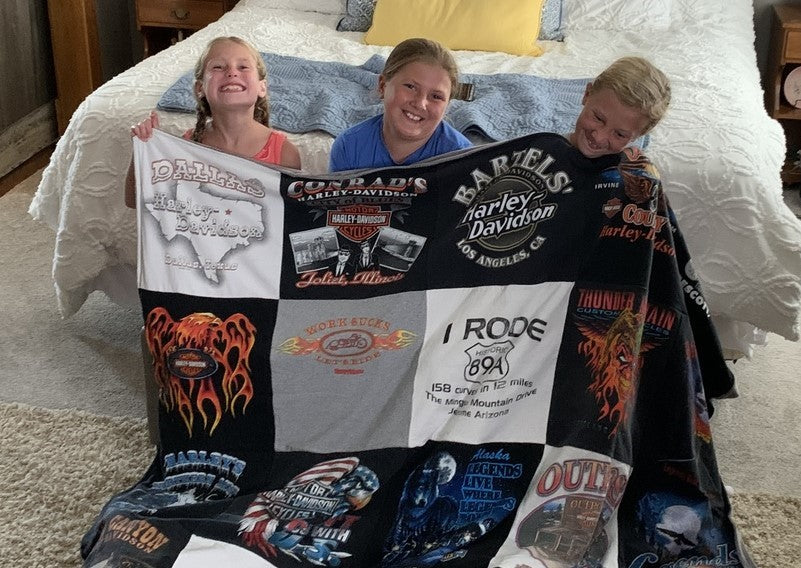 Everyone has old t-shirts lying around, and if you're a big Harley Davidson fan, you've probably got lots of Harley t-shirts layout around. You might not wear them anymore, but you don't want to part with them either. 
Harley Quilts made out of t-shirts
Lots of us collect t-shirts of a certain theme. Maybe it starts by picking up 2 or 3 awesome t-shirts all in the same genre, and before you know it, that's what everyone buys you for your birthday. You might suddenly have 30+ shirts of the same theme after collecting for a few years.
All of those harley t shirts take up a lot of room, and if you're not wearing them anymore, your spouse might start asking you to get rid of them. Every t shirt has a special memory though, making just tossing them out really difficult. Our solution? Make a Harley Davidson t shirt quilt!
We've made countless Harley Davidson t shirt quilts, with t shirts that have spanned over many, many years. T shirts that people have spent most of their adult lives collecting. Maybe it's your turn!
Check out these awesome Harley Quilts made by some awesome MemoryStitch customers!
Kenneth W: "Extremely pleased with this quilt. They did a great job balancing the colors."
Ashley W: "My father just recently passed away, it's been the hardest experience of my life. I have been a daddy's girl since the day I was born and 36 years later, I still am. Nothing will prepare you for this type of loss, for the pain you feel. All you can do is keep moving forward, one day at a time, and do whatever it is that makes you feel just a little bit better. My dad was a T-shirt and jeans guy. He was a carpenter and had his own company building custom homes for 30+ years. The pile of T-shirts I packed to take home with me was incredible. They all have their own place in my heart, filled with memories of events we attended together, of his love of motorcycles and trips.. I wanted to pile them up in a nest and sleep the pain away. But instead, I did the next best thing: I sent my 16 favorites to MemoryStitch to create a quilt. For the amount of money I spent (which was too reasonable to seem true) and the time it took to receive my quilt (which was faster than I thought possible), I couldn't imagine a more perfect way to keep my dad's T-shirts forever. They are perfectly preserved in a beautifully stitched quilt with a soft backing. I thought I would hang it or fold it up and stash it away so it wouldn't be harmed, but instead I cuddle up in it every night and it helps me feel safe, like my dad used to. I can't thank you enough for this gift."
Kamron D: My beautiful wife had this beautiful quilt made out of my old Harley t- shirts. Love it!
Ready to turn your old harley t shirts into a Harley Quilt? Check out MemoryStitch to create a personalized and awesome new keepsake!
Like this post? Check out our other content below!
Top 5 College Student Gifts - Ultimate Guide
How to Make College T-shirt Quilt from Old T-shirts
The Perfect Gift for your Grad - A T-Shirt Blanket
The best 4 ways to clean out your closet
How to Make a T-shirt Quilt in 4 Easy Steps
Sorority T-Shirt Quilt in 5 Easy Steps
Making a T-Shirt Pillow - Fast, Easy, & Fun
New Years Resolution: Upcyling T-Shirts
4 Different Ways to Make a T-Shirt Quilt
3 things you must know before buying a t-shirt quilt
Making custom quilts in 5 easy steps
Make Baby Onesie Quilt in 5 Easy Steps
Five Biggest Mistakes for T-Shirt Quilts
Three steps to fixing your t-shirt quilt
7 Ideas to make your Graduation Quilt Special
5 Easy Steps to making a Baby Keepsake Blanket
Creating Cool Quilts out of T-Shirts
Sign up to be the first to receive new content!