Our top 5 sweatshirt blankets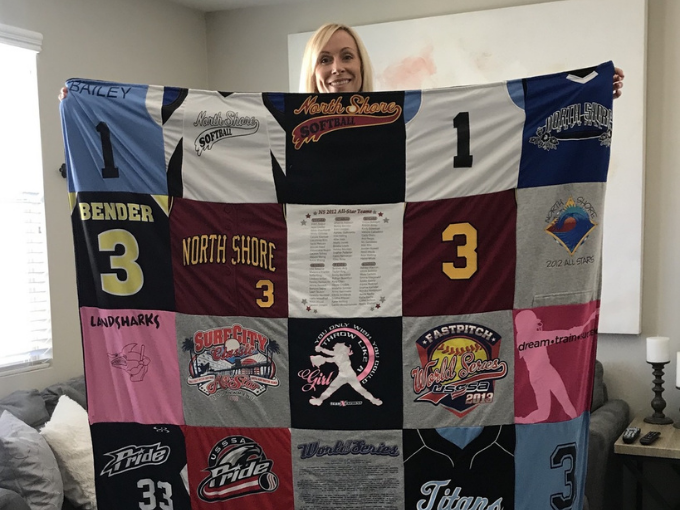 T-shirt quilts can be made out of more than just t-shirts! Other items can carry just as much sentimental value! Often times we have people send in sweatshirts, hoodies, or sweaters to be included in a sweatshirt blanket. Check out a few of our favorite sweatshirt blankets below!
Heidi M: My older daughter played softball for a lot of years growing up. Several teams, lots of tournaments and even a trip to play in Italy! Of course, we collected tons of jerseys, sweatshirts and t-shirts over the years.. but having a big bin of these wonderful keepsakes tucked away in the garage.. what was the point?! So I decided to choose an assortment from the collection that would represent all the teams, some of the best tournaments and trips and sent them off to Memory Stitch. And now, my daughter can reminisce as she wraps herself up in a soft, snuggly blanket of memories. I just love how it turned out! Memory Stitch did a wonderful job! I plan to do this for my younger daughter as well!!
Tanya S: Had 1 done for each of my teens. They turned out great even with all the crazy colored t-shirts, jerseys, and sweatshirts they each had. Amazing quality too with speedy turnaround!


Sharon I: I wish I had kept more of the t-shirts from my daughter's earlier days but this is what I had and the quilt turned out perfect!! Absolutely love it. What an amazing way to keep all those sweatshirts and t-shirts - so many memories. The other side is fuzzy grey. My girl is thrilled with the quilt!
Rachel M: I LOVE my t-shirt quilt!! I had many, many sweatshirts and t-shirts sitting around, so it was perfect I was able to include them all with the double-sided option! I had many questions and different types of materials, but the staff was very patient and helpful. I didn't want to spend hundreds of dollars on a quilt, and I was a bit nervous about the preparation, shipping, handling, and overall quality. But Memory Stitch made the process very clear, seamless, and their products are very affordable without jeopardizing care and accuracy. I am so impressed with my quilt, as well as the awesome customer service and fast turnaround. Thank you for stitching together all my memories!


Nancy C: My husband is 75 now, but he has fond memories of all the road races he ran when he was younger. The nine shirts and three sweatshirts from those races were tucked away in the attic, and I got them down and sent them to Memory Stitch to be made into a quilt, as a surprise for him. He is nit normally a demonstrative person, but he was thrilled with his gift, and now I never see him in his chair without it! It is long enough for his 6'3" body and is a comfortable weight and fabric.


Ready to make your own sweatshirt blanket? Get started here. 
Like this post? Check out our other content below!
Turning memories into a twin size quilt
Which T-Shirt Quilt is Best for You?
Top 5 College Student Gifts - Ultimate Guide
How to Make College T-shirt Quilt from Old T-shirts
The Perfect Gift for your Grad - A T-Shirt Blanket
The best 4 ways to clean out your closet
How to Make a T-shirt Quilt in 4 Easy Steps
Sorority T-Shirt Quilt in 5 Easy Steps
Making a T-Shirt Pillow - Fast, Easy, & Fun
New Years Resolution: Upcyling T-Shirts
4 Different Ways to Make a T-Shirt Quilt
3 things you must know before buying a t-shirt quilt
Making custom quilts in 5 easy steps
Make Baby Onesie Quilt in 5 Easy Steps
Five Biggest Mistakes for T-Shirt Quilts
Three steps to fixing your t-shirt quilt
7 Ideas to make your Graduation Quilt Special
5 Easy Steps to making a Baby Keepsake Blanket
Creating Cool Quilts out of T-Shirts
Harley Quilts made out of t-shirts
Sign up to be the first to receive new content!