Create your t-shirt quilt in 3 easy steps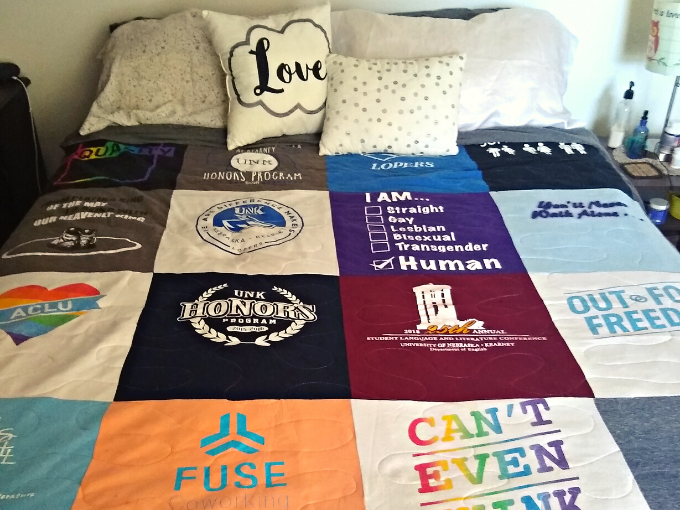 Do you have t-shirts cluttering up the crates at the top of your closet? Do you rarely wear them anymore? Or have you even forgotten which t-shirts are stashed up there? 
I had two crates full of t-shirts cluttering up my closet, and I only wore 5 of them on a regular basis. Some of them didn't fit, some of them were stained, and some of them were from events that happened years ago. I was ready to clean house - and you can too!
T-shirt quilts are a great way to preserve those t-shirts and memories! Follow along to see how I created a new t-shirt quilt in 3 easy steps - giving my treasured t-shirts a second life!
1. Select and Cut your T-Shirts
After you've taken a peek at the MemoryStitch website to see product options and how many t-shirts they use, pick out your favorite t-shirts that you don't wear any more, and follow our simple instructions to cut them! Cut the t-shirts down the sides and across the top to separate the front and back. Send us the side you want included - both if you want! 
Don't want to cut your shirts? No worries, MemoryStitch is happy to do it for you for a small fee. Just select the "let us cut your t-shirts" checkbox when ordering your t-shirt quilt!
Bonus Tip: Design your layout
Want your shirts in a specific order? No worries! MemoryStitch is happy to follow the layout you provide. Simply lay out your t-shirts (on the bed, floor, or table) and snap a photo. Print it and send it in with your shirts, or email it to us with your order number.
2. Select your product, size, and color
MemoryStitch has lots of different t-shirt quilt options to decide from - double-sided quilts, premium quilts, and Fuzz Monstas to name a few! Pick out which product suits what you want best! Need help? Check out this article.
Play close attention to panel size, as this is how much of your shirt shows on the finished quilt. I selected the Fuzz Monsta, which has large 15" panels to make sure that all of my t-shirt graphics were shown on the finished quilt (and the awesome minky border)! I also selected the premium option, which comes with batting and long-arm stitching - just like a traditional quilt.
Place your order online once you've decided on your options and chosen one of our seven minky color options! Don't forget to add embroidery for an extra special personalized touch.
3. Ship off your t-shirts
Box up your t-shirts and mail them off! MemoryStitch will take it from there! Your finished t-shirt quilt will be completed and shipped within 7 business days of your shirts arriving, excluding peak seasons.
Bonus Tip: Recycle your scraps
Don't just toss out your left over t-shirts! If there are graphics on them, consider making a t-shirt pillow or pillow case. 
No graphics? No worries! There are other ways to recycle your shirt scraps. Simply make rags for cleaning - many t-shirt materials make great dusting rags!
I turned my scraps into rags and dog toys! Using strips of t-shirt, I braided them together to create "rope" toys. My dog loves chewing on soft items, but usually destroys them quickly. These toys are easy to make, and made out of materials that I would've just thrown out anyway!
Don't forget to show off your finished t-shirt quilt! Once you receive your final t-shirt quilt - snap a photo to show it off to all your friends and family! Don't forget to tag us at @mymemorystitch on Facebook and Instagram.
Read to create your own t-shirt quilt? Get started today!
Like this post? Check out our other content below!
Turning memories into a twin size quilt
Which T-Shirt Quilt is Best for You?
Top 5 College Student Gifts - Ultimate Guide
How to Make College T-shirt Quilt from Old T-shirts
The Perfect Gift for your Grad - A T-Shirt Blanket
The best 4 ways to clean out your closet
How to Make a T-shirt Quilt in 4 Easy Steps
Sorority T-Shirt Quilt in 5 Easy Steps
Making a T-Shirt Pillow - Fast, Easy, & Fun
New Years Resolution: Upcyling T-Shirts
4 Different Ways to Make a T-Shirt Quilt
3 things you must know before buying a t-shirt quilt
Making custom quilts in 5 easy steps
Make Baby Onesie Quilt in 5 Easy Steps
Five Biggest Mistakes for T-Shirt Quilts
Three steps to fixing your t-shirt quilt
7 Ideas to make your Graduation Quilt Special
5 Easy Steps to making a Baby Keepsake Blanket
Creating Cool Quilts out of T-Shirts
Harley Quilts made out of t-shirts
Sign up to be the first to receive new content!