Give the Gift of Memories with a T-Shirt Quilt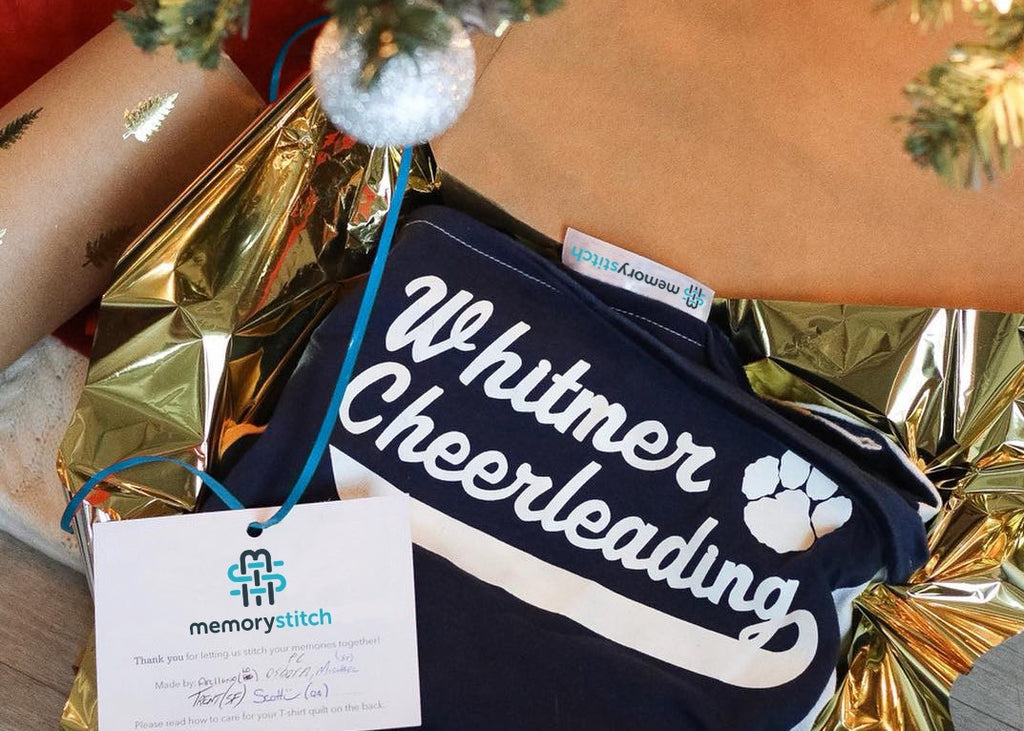 A memory t-shirt quilt is a great way to combine someone's favorite t-shirts and memories into one useful item. A MemoryStitch t-shirt will compliment anyone's bed or living space, and will continually remind them of some of their favorite memories.
Give the Gift of Memories with a T-Shirt Quilt
Why does a t-shirt quilt make the perfect gift?
Every t-shirt quilt is unique. Even if someone already has one, the next one will be completely different, filled with completely different t-shirts, and may showcase an entirely different part of their life! Maybe they got one already from their high school shirts, but now they're graduating college and have countless Greek Life shirts, as well as all of the activities they took part in over the last four years. 
You can never have too many blankets! Everyone loves receiving a blanket for Christmas, especially if it's super soft. It's nice to have a few for your living space, one on the bed, and a few extras for wherever you might need them, so getting another blanket is always a plus. And if it's super personal and tailored to you, like a t-shirt blanket, that makes it even better! 
A t-shirt quilt is the perfect gift for someone who "has everything." Some of the hardest people to shop for have received gifts over many years, and don't really need anything else. Rather than buying another restaurant gift card, or handing them some cash, consider getting them a personalized quilt that they'll be able to keep for many years to come!
Who might want a t-shirt quilt?
Our answer is everyone. Who doesn't have t-shirts or other clothes they don't weary anymore that could be transformed into an awesome keepsake?) But let's get a little bit more specific.
The graduate in your life - Graduation is closing a chapter in your life, and opening up for the future! While they might not wear their high school or college shirts anymore, graduates aren't going to want to lose those special memories they've had for the past 4 years. What's a better way to showcase all of those memories than a t-shirt quilt?
Retirees or other people hitting major career milestones - Celebrate the time you've spent with your colleague by including t-shirts from over the years they've worked with you. Company shirts or shirts from events you attended may not make it into their retirement wardrobe, but having that t-shirt quilt reminder of those awesome memories will bring them lots of joy.
Someone who lost a loved one - Grieving is hard, and so is finding what to do with a lost loved ones closet. Do you leave it untouched? Do you box it up and keep it in the attic? Do you send it off to Goodwill? While all of those may be options people choose during the grieving process, we suggest turning those t-shirts and other items into a t-shirt quilt. This way, those clothes can bring memories of lost loved ones to the grieving. Whether someone has lost a parent, a child, a spouse, or anyone else special in their life, a t-shirt quilt will be a heartfelt gift that is very appreciated by the recipient, and maybe it can even bring some comfort.
Parents with young children - Children outgrow their clothing so fast, and sometimes it's hard to part with all of the adorable onesies and t-shirts they wore when they were little. Consider gifting parents with a t-shirt quilt made of their children's outgrown clothing, so they don't have to get rid of them, and they don't take up too much closet space either. 
Where to get a t-shirt quilt?
Ready to gift someone with a t-shirt quilt this year? You can start the process online here. Don't have access to the recipients shirts (or don't have time to do the prep-work AND get it shipped back in time for the holidays)? No worries, order a t-shirt quilt gift card today!
Like this post? Check out our other content below!
Top 5 College Student Gifts - Ultimate Guide
How to Make College T-shirt Quilt from Old T-shirts
The Perfect Gift for your Grad - A T-Shirt Blanket
The best 4 ways to clean out your closet
How to Make a T-shirt Quilt in 4 Easy Steps
Sorority T-Shirt Quilt in 5 Easy Steps
Making a T-Shirt Pillow - Fast, Easy, & Fun
New Years Resolution: Upcyling T-Shirts
4 Different Ways to Make a T-Shirt Quilt
3 things you must know before buying a t-shirt quilt
Making custom quilts in 5 easy steps
Make Baby Onesie Quilt in 5 Easy Steps
Five Biggest Mistakes for T-Shirt Quilts
Three steps to fixing your t-shirt quilt
7 Ideas to make your Graduation Quilt Special
5 Easy Steps to making a Baby Keepsake Blanket
Creating Cool Quilts out of T-Shirts
Harley Quilts made out of t-shirts
Sign up to be the first to receive new content!