Create custom quilts from t-shirts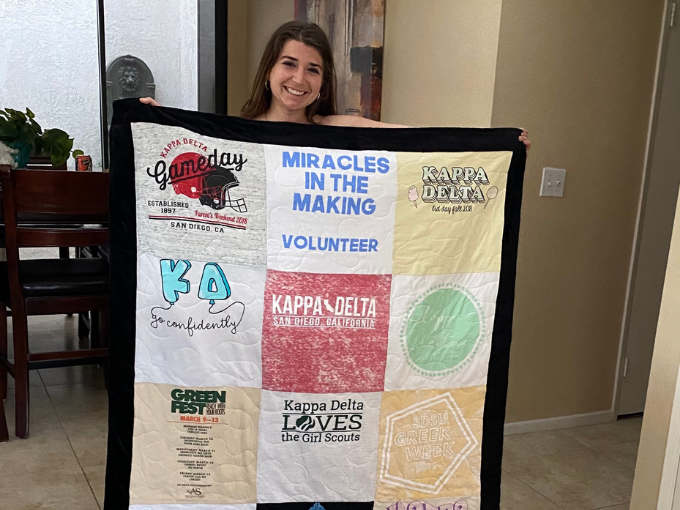 T-shirt quilts are everywhere! Graduation gifts, retirement gifts, and so many more. Everyone has t-shirts, so it's no surprise that people are getting t-shirt quilts made or making them themselves. However, the standard 12x12" square for a t-shirt quilt might not work for everyone's t-shirts.
Check out these customer custom quilts that don't follow the standard sizing options for t-shirt quilts!
Custom quilt using patches
Susan M.: Love this to honor my husband's time in service. We used the patches from various polo shirts. Memory Stitch worked with us to provide the special order (large middle panel and 8x8 panels) and did a fantastic job!! Thank you!
Custom quilt from baby onesies
Danielle S.: Keeping my children's onesies somehow was always a goal of mine. My blanket came out better than I could have ever dreamed. Not only that, but the customer service that I needed in order to get it done, everyone from the beginning was amazing! Everyone should be getting one!
Custom quilt with borders and sashing
Dianne B.: This blanket is made with my sons t-shirts. It is my most treasured gift from him as I lost him on April 17, 2020. I love to snuggle with it as it melts my heart ♥️ Thank you so much Memory Stitch!!!
Custom mosaic quilt
Linda R.: Wow, Iove it! [I received] a wonderful response from my son when he received the quilt.
Custom sorority quilt with border
Denise H.: I had Memory Stitch preserve my granddaughter's college memories by making a memory quilt using her Kappa Delta t-shirts. It was the perfect graduation gift and she loved it. Memory Stitch made my experience so easy, and I was impressed by their caring and supportive staff. I received my completed quilt faster than I ever expected, and it turned out beautiful.
Ready to turn your old t-shirts into a custom quilt? Check out MemoryStitch to create a personalized and awesome new keepsake!
Like this post? Check out our other content below!
Turning vacation t-shirts into a travel quilt
Harley Quits made out of t-shirts
Top 5 College Student Gifts - Ultimate Guide
How to Make College T-shirt Quilt from Old T-shirts
The Perfect Gift for your Grad - A T-Shirt Blanket
The best 4 ways to clean out your closet
How to Make a T-shirt Quilt in 4 Easy Steps
Sorority T-Shirt Quilt in 5 Easy Steps
Making a T-Shirt Pillow - Fast, Easy, & Fun
New Years Resolution: Upcyling T-Shirts
4 Different Ways to Make a T-Shirt Quilt
3 things you must know before buying a t-shirt quilt
Making custom quilts in 5 easy steps
Make Baby Onesie Quilt in 5 Easy Steps
Five Biggest Mistakes for T-Shirt Quilts
Three steps to fixing your t-shirt quilt
7 Ideas to make your Graduation Quilt Special
5 Easy Steps to making a Baby Keepsake Blanket
Creating Cool Quilts out of T-Shirts
Sign up to be the first to receive new content!