Turning vacation t-shirts into a travel quilt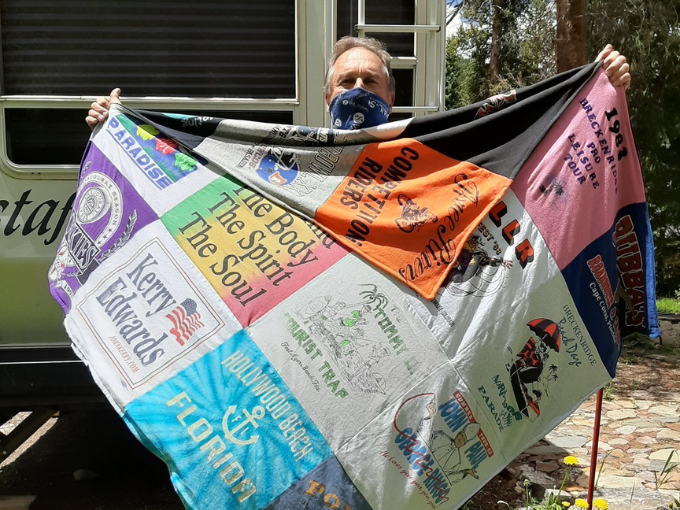 Love to travel? If you do, you probably have lots of old t-shirts lying around from different vacations. You may not wear all of them anymore, but they hold too many memories from amazing trips to get rid of. You could donate them, but the sentimental value they hold for you won't transfer to someone else. 
Don't let them sit in a box somewhere and collect dust when you could turn those incredible vacation t-shirts into a travel quilt. Check out these awesome travel quilts made by some awesome MemoryStitch customers!
Ashlyn M.: My mom got us these T-shirts for our Disney honeymoon, and we couldn't think of a better way to have them preserved! Now we will remember this trip for a lifetime!


Earleen O.: I love my tee throw. It is in my spare bedroom, which I call my travel room. The quilt has tees from many travels in Europe and cruises with friends, travels with family and special moments ink my life. I couldn't believe from the time I shipped my tees to MemoryStitch until I received my finished throw was less than two weeks. I absolutely love the throw and everyone, who has seen it loves the throw too. Customer service was excellent, was responsive to all questions and were helpful at every step. I have no complaints whatsoever!


Tisha G.: Amazing quilt. For 17 years I folded and saved shirts from all the places, activities and experiences that made my daughter the precious, ambitious and kind young woman she's become. We gave it to her this weekend at her high school graduation brunch. She loved it! Thanks for turning all those old shirts into something meaningful for today. Love the long arm stitching.


Melissa P.: My husband and I were married in Disney World during the summer of 2018. We bought and received many special shirts for our week long adventure in Florida. Once we got back, we knew we would never wear the shirts again, but we wanted to preserve the memory of our marriage and all the events of the week. Memorystitch was the perfect way to do just that! We even added on a few surprise t-shirts! :)


Jason S.: In 2006, Grandma and Grandpa took everyone to Disneyland over spring break. To keep track of the 10 of us at the park we got matching shirts! The trips and shirt tradition continued for 12 more years. Lots of great memories and creative shirts are now preserved and used in a fun way.  
Ready to turn your old vacation t-shirts into a travel quilt? Check out MemoryStitch to create a personalized and awesome new keepsake!
Like this post? Check out our other content below!
Harley Quits made out of t-shirts
Top 5 College Student Gifts - Ultimate Guide
How to Make College T-shirt Quilt from Old T-shirts
The Perfect Gift for your Grad - A T-Shirt Blanket
The best 4 ways to clean out your closet
How to Make a T-shirt Quilt in 4 Easy Steps
Sorority T-Shirt Quilt in 5 Easy Steps
Making a T-Shirt Pillow - Fast, Easy, & Fun
New Years Resolution: Upcyling T-Shirts
4 Different Ways to Make a T-Shirt Quilt
3 things you must know before buying a t-shirt quilt
Making custom quilts in 5 easy steps
Make Baby Onesie Quilt in 5 Easy Steps
Five Biggest Mistakes for T-Shirt Quilts
Three steps to fixing your t-shirt quilt
7 Ideas to make your Graduation Quilt Special
5 Easy Steps to making a Baby Keepsake Blanket
Creating Cool Quilts out of T-Shirts
Sign up to be the first to receive new content!