College Dorm Essentials: The T-Shirt Quilt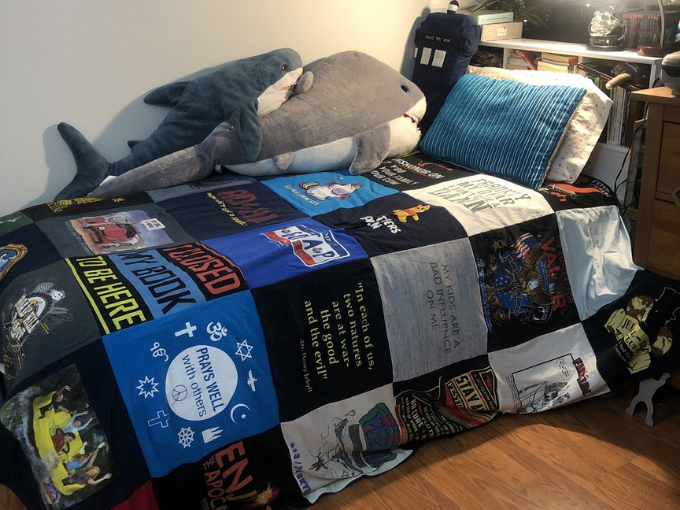 Have graduating seniors this year? Are they getting ready to leave off for college, leaving behind some of their high school (or even earlier) t-shirts? They don't want to get rid of them, and you probably don't either - too many wonderful memories! MemoryStitch has a solution for you!
One college dorm essential is a t-shirt quilt the kids can take with them when they leave home. Turn their favorite t-shirts into a t-shirt quilt they can take to their dorm. 
Choosing the t-shirts
All t-shirts carry memories, so make sure to hang onto all the best t-shirts from their favorite activities, clubs, vacations, and so on. While they go off to college and start making memories, they'll be able to keep these t-shirts to remind them of where they came from. 
 T-Shirts, Jerseys, and more!
Even though you're making a t-shirt quilt, that doesn't mean you're limited to just t-shirts! Don't leave out the jerseys, the uniforms, or other fun items your kids have that aren't t-shirts. 
Button down, shirts with zippers, scrubs, and many other items can also be used! For a full list of our recommended materials, click here.
Choosing Quilt Options
There are so many different t-shirt quilt options to choose from. There are different sizes, panel sizes, backing options, and even batting and long-arm stitching!
For the college dorm essential t-shirt quilt, we recommend our twin size t-shirt quilt with 14" panels (see graphic below). 
Not sure which option works best for you? Check out this blog post where we describe which options might work best for different situations!
Bonus Tip: Add Embroidery
Embroidery is available on all t-shirt quilts backed with minky backing! Adding a special message to the back of the quilt further personalizes an already special keepsake! Consider using embroidery to congratulate your kids on their accomplishments, or expressing your love or how proud you are.
Ready to make your recent or upcoming graduate a t-shirt quilt?
Like this post? Check out our other content below!
7 Ideas to make your Graduation Quilt Special
Top 5 College Student Gifts - Ultimate Guide
How to Make a T-Shirt Quilt in 4 Easy Steps
The Perfect Gift for your Grad - A T-Shirt Blanket
How to Make College T-Shirt Quilt from Old T-Shirts
Making a T-Shirt Pillow - Fast, Easy, & Fun
3 things you must know before buying a t-shirt quilt
Making custom quilts in 5 easy steps
New Years Resolution: Upcyling T-Shirts
4 Different Ways to Make a T-Shirt Quilt
The best 4 ways to clean out your closet
Make Baby Onesie Quilt in 5 Easy Steps
5 Easy Steps to making a Baby Keepsake Blanket
Five Biggest Mistakes for T-Shirt Quilts
Three steps to fixing your t-shirt quilt
 Our Top 3 Favorite Jersey Quilts
Sign up to be the first to receive new content!