Creating baby quilts from onesies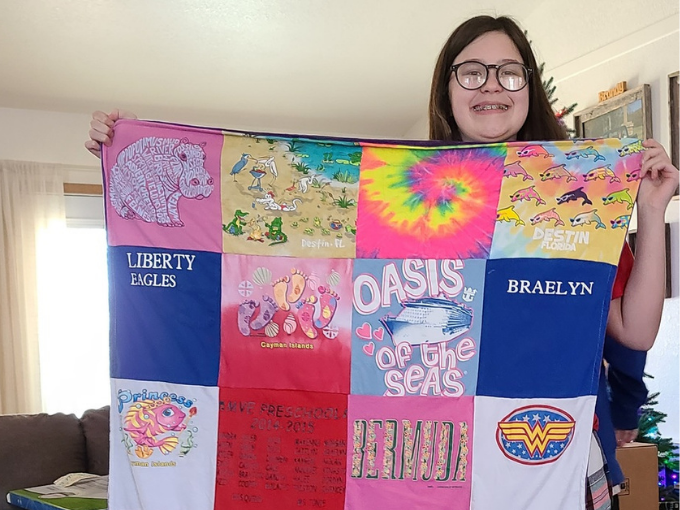 Children grow up so fast - continuously outgrowing all their adorable onesies and toddler clothing. There's gifts from friends and families, the adorable clothing items you couldn't resist at the store. Once they grow out of them, what are you supposed to do with all of them? You could donate them of course, but some of them you just can't bare to part with.
Don't let them set them in a box in the attic for years. Instead, turn them into a baby quilt!
Check out some of our favorite baby quilts MemoryStitch moms and grandmas have had made in the past!
 Aubrey S.: 
I love these quilts! They make memories functional! My kiddos love to see the pictures for each outfit or talk about why I picked each square.
Nancy S.: 
My Grandniece loves her T-shirt blanket. She enjoyed looking at her t-shirts that she hasn't worn, since she grew out of them. She really loved the milky backing. Ashley was terrific in contacting me regarding the extra material needed for some of the shirts that were too small. The extra borders really enhanced the beauty of the blanket. Thank you for making my Grandniece's 7th birthday very special.
Heather B.: 
The quilts are exactly what I wanted. Preserving my babies precious clothes. I love it. The turn around time was so quick. I will cherish them forever.
Danielle S.:
Keeping my children's onesies somehow was always a goal of mine. My blanket came out better than I could have ever dreamed. Not only that, but the customer service that I needed in order to get it done, everyone from the beginning was amazing! Everyone should be getting one!
Ready to make your own baby quilt? Learn how to make a baby quilt here OR get started with MemoryStitch. 
Like this post? Check out our other content below!
Five Pain Free Ways to Make Buying a T-Shirt Quilt Easy
How to Make Pillows in 3 Easy Steps
Best Fabrics and Shirt Types for your t-shirt quilt
How to Make a T-shirt Quilt in 4 Easy Steps
Sorority T-Shirt Quilt in 5 Easy Steps
Making a T-Shirt Pillow - Fast, Easy, & Fun
4 Different Ways to Make a T-Shirt Quilt
Five Biggest Mistakes for T-Shirt Quilts
Top 5 College Student Gifts - Ultimate Guide
How to Make College Quilts from Old T-shirts
New Years Resolution: Upcyling T-Shirts
The Perfect Gift for your Grad - A T-Shirt Blanket
3 things you must know before buying a t-shirt quilt
Making custom quilts in 5 easy steps
Make Baby Onesie Quilt in 5 Easy Steps
Three steps to fixing your t-shirt quilt
7 Ideas to make your Graduation Quilt Special
The best 4 ways to clean out your closet
Sign up to be the first to receive new content!