Our Top 5 Graduation T-Shirt Quilts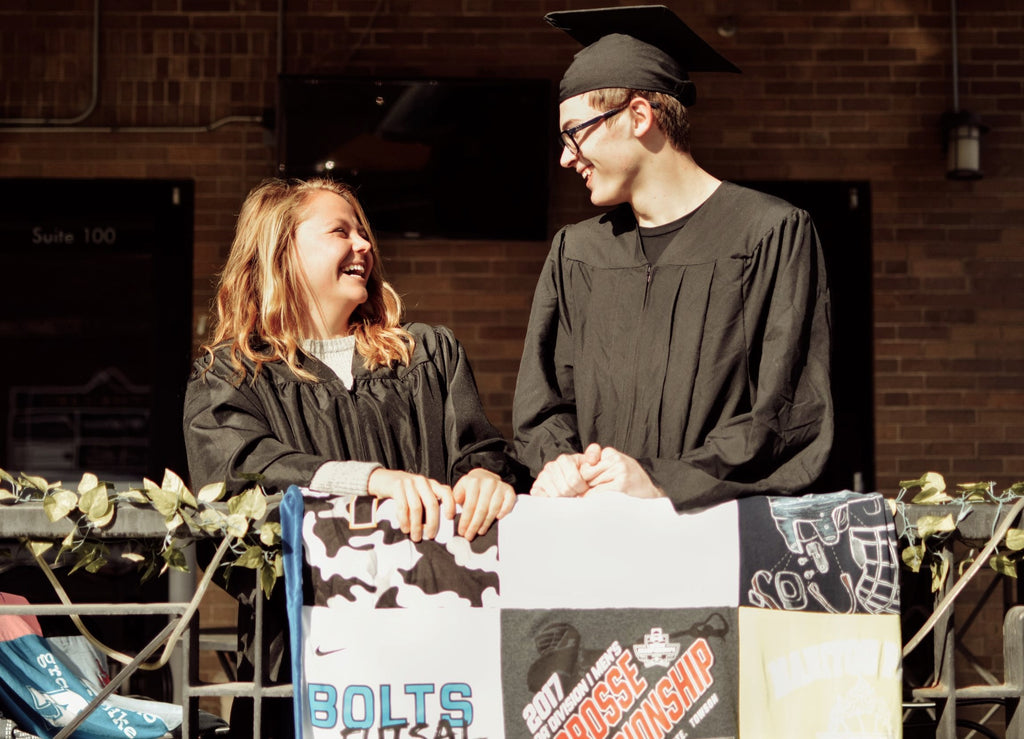 Have graduating seniors this year? Are they getting ready to leave off for college or work, and leaving behind some of their high school (or earlier) t-shirts? They don't want to get rid of them, and you probably don't either. MemoryStitch has a solution for you!
Turn those memories into a graduation t-shirt quilt and gift it to them as a graduation gift - creating a useful and sentimental item at the same time! Check out the amazing graduation quilts from previous MemoryStitch customers below.
Christy H.: We had been secretly saving our son's favorite T-shirts since he was in 2nd grade in the hope of making a memory quilt to give him for his High School graduation. I was hoping to find a company that could do long-arm stitching, allowed me to "design" the quilt and determine where each panel would be placed, and used super-soft backing - MemoryStitch was exactly what I was looking for! After following the easy "how to cut your t-shirt instructions", we mailed off the shirts and very quickly received the most beautifully made quilt with high-quality stitching, crisp edges, and the softest minky backing. Our son loves it and we could not be more pleased with MemoryStitch's service, communication, and the final product. Order your t-shirt quilt from MemoryStitch - you will not be disappointed!
Chris P.: Beyond pleased with my daughter's graduation quilt! It arrived quickly, on the exact day of her rescheduled graduation! Super easy process, great quality!
Karen T.: I've been saving some of my son's t-shirts over the years to have this made for him as a graduation present. It has great memories - some of his favorite t-shirts with his favorite teams, some from places we visited, and things we did. It's a great quilt! It's a great gift. I'm very happy with it. :)
Nathaniel S.: We gave this to our senior daughter as a graduation gift— she was so surprised and thrilled to hold on to all of her high school memories. She has slept with it every night since! Thank you for the quality workmanship and quick, easy service.
Chris C.: Loved getting the memory quilt for my daughter as her high school graduation gift! Instructions for prepping tshirts and shipping was easy to do. I also liked the personalized customer service after they received the tshirts during the quilt-making process. We received the quilt about 2 weeks after I mailed it out, so it was several weeks faster than other companies. I also appreciated the discount pricing. Quality work and love the soft minky backing. My daughter immediately put this on her bed for use and plans to bring it to college this fall.
Ready to make your recent or upcoming graduate a t-shirt quilt?
Like this post? Check out our other content below!
7 Ideas to make your Graduation Quilt Special
Top 5 College Student Gifts - Ultimate Guide
How to Make a T-Shirt Quilt in 4 Easy Steps
The Perfect Gift for your Grad - A T-Shirt Blanket
How to Make College T-Shirt Quilt from Old T-Shirts
Making a T-Shirt Pillow - Fast, Easy, & Fun
3 things you must know before buying a t-shirt quilt
Making custom quilts in 5 easy steps
New Years Resolution: Upcyling T-Shirts
4 Different Ways to Make a T-Shirt Quilt
The best 4 ways to clean out your closet
Make Baby Onesie Quilt in 5 Easy Steps
5 Easy Steps to making a Baby Keepsake Blanket
Five Biggest Mistakes for T-Shirt Quilts
Three steps to fixing your t-shirt quilt
 Our Top 3 Favorite Jersey Quilts
Sign up to be the first to receive new content!