12 Days of Happy Customers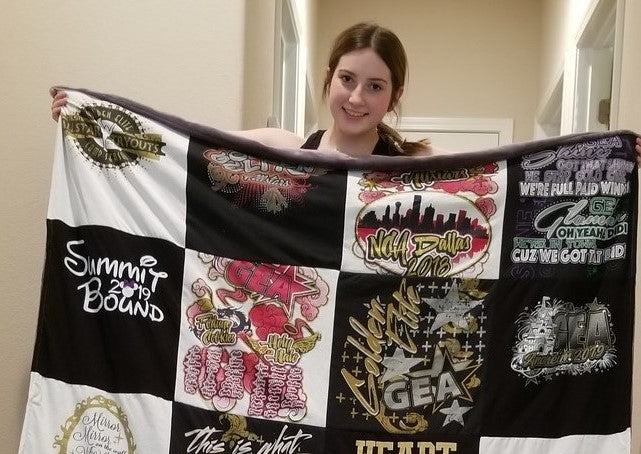 A t-shirt quilt is a great way to combine someone's favorite t-shirts and memories into one unique keepsake. It's the perfect gift for anyone! Keep reading for the stories of 12 Happy MemoryStitch Customers who either received or gifted a t-shirt quilt!
12 Days of Happy Customers
12. Memories of Nonni
Tracy T.: "I had a blanket made for each on of my adult children. This idea gave our children a sentimental item, so they will always have to feel close to their Nonni. We used all her cheerful shirts, sports shirts she would wear to all their games, shirts we bought on vacation, and of course some of her holiday bling shirts! Very happy with the workmanship, and customer service. My kids will open these as a surprise on Christmas!!!"
You can view the t-shirt quilt product Tracy ordered here.
11. A t-shirt quilt full of comfort
Carole D.: "When our daughter passed away 6 years ago, we knew we wanted to create a tangible memory for our then 3 year-old grandson, something that would offer comfort and help him feel connected with the mother he barely knew. Memory Stitch was the perfect answer! I am so impressed with their customer service and timely communication, the quality of the lap quilt and the quick turn-around just as holiday time was near. We love the quilt and the memories it has preserved of her elementary school days, high school, college, sports teams, favorite places she visited, and most importantly her pink ribbon tee honoring how hard she fought for her son. Our memory quilt is a keepsake that will wrap him up in the stories that she was unable to share with him herself. Thank you, Memory Stitch."
You can view the premium t-shirt quilt product Carol ordered here.
10. A shelf full of memories
Cliff M.: "We attended the Playboy Jazz Festival at the Hollywood Bowl for many years and collected T-shirts from 13 of the years. It was always cool to wear a t-shirt from an earlier year, then collect a current one. We also had t-shirts from our travels to China, Galapagos Islands, the Falklands, Mexico and Europe as well as in-country spots such as New Orleans, NYC, Houston and Cooperstown. After we had worn the shirts many times, we folded them and stashed them on a shelf in a closet where they aged. In deciding to re-do the closet, we had choose what to do with all the T-shirts. I found several internet sites that made blankets, quilts and throws and selected Memory Stitch because of the impressive reviews and ease of ordering. They turned out a beautiful 30 panel quilt from the T-shirts we sent. We love our quilt and have told friends and family about our experience with Memory Stitch."
You can view the premium t-shirt quilt product Cliff ordered here.
9. A lasting memorial
Vicki H.: "My husband passed away unexpectedly about 6 months ago. I wanted to have a lasting memorial of his life and having his shirts made into a quilt was a great way to do that - from his favorites to my favorites to places he worked and volunteered - they tell a story of his life! It warm and cozy and I love wrapping up in it on these cold winter nights. Thank you for creating a beautiful forever memory of his life!"
You can view the Fuzz Monsta product Vicki ordered here.
 8. A keepsake of childhood
Joan D.: "Our daughter was a busy teen, involved in high school theater productions, soccer teams, and many summers as a camp counselor. Later in college she followed her dream as a performer, seeing Broadway in shows, studying in London and joining the Alabama Shakespeare Festival upon graduation. Piles of her sport, camp and theater sweats were still at home taking up room but I couldn't throw them out, given their meaning to her. She's now in Los Angeles as a steadily working TV actor,  about to marry and buy her first home. This quilt will be a keepsake to remember her childhood roots for years to come."
You can view the t-shirt quilt product Joan ordered here.
7. A decade of special memories
Emily D: "I love my quilt! I've moved a few times in the last couple of years and almost got rid of my drawer full of old tee shirts so many times but I could never bring myself to go through with it. I don't wear them anymore but they hold over a decade of special memories so this was the perfect solution for me. The shirts I used range from high school and college tees to vacation souvenirs to concert tees and more! My quilt was made very well and I love the super cozy back!"
You can view the t-shirt quilt product Emily ordered here.
 6. A dance and concert t-shirt quilt
Diane L: "My daughter always bought a tee shirt to every concert she went to and since she was in dance class for many years, she accumulated a lot of tee shirts. We had them in a bag in the attic. She had mentioned at one time that she would love to make it into a blanket. I saw the bag in the attic and thought "what a nice surprise this would be". I googled tee shirt blankets and your website came up. It was so easy to order and the directions were so simple! I received the blanket the other day and WOW!!!!  It looks amazing. It was gorgeous. I thought it would be nice but it surpassed my expectations!! I cannot wait to give to my daughter on Christmas Day!"
You can view the t-shirt quilt product Diane ordered here.
 5. A miracle memory pillow
Janice B: "My courageous daughter, Juliet, was not expected to live past the age of five. She fought hard against the Mitochondrial Disease that weakened her body each day. We celebrated her 16th birthday with her In September, and she passed shortly thereafter. Juliet was a miracle, and she loved to snuggle. I love snuggling up with this awesome pillow each day as I remember her sweet smile."
You can view the t-shirt pillow product Janice ordered here.
4. A quilt of coaching t-shirts
Karen G: "My husband is a retired health and physical Ed teacher as well as retired football coach. His first coaching experience was when he was stationed in Germany and coached the children of American soldiers at the American high school there. He then went onto coach at a local high school and then several colleges. About two years ago, he suffered a bad stroke. Luckily he is doing well with therapy even though it has affected the left side of his body. He had a number of t-shirts from the various schools where he coached. He very often is cold and needs a blanket while relaxing in his recliner. When he wore one of his t-shirts to therapy, his physical therapist said you know you can get all his shirts made into a quilt. So I searched the internet and found your site! I loved seeing other quilts that people had done and really liked the Fuzz Monsta with the minky backing... When it came in the mail I cried after opening it up! It was exactly what I wanted. I plan on giving it to him for Christmas and can't wait to see his reaction! I know he will love it. I can't thank you all enough for your wonderful work in making this special quilt for him!"
You can view the Fuzz Monsta product Karen ordered here.
3. A quilt of family memories
Judith W: "My husband and I have several shirts from family reunions that we don't wear any more, but they have sentimental value to us--so this was the perfect way to hold on to the memories. We added 3 shirts that honor our 3 grown kids--showing their passions as well. This truly is a "family" quilt for us. Working through MemoryStitch has been a pleasure. We couldn't be happier with the product. They made it so easy for us! Thanks to MemoryStitch we have a quilt that fills our hearts with family memories."
You can view the t-shirt quilt product Judith ordered here.
2. A grand memory of a great guy
Prudy K.: "My sweet husband George died in a sudden bicycle accident a few years ago. He was a real t-short collector (rock bands, bike trips, travel), and I kept boxes of his shirts, marked "George Quilt." I have made many quilts over the years and had planned to put together this one, too. Once I started laying out the shirts I realized that this was going to be such a big project that my sewing machine (and my fingers!) really could not handle it. That's when I found MemoryStitch and sent the shirts to you. BEAUTIFUL job, and a grand memory of a great guy."
You can view the premium t-shirt quilt product Prudy ordered here.
1. A quilt of cheer memories
Leslie H: "Lots of Cheer! My daughter retired from Allstar Competitive Cheerleading earlier this year. She had so many team tshirts and so many great memories we just had to get the quilt made! The process was so easy and the end result perfect! Now she will be comforted with good cheer forever!"
You can view the t-shirt quilt product Leslie ordered here.
Like this post? Check out other customer stories below!
Customer story: A quilt of adventures
The Best Christmas Gift: A T-Shirt Quilt
Creating keepsakes from t-shirts: gifting a friend who gave 110% 

From t-shirts to keepsake: Cherishing past memories with embroidered t-shirt quilt
Customer story: Creating a game day t-shirt quilt
Graduating during Covid-19: A Quilt of Cheer Memories
Sign up to be the first to receive new content!