From t-shirts to keepsake: Cherishing past memories with embroidered t-shirt quilt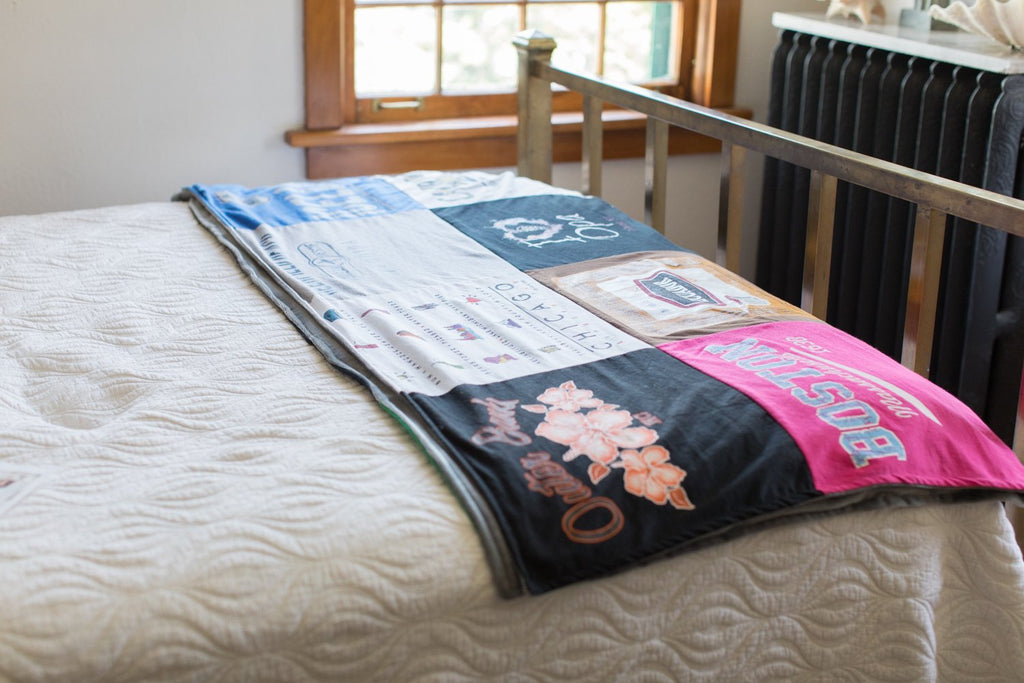 (LINCOLN, NE) September 23, 2019—Recent MemoryStitch customer Pamela Cash lost her husband earlier this year. As a big Kentucky basketball fan - as well as a Nascar fan - Cash's husband left behind a large collection of t-shirts. Their children took many of the shirts home with them, but Cash wanted to create a keepsake for herself with the remaining t-shirts.
"I lost my youngest son 17 years ago and I had a quilt made of his t-shirts which I still have and cherish very much. So that was one of the first things I wanted to do with all my husband's tees when he passed away," said Cash. 
She turned to MemoryStitch to help her with the process. "I saw [MemoryStitch's] Facebook page and liked the quality of work. Thanks so much for being so timely with the delivery. I can't believe it came so quickly."
After placing her order, Cash reached out to the MemoryStitch team to see if embroidery was an option, so she could add her husband's name and "Beloved Husband" on the backside of the quilt. The MemoryStitch team had just launched embroidery as a custom product add-on and were happy to add the special touch to Cash's quilt. 
Cash was thrilled to receive her embroidered quilt - a keepsake that will forever hold memories of her and her husband's annual trips to the car races, as well as their cruises and other travels. "I absolutely love my quilt and I know I will enjoy it for many years to come," said Cash.
Now, all MemoryStitch customers have the opportunity to use embroidery as a way to memorialize the quilt, like Cash, or add a custom message to commemorate an event or add a special touch on a gift to a loved one.
"Our goal is to help people tell their stories through their well-loved t-shirts that often hold special memories.  With the addition of embroidery, customers can further tell their story by adding a personalized message," said Steve Nabity, Chief Energizing Officer.
Embroidery is now available on their website. Customers can personalize their t-shirt quilts even more than before with the custom product add-on. For more information on MemoryStitch and their latest product releases, visit memorystitch.com.
About MemoryStitch—Helping you tell your story
MemoryStitch, America's most trusted upcycled textile company, through its belief in the power of storytelling, innovation and its dedication to customer service, is transforming the way people think about the clothes hidden in the back of their closets. Their core focus is to revive these well-loved mementos so that their customers can continue to create new stories with them. By providing a simple approach to creating one-of-a-kind keepsakes, MemoryStitch empowers people to tidy up their closets while also helping the planet by minimizing waste. Everything they do revolves around improving their customers' lives in a meaningful way. Thousands of people from across the nation trust MemoryStitch to handle their treasured clothing with care, affordably transform them, and quickly send them home to be cherished for years to come. The company started in 2018 by a father-son duo as the sister company to AccuQuilt. Today, MemoryStitch is still 100% family-owned and headquartered in Nebraska, the heart of the United States. For more information, visit memorystitch.com or call 855-792-4205.
Like this post? Check out other customer stories below!
Creating keepsakes from t-shirts: gifting a friend who gave 110% 
Customer story: Creating a game day t-shirt quilt
Sign up to be the first to receive new content!