Creating keepsakes from t-shirts: Gifting a friend who gave 110%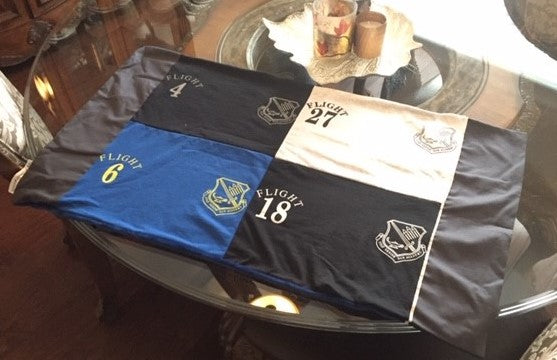 (LINCOLN, NE) January 3, 2020—Recent MemoryStitch customer Jeff Robinson is a Senior Master Sergeant in the United States Air Force, currently working as a United States Professional Military Education Instructor at the Senior NCO Academy in Alabama.
Robinson, who was looking for a special gift for a close friend and coworker, was one of the first people to receive a T-Shirt Pillow Case after MemoryStitch's release of the new product.
The pillow case will be gifted to Robinson's friend who has recently fulfilled his obligation as an instructor and will soon be deployed to the Middle East. According to Robinson, the shirts used in the pillow case portray the different flight rooms that his friend and coworker taught out of.
"They represent the lives that he has impacted," said Robinson, speaking of the four black, blue and white t-shirts that make up the pillow case.
"This pillow case will serve as a reminder that at the end of the day he can lay his head on his pillow knowing that he fulfilled his mission with integrity and gave the Academy 110%," said Robinson.
Now, all MemoryStitch customers have the opportunity to create a pillow case using t-shirts. Like Robinson, they may choose to give them away as heartfelt gifts, or may purchase them for themselves as a way to showcase a few very special t-shirts.
"Our mission is to create one-of-a-kind keepsakes using our customers' well-loved t-shirts. Pillow cases are another product that allow them to do just that," said Steve Nabity, Chief Energizing Officer.
Pillow cases are now available on their website. For more information on MemoryStitch and their latest product releases, visit memorystitch.com or call 855-792-4205.
About MemoryStitch—Helping you tell your story
MemoryStitch, America's most trusted upcycled textile company, through its belief in the power of storytelling, innovation and its dedication to customer service, is transforming the way people think about the clothes hidden in the back of their closets. Their core focus is to revive these well-loved mementos so that their customers can continue to create new stories with them. By providing a simple approach to creating one-of-a-kind keepsakes, MemoryStitch empowers people to tidy up their closets while also helping the planet by minimizing waste. Everything they do revolves around improving their customers' lives in a meaningful way. Thousands of people from across the nation trust MemoryStitch to handle their treasured clothing with care, affordably transform them, and quickly send them home to be cherished for years to come. The company started in 2018 by a father-son duo as the sister company to AccuQuilt. Today, MemoryStitch is still 100% family-owned and headquartered in Nebraska, the heart of the United States.
Like this post? Check out other customer stories here!
From t-shirts to keepsake: Cherishing past memories with embroidered t-shirt quilt
Customer story: Creating a game day t-shirt quilt
Sign up to be the first to receive new content!