Customer story: Creating a game day t-shirt quilt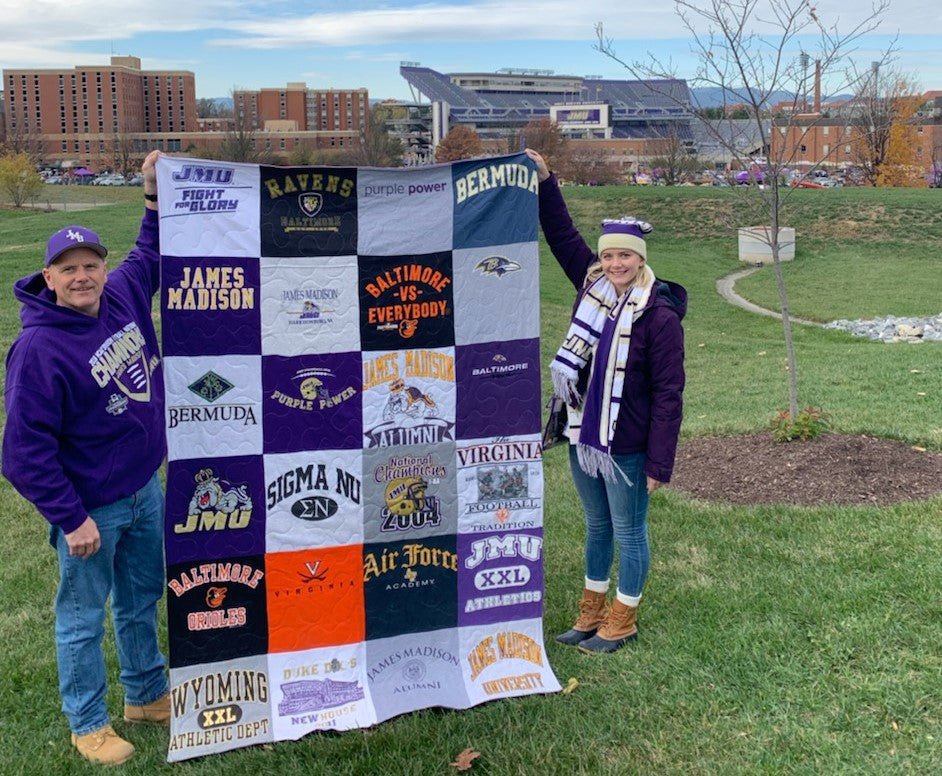 Recent MemoryStitch customer Brett Sheffield held onto his favorite t-shirts and sweatshirts for 25 years. After hanging onto to them for so long, Sheffield couldn't just get rid of them.
"As I started to go through my 'collection', I would look at a shirt or a sweatshirt and remember why I had held on to it for so long. Because each of them had a memory or story behind it, I decided that the quilt should be a 'picture book'; with each panel a chapter that tells a story, connecting the memories or experiences that I have had," said Sheffield.
While he was starting the process of pulling the t-shirts together, Sheffield's wife and daughter joined in to help with the layout, and the quilt quickly became the "official game day t-shirt quilt" for the family's outings to JMU football games.
Since the t-shirt quilt was going to be used during football games, Sheffield thought it would be neat to include shirts that held football memories of two very important people in his life. 
"My exposure with college football started with going to UVA games in my youth with my late father. The orange Virginia sweatshirt represents both my hometown of Charlottesville and going to UVA football games with my dad..." said Sheffield.
The Wyoming sweatshirt also holds a great memory for Sheffield, as it was a gift from a close friend who was a fellow JMU alumni, season ticket holder, and Orioles fan. "Unfortunately, he passed away a few years ago, so having the Wyoming sweatshirt connected with an Orioles and a JMU panel on the quilt is a way to continue to share in the JMU game day experience with 'Uncle Joe", as my daughter called him."
Sheffield and his family took the game day t-shirt quilt to a Harrisonburg game last fall. "It was a night game and the quilt was warm and big enough to share. It ranks up as one of my most prized possessions and I am glad I spend the extra money to get the stitching as it really brings out a feeling of lasting quality! The blanket was a great for the games this year and was a wonderful conversation piece with the fans around us," said Sheffield.
Premium t-shirt quilts are available on the MemoryStitch website. For more information on MemoryStitch and their latest product releases, visit memorystitch.com.
About MemoryStitch—Helping you tell your story
MemoryStitch, America's most trusted upcycled textile company, through its belief in the power of storytelling, innovation and its dedication to customer service, is transforming the way people think about the clothes hidden in the back of their closets. Their core focus is to revive these well-loved mementos so that their customers can continue to create new stories with them. By providing a simple approach to creating one-of-a-kind keepsakes, MemoryStitch empowers people to tidy up their closets while also helping the planet by minimizing waste. Everything they do revolves around improving their customers' lives in a meaningful way. Thousands of people from across the nation trust MemoryStitch to handle their treasured clothing with care, affordably transform them, and quickly send them home to be cherished for years to come. The company started in 2018 by a father-son duo as the sister company to AccuQuilt. Today, MemoryStitch is still 100% family-owned and headquartered in Nebraska, the heart of the United States. For more information, visit memorystitch.com or call 855-792-4205.
Like this post? Check out other customer stories below!
Creating keepsakes from t-shirts: gifting a friend who gave 110% 

From t-shirts to keepsake: Cherishing past memories with embroidered t-shirt quilt

Sign up to be the first to receive new content!