Our Top 5 Favorite Custom Quilts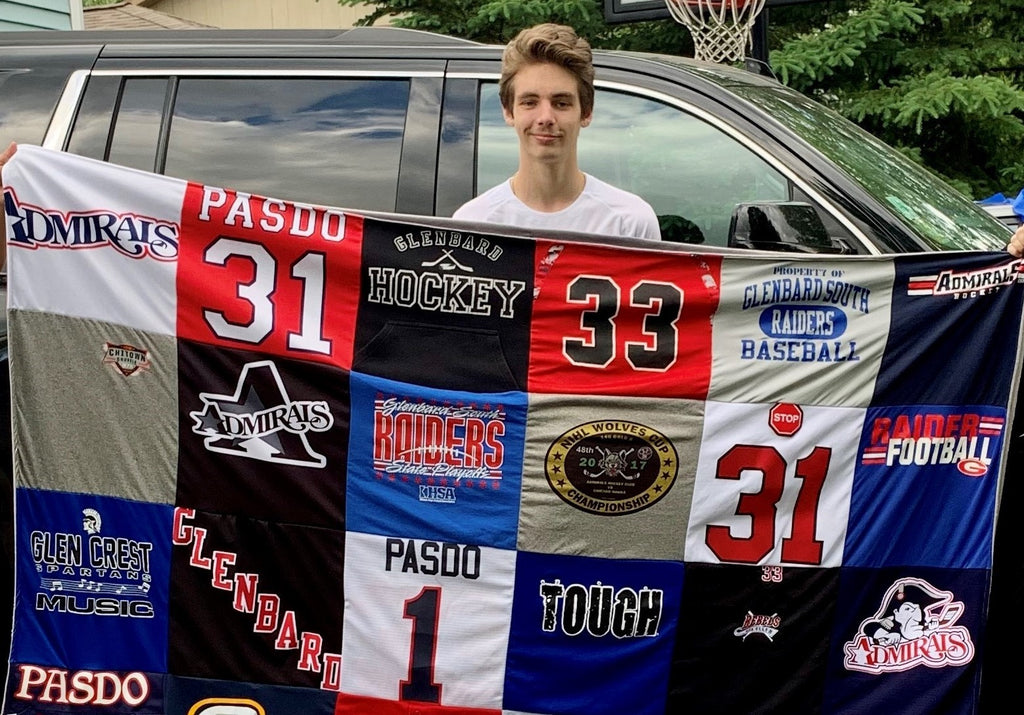 One of the best ways to preserve all your t-shirts once you're no longer using them is to turn them into a t-shirt quilt. Rather then have those special memories collect dust in the attic or take up important space in your closet, why not showcase them in a t shirt quilt? However, sometimes they don't fit into a standard t-shirt quilt layout and require a custom aspect. We've compiled a list of our five favorite custom quilts to share with you!
Our Top 5 Favorite Custom Quilts
1. Baby Custom Quilt
Some baby clothes are just a little too small for the smaller panel sizes available. They may require backing or some piecing together, but when it's all done, all your favorite baby clothes can be together in one spot!
Autumn S.: "Received my Quilt before Christmas! Better than I imagined. I was super skeptical and hesitant to mail in my children's baby clothes, but I am so glad I took a leap! Planning on another purchase very soon."


2. Sideways Layout
A standard full-sized quilt or blanket is longer than it is wide; however, depending on how you're going to use the blanket (or where you're going to display it), you may want more width than length.
Jennie P.: "Memory Stitch did an amazing job with my sons quilt. We had mixed materials of jerseys, t-shirts and hoodies and they combined them all with no issues. Their communication was amazing... When it came down to it they even rush shipped my order for a minimal cost to ensure my son got it for graduation! I highly recommend this company! It was an amazing way to showcase all his achievements through the years."
3. Different Panel Sizes
If you're using t-shirts from over a span of many years, some of them might be different sizes. Including a row or column of slightly different sized items may be a good way to include all of your items into one quilt!
Laura E.: "I had 17 years worth of t-shirts and some of them were toddler-sized, not big enough for a 14" square. MemoryStitch personnel worked with me to create a custom strip of smaller squares, and it turned out great. My son loves his t-shirt quilt and I love that he will be able to take some of his favorite memories to college with him."
4. Different Shirt Sizes
Another option with different sizes of logos and shirts, is to back the smaller items to fit the panel size. This way, you can still have the traditional layout style, while incuding some different-sized items.
Katelyn M.: "My experience with Memory Stitch was unparalleled! I previously worked with two other popular t-shirt quilt companies and Memory Stitch felt most like I was dealing with people and not a machine... I will definitely recommend and use again in the future. My quilt was made from soccer t-shirts that are near and dear to my heart from the age of U-11 all the way up through Division I College Tournament T's! They remind me of tournament weekend memories at every age and now I know I will never lose them. Thanks!"
5. Dog Scarf Quilt
Maybe the items you want to use aren't shirts at all, and are an entirely different shape. Maybe they can still be put together to create a very unique quilt! Check out this awesome full quilt made with 60 dog scarves.
MaryVictoria P: "I had searched the Internet for a company that could make a quilt out of scarves our groomer used to put on our Westie, Macduff, after she had groomed him. Usually I got a "no" as a reply and was told they only worked with t-shirts until I contacted MemoryStitch. I explained I wanted a quilt made out of scarves that I had saved after Macduff tired of wearing them. You can imagine how many scarves we had. He was 16 1/2 years old when we lost him to cancer. Of course we were heartbroken—he was our joy—and a quilt would be a perfect keepsake. The customer service representative spoke with your sewing team and they agreed they could make a full-size quilt from 60 scarves. I washed and ironed them and mailed them to your company. When I received the completed quilt, it was more beautiful than I could have imagined! I set it aside for a Christmas gift for Macduff's "dad." There were many tears of sadness and joy when he opened his gift. We couldn't ask for a more endearing reminder of our very precious pup! We are so impressed with the quality of the workmanship that went into making our quilt. The scarves were triangles, and the care that went into matching colors, patterns, and motifs to create the squares was exceptional. Kudos to your sewing team! They are definitely top-notch."
Looking to have your own custom quilt made? Contact us here to get started!
Like this post? Check out other customer stories below!
Creating keepsakes from t-shirts: gifting a friend who gave 110% 

From t-shirts to keepsake: Cherishing past memories with embroidered t-shirt quilt

Customer story: Creating a game day t-shirt quilt

Graduating during Covid-19: A Quilt of Cheer Memories
Sign up to be the first to receive new content!