Every T-Shirt Quilt tells a Story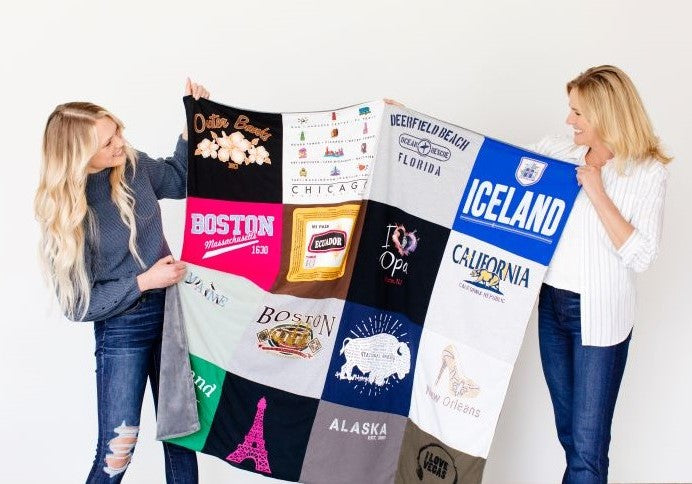 A t-shirt quilt is a great way to showcase all of your favorite t-shirts without hoarding them in your closet or dresser, but it's also a great way to show off your life story. Every t-shirt holds a memory, whether it's a high school club, an awesome trip you took, an event you participated in...
Every T-Shirt Quilt tells a Story
Each shirt shows off a glimpse of you and who you were. It may not be the person you are today, but it's still important to hang onto that. Every time you look at that t-shirt quilt, you'll be reminded of a fun event from your past. In some cases, it might be a reminder of a loved one you has since passed on, but that memory is forever held in your t-shirt quilt.
Our goal here at MemoryStitch is to help you tell your story. Each and every t-shirt quilt we make, holds someones beloved memories, and we want to know what those t-shirts mean to you. 
Below, you can get a glimpse of some of these amazing stories. Customers speak to the story behind the quilt, and why having a t-shirt quilt made was so important to them.
Creating a game day t-shirt quilt
Recent MemoryStitch customer Brett Sheffield held onto his favorite t-shirts and sweatshirts for 25 years. After hanging onto to them for so long, Sheffield couldn't just get rid of them.

"As I started to go through my 'collection', I would look at a shirt or a sweatshirt and remember why I had held on to it for so long. Because each of them had a memory or story behind it, I decided that the quilt should be a 'picture book'; with each panel a chapter that tells a story, connecting the memories or experiences that I have had," said Sheffield.
While he was starting the process of pulling the t-shirts together, Sheffield's wife and daughter joined in to help with the layout, and the quilt quickly became the "official game day t-shirt quilt" for the family's outings to JMU football games.
Read Sheffield's full story here.
Graduating during Covid-19: A Quilt of Cheer Memories
Recent MemoryStitch Customer Tammy DiBabbo had saved up her daughter Alexandra's cheer apparel for many years, and wanted to give her daughter a gift of her cheerleading memories for high school graduation.

From the time she was four years old, Alexandra was fascinated by cheerleading. "On the sidelines of her brother's football practices and games, she would watch the cheerleaders, trying to mimic their every move," said DiBabbo.

At age seven, Alexandra was able to join a cheer team herself. At age 11, she started competitive cheerleading, which involved practice, games, and competitions 5-6 days a week. According to her mom, "It was exhausting, but she was so passionate and dedicated, it was worth every moment!"
Read DiBabbo's full story here.
Ready to tell your story in a t-shirt quilt? 
If you've already purchased a T-Shirt Quilt, feel free to submit your stories on our "Your Story" page here. You can also see many other amazing customer stories there as well.
Looking to get started on your t-shirt quilt and tell your story? Reach out, and we'd be happy to get you going.
Like this post? Check out other customer stories below!
Creating keepsakes from t-shirts: gifting a friend who gave 110% 

From t-shirts to keepsake: Cherishing past memories with embroidered t-shirt quilt
Sign up to be the first to receive new content!