T-Shirt Quilts vs Traditional Gifts: Why Memories Trump Materialism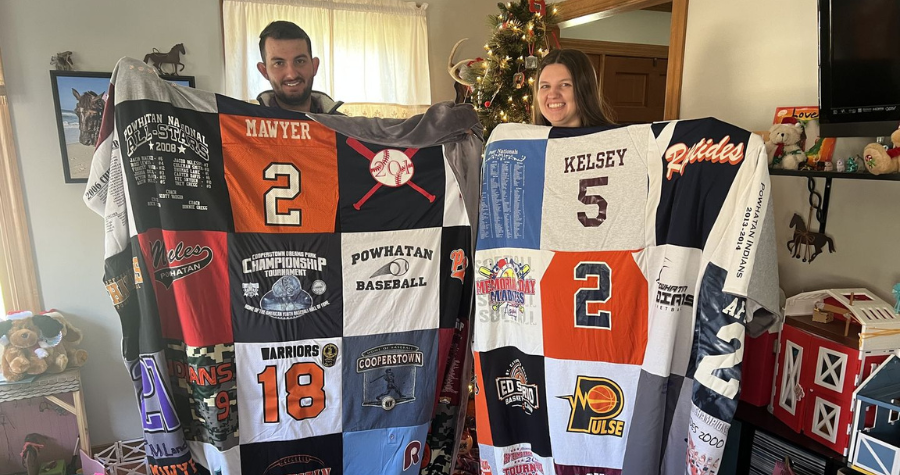 Give the gift of cherished memories this holiday season with MemoryStitch.
Why do we give the gifts that we do? For the holiday season, birthdays or any other special occasion, gifts are a tangible way for you to show love and appreciation to all the important people in your life. With modern-day holiday commercials, website ads, flyers and sales to sift through, your options for gifts are more vast than ever before.
To help you choose the perfect gift this holiday season, let's take a look at how to give meaningful gifts and how to impact the people closest to you. 
GIVING GIFTS
Everyone gives and receives gifts a little differently. Some people may like surprises a lot more than others, and others may want the gifts they give and receive to be practical. Rather than seeing these obstacles as problems when giving to your loved ones, think about how you can best accommodate for their gift-giving needs. Gift-giving "danger" only comes from gifts without any thought at how they will be received.
Gift giving at its worst is an exchange of materialism. If the gift has no emotional weight, there is no connection between you and your loved one. Gift giving at its best, however, is an ultimate display of affection and attention. But how can you build this emotional connection with a gift?
GIVING MEMORIES
The most heartfelt gifts are the ones that connect to your loved one's precious time and cherished memories. To understand the emotional response from folks and their memory gifts, check out some of these testimonials from MemoryStitch T-Shirt Quilt customers:
"Christmas presents for my grown kids! They were so happy to relive their childhood sports and memories! Great stories of championships and games from the past. What an awesome gift! There are some friends of theirs who want me to make them one now…great product!" - Jacqueline M.
"I love this blanket. It is nice and heavy-weight, and the back side is very soft. This is a great way to get use of some out of order shirts while reminiscing about my kids as they grew up." - Brian G.
"Great job MemoryStitch! The quilt came beautifully packaged and was absolutely perfect! … This is by far one of the nicest and most personal gifts that I have ever given. All of these memories from our son's years of baseball are now displayed on the back of his couch in his 'man cave' instead of packed away in the attic. Thank you MemoryStitch!" - Terry L.
"My father passed away over the summer and this was our first holiday without him. My husband and I surprised my mom with a MemoryStitch quilt of my father's shirts for Christmas. It was the perfect gift and it turned out better than I could have imagined. My mom absolutely loved it." - Kellie V.
WRAP UP
As you can see, giving the gift of a cherished memory keepsake like a MemoryStitch T-Shirt Quilt is the perfect way to move beyond materialism this holiday season. Understand that everyone gives and receives gifts a little differently, but to make a heartfelt impact on the lives of your loved ones, give them something to remember their past, honor a special moment or celebrate the life they have lived.
For more help on memory and t-shirt quilt gift giving, check out our blog posts on Unwrapping Memories and the Ultimate Gift Giving Guide. And remember to always give from the heart to warm the hearts of your loved ones!
Happy Holidays from all of us here at MemoryStitch!
Written by Zander Gibney