The Ultimate Guide to Creating Heartfelt Holiday Gifts with T-Shirt Quilts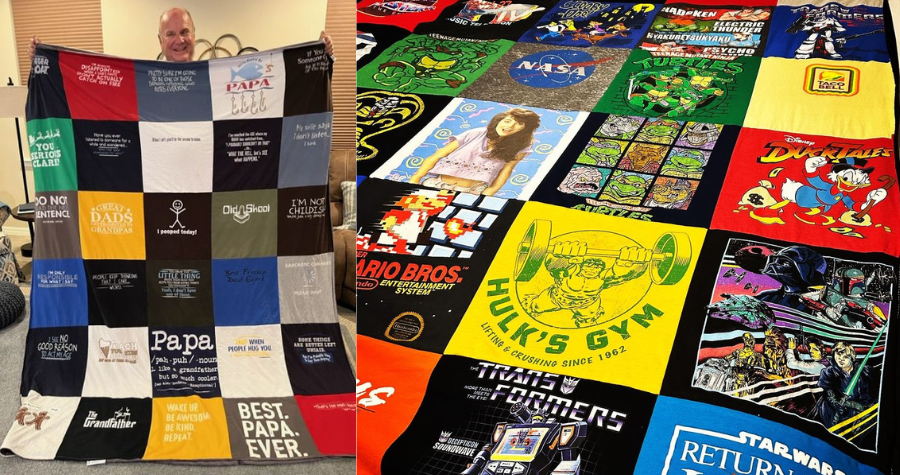 The holiday season is approaching! Whether you're enjoying leaves crunching beneath your feet or have already decided what to have for Christmas dinner, you know that now is always the best time to start planning for the holiday season. And, of course, potentially the biggest decision of the holidays is what gifts to buy your family and friends? How can you create something heartfelt and meaningful to give to the ones you love during the holidays?
Memorial t-shirt quilts are fantastic personalized gifts for Christmas!
The answer you're looking for may be simpler than you think! To ensure that your loved ones truly know you're giving something from the heart, make your gifts personalized this holiday season, just like the MemoryStitch t-shirt quilt you can see above. A unique gift is one that may have a different value from person to person. Finding the right personalized gift for your loved ones will show them your care and thoughtfulness in an unparalleled way.
Let's discover all the ways personalized gifts can warm the hearts of your family and friends this holiday season!
WHAT MAKES A GREAT PERSONALIZED GIFT?
Tony P. shows off his collection of pop culture shirts.
Think of sentimental value over commercial value. An amazing, personalized gift will not only cover the specific tastes of a loved one but also elements of their life. Honor, celebrate and cherish the memories of the past with your gift-giving. You are also preserving an essence of their life. Try to consider the practicality of a gift, too. If you know a loved one is in need of or wants something they may not necessarily buy for themselves, that is a fantastic opportunity to get them something personalized that they'll use all the time!
HOW CAN I MAKE IT UNIQUE?

Kellie V.'s Christmas gift to her mother: a memorial to her late father.
To create the most impactful gift, try thinking about the story you want to tell your loved one with your gift. Do you want to commemorate an activity or trip the two of you shared? Do you want to honor the memory of someone who has passed? Or, perhaps, do you want to create something that reminds them of you? The possibilities and stories are limitless! 
HOW TO HARNESS THE HOLIDAY SPIRIT?
The holiday season is not only a time to celebrate the love you have for your family and friends, but it is also a time on which to reflect and show gratitude towards the time you have spent together (and possibly apart). Giving is about more than a price tag and reindeer wrapping paper. Giving is a thoughtful act of love, compassion and tenderness. To give your loved ones personalized, unique gifts is to give the gift of memory itself. No matter what story is being told with your particular choice, you will know that your gift is embracing the true magic of the holidays.
THERE'S NO BETTER TIME TO GET STARTED WITH MEMORYSTITCH
If you're looking for a unique gift idea for this holiday season, a MemoryStitch t-shirt quilt or pillow is a warm and wonderful winter gift to show your loved ones a more personal kindness and compassion. 
Beth Z.'s collection of funny shirts for her husband from their daughters.
Whether your or your loved one's collection of t-shirts are in memorial of someone special, a testament to good times of the past or anything else, a memorial t-shirt quilt can breathe new life into these cherished memories. For this holiday season, show your loved ones the thoughtfulness of your giving with the gift of a MemoryStitch t-shirt quilt or pillow. The holidays are a magical time for us all, and honoring the heartfelt memories of a loved one, the past year or an entire lifetime makes all our days merry and bright.
To get started creating your personalized MemoryStitch gift today, check out our How It Works page for our quick and easy steps to create your quilt or pillow. For more Christmas gift ideas and other ways MemoryStitch can help you make the perfect sentimental keepsakes for your friends and family, stay tuned to our Blog! 
Written by Zander Gibney