Give the Gift of Memories to Graduates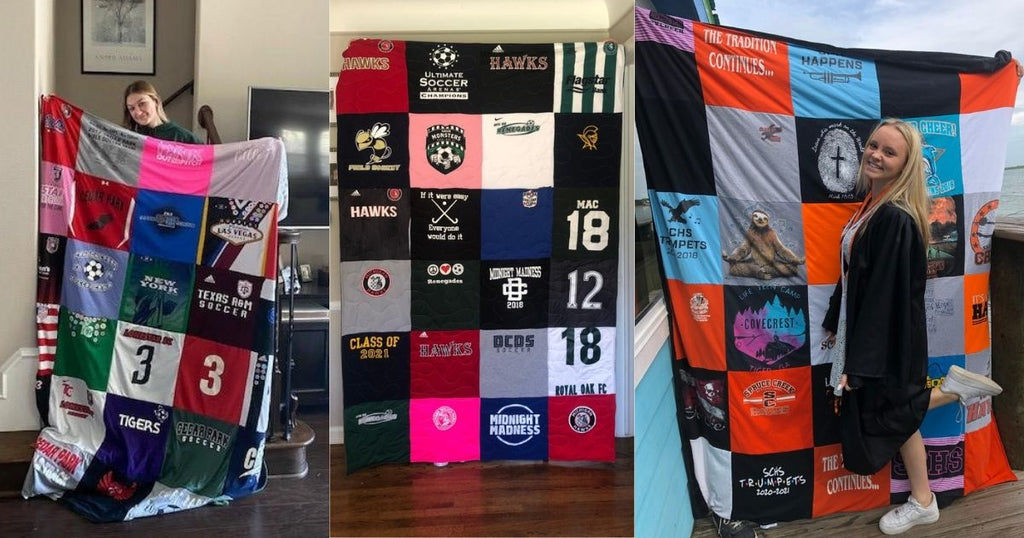 With graduation season quickly approaching, it is the perfect time to start planning your gift.
From high school, college, trade school, basic training, or any other milestone they might be completing, offering a wonderful memento to the graduate in your life is a fantastic way for them to cherish the treasured memories they have created. A memory quilt from Memory Stitch is exactly what a recent graduate would love.
 

"I have wanted to do a t-shirt quilt for my daughter ever since she started high school. I wondered who I would get to make this memory quilt. I found Memory Stitch on Facebook. I took a chance and I was totally blown away. From the very beginning, the customer service was top notch. They answered ALL of my questions and were extremely helpful. The tears that streamed from my daughters face in her graduation day was worth it!! She absolutely LOVES IT!!  I have already given out this company name to a few people because they saw the finished product and they loved it as well. Thank you so very much!! This was beyond my expectations. The quality is outstanding. Thank you, thank you, thank you!!!"

~Kelly B. 
What Is A Memory Quilt?
A memory quilt is when a collection of old and/or outgrown clothing (usually t-shirts) are sewn together into a quilt. These are usually themed, and the most popular ones for graduates utilize past sports attire, school club shirts, and baby outfits.
"WOW! 15 years of great sport memories remembered on one perfectly done quilt. Thank you! My daughter loves it!"

 ~Julie M.
A Comforting Gift
Gifting a recent graduate a memory quilt can help ease them into the next step in their life. Whenever they are feeling nostalgic or homesick, they can comfort themselves by snuggling into their memory quilt. While this might be a temporary solution to their melancholy, it just might be what they need until their next time back home, or lead to them coming back for an unexpectedly happy visit!
In addition to their beloved t-shirts, Memory Stitch uses a Minky backing for each memory quilt. However, being able to access the graduate's shirts or having enough time to prepare the project yourself might not be possible, but luckily, you can send them a memory quilt gift card so that they can choose which shirts they would like to include themselves.
"Absolutely love my t-shirt blanket! Thank you so much Memory Stitch for working with my custom design!"

 ~Carley L.
On A Personal Note
In May 2020, I completed my master's degree and one of my stepbrothers graduated from high school. Both of our graduation ceremonies were cancelled, but we were able to livestream PowerPoint versions of the respective ceremonies instead.
Since I had already graduated a few times prior (middle school, high school, and from undergraduate school) and did not need anything "special" this time, we wanted to somewhat make up for a bittersweet high school ending for my stepbrother.
My stepmother had a t-shirt quilt made for him using spirit wear from all of his past baseball team shirts (from early childhood through his senior year), show choir shirts, and wrestling shirts. He was going to be leaving for college in the fall and could not bring a lot of his belongings with him, so this was the perfect gift.
"I have been saving my daughters t-shirts since she was young to make a quilt. I realized I had so many I ended up making 3 quilts for different memories. This is an example of the big quilt for her sports.  All of them turned out great and she loves them. I highly recommend Memory Stitch. Thank you for helping me put together these great memories into a cherished keepsake."

~Jennifer G. 
Unfortunately, I could not get a picture of my stepbrother's quilt (he's a busy college student athlete out of state!), but the finished project for my stepbrother was beautiful.
He loved it so much that it currently resides with him in his college dorm room. Whenever he is missing the family and/or his high school friends, or thinking of the great memories he made before finishing high school, all he has to do is look at this memory quilt until he can come home for a weekend and over breaks.
Congratulate Your Graduate with Memory Stitch
Let the graduate in your life have a special keepsake and start the prep work on or send a gift card for a memory quilt! If a memory quilt isn't possible, a memory pillow or pillow case would add the perfect touch to their post-graduate living space.
 Graduation means moving on with one's life, usually away from friends and family. Gift your graduate a memory quilt so that they can always be comforted as they continue down their life's path.