3 Reasons to Choose MemoryStitch to Make Your T-Shirt Quilt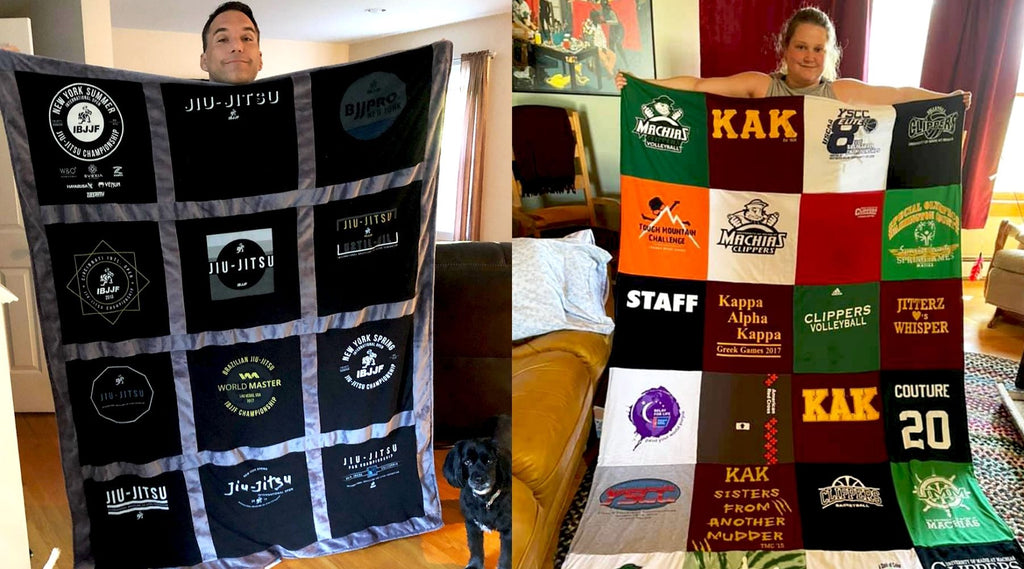 Choosing to make a quilt from your precious t-shirts is a big decision and all those memories deserve to be preserved in a professional way. Here are three reasons why you may want MemoryStitch to create your keepsake quilt.
Reason #1: Professional Experience Means a Quality Quilt
MemoryStitch understands just how important these quilts are to you. That's why we use high-quality fabrics, thread and batting when creating your keepsake quilts. Our expert knowledge of quilting guides our work, and it shows.
Want to see samples of finished quilts broken down by categories like High School Sports or Military? Check out our gallery to see a sample of t-shirt quilts we've made.
Reason #2: Your Memories are Stitched Together with Love
Your t-shirt quilts tell your story, and we take this very seriously. We think of each person who asks us to make their quilt as a new member of our growing family. This mentality leads us to creating each t-shirt quilt with love.
We want you to experience excellent customer service. We've made it easy for you to reach out to us if you have any questions or concerns – so you can rest assured that your precious memories are in good hands.
We care about your experience and absolutely love hearing from you once you've received your memory quilt! So please share your stories with us!
Learn how to transform your t-shirts into a memory quilt with MemoryStitch.
Reason #3: We Believe in Upcycling
Upcycling clothing isn't just a trend. With all the waste that's generated every day around the world, we're proud to offer a solution that helps minimize the impact on the environment while providing you with a quilt that you will cherish for years to come.
Sustainability is important and every little bit helps.
Learn more about MemoryStitch.
Preserve Your Memories in a Quilt
Your memories tell a part of your story. Having them professionally placed in a quilt by a team that cares about your experience is a wonderful way to preserve each one.
What do you look for in a company that creates memory quilts? Tell us in the comment section below.