Want to add an embroidery?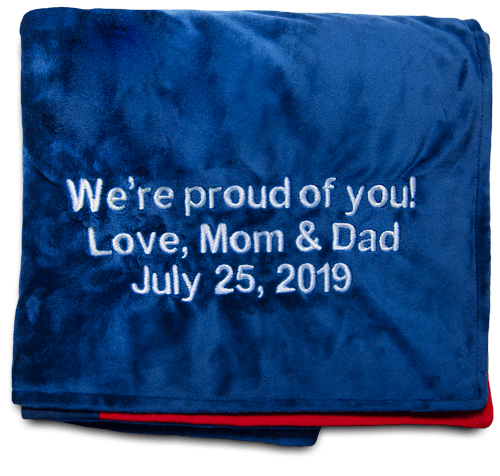 Typically ships within 3-4 weeks
DETAILS
I want a special message embroidered on my quilt! 
Embroidery is now available for our quilt products that have minky on the back. You can customize your own message to give the quilt that extra personal touch. 
Please keep in mind that there is a 20 character per line max, and a 3 line max. The characters will be 3/4" and done in a white, block font. 
- PHOTOS FROM HAPPY CUSTOMERS -
How It Works
1. Pick Your T-shirts
Select the T-shirts for your quilt, customize your quilt settings and checkout.
2. Ship Your T-shirts
After checkout, use our instructions to prepare and ship your T-shirts.
3. Get a T-shirt Quilt
Your T-shirts will be stitched together into an awesome quilt and shipped back to you!
Frequently Asked Questions
Can I change my order once it's placed?
Can I use the front and back of my T-shirts?