Why MemoryStitch® Is the Top Choice for Creating Your T-Shirt Quilt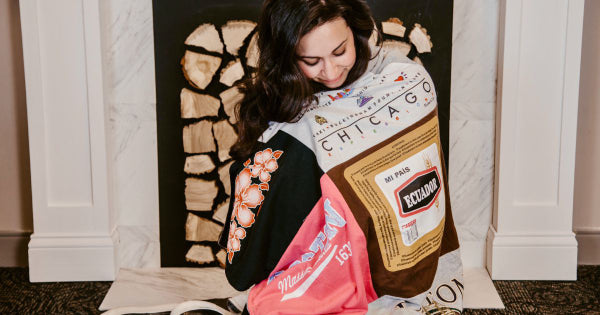 Looking for the best company to transform your precious memories with care? Look no further than MemoryStitch®, the most highly regarded t-shirt quilt company in the market. With our high-quality products, fast turnaround times and exceptional customer service, you will have a positive and convenient shopping experience that results in a product you'll love and cherish for years to come.
Made with High Quality Materials
At MemoryStitch, we offer a variety of high-quality options to ensure that your t-shirt quilt is both comfortable and personalized to your preferences. In addition to our Double-Sided T-Shirt Quilts, we offer quilts with a Minky backing, a soft and plush fabric available in a range of colors. We also have Fuzz Monsta®, our coziest option that includes Minky border and panel sashing in between each panel, perfect for quilts made with 12 or 20 t-shirts and suitable for all ages. With these options, you can have full control over the design of your memory quilt and know that it will be comfortable to use anywhere.
---
"I had this quilt made in advance and it was definitely worth the wait to see my daughter's reaction when she received it right after her high school graduation. Now, my daughter will be able to take a piece of home with her to college in the fall. Thank you for taking such good care of her t-shirts, which are the remnants of some of her best childhood memories. It is absolutely beautiful."
~Valerie S.
---
It can be hard to part with t-shirts that hold special memories, but MemoryStitch provides a way to preserve those memories in a meaningful way. Our t-shirt quilts are customizable, allowing you to choose the number and size of the shirts to be included. With options ranging from lap to king size, you can easily find the perfect fit for your memory quilt. Plus, by turning your t-shirts into a quilt, you can keep those memories close and snuggle into them whenever you'd like. 
---
"I've been collecting tee shirts for 30 years and had over 150 shirts. Researched and found MemoryStitch on Google and Facebook. Read your reviews and ordered 3 quilts. I love each of them. They are thoughtfully laid out and stitched together well!!! You have helped me preserve my memories. Thank you!"
~Candace L.
---
Easy Ordering & Free Shipping
MemoryStitch simplifies the process of creating a t-shirt quilt. Simply select your desired product, cut your shirts according to our guidelines and ship them to us. We take care of the rest, including delivering your personalized memory quilt in a timely manner. Most of our MemoryStitch quilts are shipped back within a week after we receive your shirts – completely free to you!
---
"My husband, Mike, now my angel in heaven, lost his fight with cancer in September 2017. This quilt is made from his t-shirts representing his passions: "Grandpa," Harley motorcycles and wildlife! Thank you for your beautiful and prompt work to get it back to me so quickly. It feels like his arms are around me!"
~Karen H.
---
Outstanding Customer Service
At MemoryStitch, we pride ourselves on offering first-class customer service. We provide our customers with the best possible experience from the moment they first contact us to the moment they receive their finished product. Whether you have a question about the ordering process, need help selecting the right product or simply want to know more about our company, we are here to help. Our team is available Monday through Friday from 9 AM to 5 PM CST via phone, email and virtual chat.
---
"I ordered this memory blanket for my son, David, to take with him to college in the fall. We absolutely love the way it came out! Quick turnaround time and very friendly staff with great customer service!"
~Lorraine K.
---
Plus, the Customer Experience team will even reach out directly to you if they have any questions about your order.
---
"The instructions were very easy to follow. They reached out whenever had questions when making my blanket."
~Aimee C.
---
The Bottom Line
MemoryStitch offers a wonderful solution to preserving your t-shirts while providing a superb experience. We take great pride in our dedication to helping you create a fully personalized memory quilt from start to finish. 
---
"We had to wait on a final T-shirt to complete my daughter's theater quilt for her last production. MemoryStitch helped expedite it and get it to us for her graduation party this weekend! I didn't submit the back, but the bible verses for each show are on the back of the quilt. We got SO many compliments and my daughter can't wait to take it to college. We used a competitor with my older daughter and weren't nearly as happy. Thank you!!"
~Rose K.
---