Why Memory Quilts Make the Perfect Gift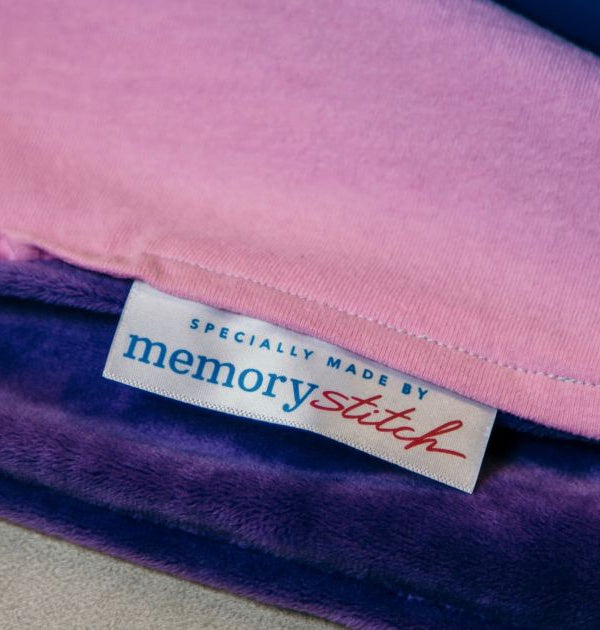 One of the greatest treasures in life is spending time and creating memories with loved ones. When they pass on, it can be difficult to overcome the loss, but having a physical keepsake to preserve their life and one's memories with them can bring a tremendous amount of comfort. To help heal from the passing of a loved one, a memory quilt can become the perfect gift for oneself or for others to cherish those memories.
A Memory Quilt Can Help You Heal
These MemoryStitch customers channeled their grief into a sentimental item that allows their loved one's story to live on in their hearts, words, and memory quilt.
---
"My dad passed away September 29th unexpectedly. Needless to say, we were devastated. After several months in a Grief Share program, one lady mentioned saving your loved one's belongings and making them into a blanket or pillow. I thought that was a fantastic idea! So, I found MemoryStitch online and was grateful for what they did. They turned all my dad's clothes into a beautiful blanket that I can have forever. I wanted to cry when I saw it. It reminded me of him. He was a minister and always wore dress shirts. Thanks so much for helping me preserve memories. 💕"
~Sharita Y.
---
---
"My father passed away unexpectedly a few months ago and I wanted something to keep of his that was meaningful yet useful. My mom and I sent our favorite shirts of his. When they came in, we opened them together and cried. They were beautiful and perfect. Thank you for helping us create such a beautiful piece in memory of my Dad."
~Tiffany A.
---
---
"When my sister-in-law passed unexpectedly several months ago and we were going through her things, I got the idea of having a quilt made for her sister. Unfortunately, I didn't read the directions very well and precut all my t-shirts to the 14" panel size. When I realized what I did and contacted MemoryStitch, they responded promptly and offered up a solution of making the panels slightly smaller.  I was BEYOND grateful for their willingness to accommodate. Even better, MemoryStitch (with the help of many angels) completed the quilt in record time and we received it one hour before our family gathering where I planned to gift it. I HIGHLY, HIGHLY recommend MemoryStitch; you've made a lifelong customer! Thank you to your amazing team."
~Jennifer G.
---
---
"I would like to thank you for making such a beautiful quilt. These t-shirts were my husband's. His name was Thomas Tune and he passed on November 22, 2021 from congestive heart failure. Tom and I were married for fifty-one years, and I will miss him forever. But, thanks to you, I can hug the quilt you made every time I miss him. Love, Landa"
~Landa T.
---
---
"My grandpa passed away in November of 2019. When I was helping my grandma go through his stuff, I took all his t-shirts. I decided to make a t-shirt blanket for Christmas for her."
~Selby N.
---
Comfort Yourself with Memories
These testimonials demonstrate how a loved one's memories can live on forever through a memory quilt. Their stories have been preserved and the comfort that brings to others is something that can be cherished forever.
Take advantage of MemoryStitch's Black Friday sale to memorialize your loved one's memories today!