Why A T-Shirt Pillow Might Be What You Need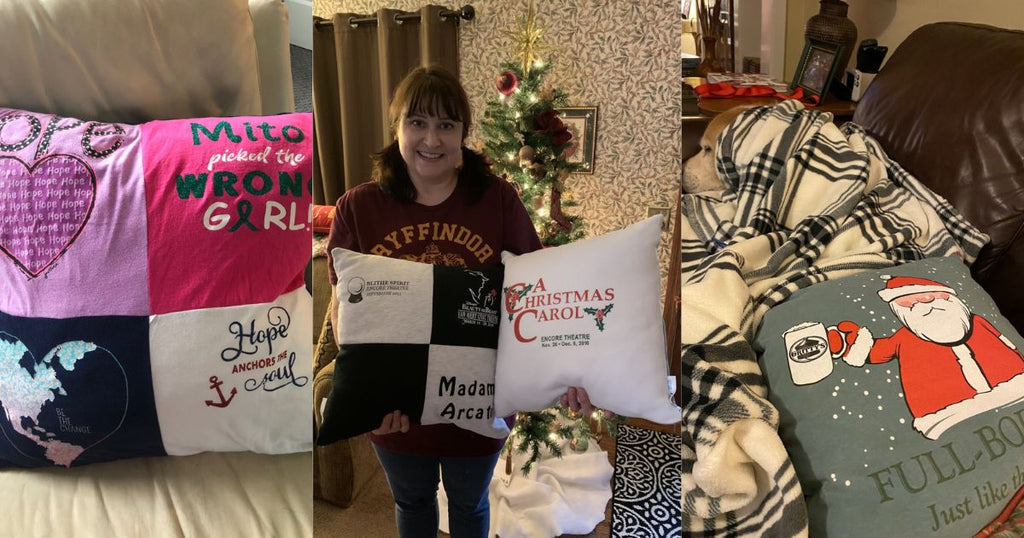 When you want to give a memorable and personalized gift using old, worn, or ill-fitting t-shirts, but you do not have many, a t-shirt pillow is the way to go! There are many reasons why a t-shirt pillow is a fantastic keepsake to have.
On one hand, these comfy pieces of decor are smaller than a memory quilt, so travelling with them can be much more convenient – and help provide cozier naps in the car, on a train, or while flying. On the other, t-shirt pillows are created for a certain loved one in mind to snuggle with at home, even if it may be themselves.
In Memorial
Janice B.'s story is so touching, and it must be so comforting to still have her daughter, Juliet, nearby. As you can see, she was also kind enough to provide MemoryStitch with images of her daughter wearing the specific t-shirts Janice B. chose to include next to the finished pillow.
---
My courageous daughter, Juliet, was not expected to live past the age of five.  She fought hard against the Mitochondrial Disease that weakened her body each day.  We celebrated her 16th birthday with her in September, and she passed shortly thereafter.  Juliet was a miracle, and she loved to snuggle.  I love snuggling up with this awesome pillow each day as I remember her sweet smile.
~Janice B.
---
While Janice B. seems to have had her personalized pillow made for herself to snuggle with and remember her daughter, it is also reasonable to guess that this t-shirt pillow is for Janice B.'s loved ones as well. When they visit, they can imagine Juliet's bright smile while she was wearing the t-shirts used in this pillow. Being able to see and snuggle with a loved one when they are no longer with us is a wonderful way of remembering them and provides an endless time of comfort when you may need it most.
To Compactly Capture Memories
A t-shirt pillow offers a glimpse into someone's memories, such as their childhood, their academic years, their marriage, or a vacation, and all of them reflect enjoyable moments in their life. Kim W. did just that with two t-shirt pillows.
Kim W.'s Two T-Shirt Pillows by MemoryStitch
Kim W.'s t-shirt pillows offer a glimpse into happy memories created in regards to four different theatrical productions. For many, going to the theatre is a joyous occasion, and Kim W. was able to capture four of those moments of excitement in her t-shirt pillows.
For Seasonal Decor
Another merry time of the year is the holiday season and having seasonal decor around the house is one way countless individuals get into the holiday spirit. Aimee R. and her sleepy companion did just that with their holiday t-shirt pillow.
Aimee R.'s T-Shirt Pillow by MemoryStitch
While Aimee R.'s furry companion may be tired from all the holiday delight, her t-shirt pillow is a great example of how these cozy pieces can be used as seasonal decor to brighten up any room. To keep your pillows "fresh," you can even create a t-shirt pillowcase that can easily be replaced throughout the year.
A Pillow to Remember with MemoryStitch
Whatever the reason may be, having a t-shirt pillow is an extra soft reminder of the memories you or a loved one have created. If you want to make a t-shirt pillow as a gift, but do not have access to any shirts that can be used in a t-shirt pillow or pillowcase, you can always send your loved one a gift card!