What To Do with Greek Life T-Shirts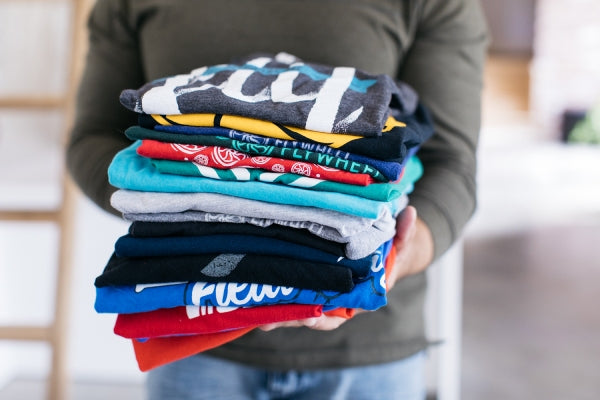 Going to college can be difficult for some, especially if they are far away from their family, friends, and home. Joining different organizations at one's university can help these individuals adjust better to college life, and arguably one of the most popular college organizations is Greek Life.
To many, becoming a member of a fraternity or a sorority means finding a home away from home and establishing chapter friendships that can last forever. Along with collecting memories in Greek Life, members also usually accrue t-shirts from:
Recruitment/rush
Bid days
Big/Little reveals
Initiation
Philanthropy events
Campus block parties
Greek Week
Date parties
Semi-formals
Formals
Senior Wills
The number of these t-shirts grows quickly, and fraternity and sorority alumni more than likely will find themselves with their own Greek Life shirt surplus. Luckily, a great way to preserve these t-shirts as well as college memories is by creating a memory quilt.  
To Recollect Terrific Times
Making a memory quilt using college and Greek Life shirts is perfect for downsizing, decluttering, recycling, upcycling, and gift-giving, especially for graduation like Denise H. did for her granddaughter.
---
"I had MemoryStitch preserve my granddaughter's college memories by making a memory quilt using her Kappa Delta t-shirts. It was the perfect graduation gift and she loved it. MemoryStitch made my experience so easy, and I was impressed by their caring and supportive staff. I received my completed quilt faster than I ever expected, and it turned out beautiful."
~Denise H.
---
Similarly, Elizabeth M. used Delta Sigma Phi t-shirts to produce a special and snuggly quilt.
Elizabeth M.'s Fuzz Monsta by MemoryStitch
While giving gifts to others is fun, sometimes, treating oneself, like Kenneth K. did, is even better. He sent his shirts, including Delta Chi ones, to MemoryStitch to make a unique Fuzz Monsta t-shirt quilt.
Kenneth K.'s Fuzz Monsta by MemoryStitch
From Balancing Extracurriculars to Remembering Them
Being a part of Greek Life means participating in plenty of events, but outside of these activities, plenty of students in sororities and fraternities join other extracurriculars, like clubs, academic organizations, and sports. Along with being a member of Alpha Chi Omega, Angie H.'s daughter was a soccer player for her university. Angie H. created a great keepsake for her daughter to commemorate her time within her sorority and playing soccer.
---
"Absolutely love the quilt we had made with our daughter's soccer shirts/jerseys. Excellent quality, quick turnaround. Great customer service."
~Angie H.
---
Similarly, Patti S.'s son, Jordan, spent his time as a member of his fraternity, Delta Theta Sigma, and participating in intramural sports. Patti S. gifted him a sentimental way to remember these memories.
---
"This is a 2021 Christmas present for my youngest son. I was going to wait and take the picture and may still do it on Christmas when he opens the quilt. My kids both attended The Ohio State University and the youngest kept all his t-shirts from his fraternity and intramural sports. He holds on to sentiments that bring enjoyment. Jordan gave me the shirts and said I might be able to come up with a creative project. MemoryStitch came to the rescue and did a fantastic job on the quilt and his expression at Christmas will be priceless."
~Patti S.
---
Have Too Many Greek Life Shirts? No Problem!
While having plenty of memories from Greek Life might not be a problem, having all those t-shirts might be. Turn those shirts into a memory quilt for a comfortable and sweet keepsake!
Not a Greek Life Alum Yet?
Are you an active member in Greek Life and interested in becoming a Social Marketer? Among other perks, this position will earn discounts on any t-shirt product for all new members and current active members within your chapter. Plus, you can get one FREE memory quilt for your chapter. Reach out to MemoryStitch for more details!