The Unique Stories that T-Shirt Quilts Tell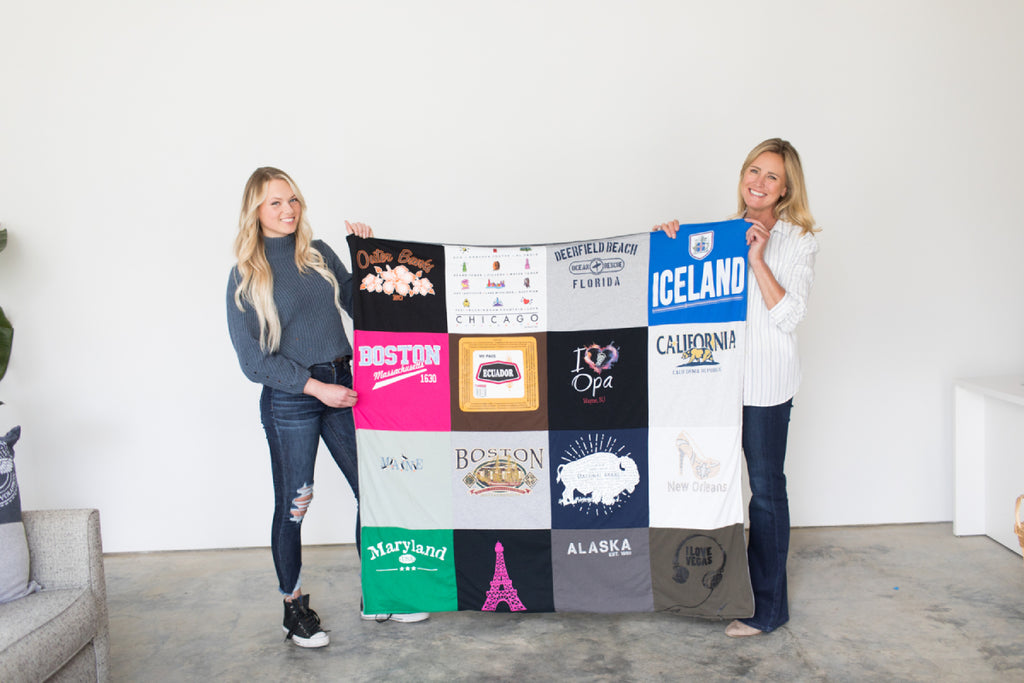 Friendship Day is August 7 and represents the close relationship between two people. While a friendship can be between friends, it can also be a connection between family members and between significant others. The memories they create together are strengthened by the care and love they have for one another, and preserving those memories in a t-shirt quilt is a sentimental way to demonstrate how much one cherishes the time they have spent with each other.
Best Friends Forever
---
"I used to work security at a club that my best friend owned. Many famous bands played there. I decided to have a quilt made with my t shirts that have so many memories attached to them. While my quilt was being made, my best friend passed away. The day I received it, I got news of another loss related to the club. My MemoryStitch quilt is worth more to me than anything. Thank you for doing such an amazing job!"
~Warren D.
---
Family Bonds
---
"When my childhood home was sold in 2011, we weren't able to keep many of our belongings. My mom and sister moved to Idaho, I went off to California to finish college, and unfortunately, we couldn't take much with us. 90% of our things were donated or thrown away, including old clothes I'd held onto for sentimental reasons. Thankfully, I'd stowed away a small bag of shirts I left with my dad in Hawai`i, hoping to one day turn them into some kind of keepsake.
There's a mix of shirts--from college, a trip to Seattle, my best friend's wedding--though most are from Hawai`i, like local events, concerts, and memories from school. I went to Kamehameha (pronounced Ka-meh-ha-meh-ha) Schools, a school for Native Hawaiian students. I'm most proud of the Kamehameha Biathlon shirt--where 10th graders are REQUIRED to participate in a biathlon, an 800 meter swim, and a four mile run! I also love the Congressional Gold Medal shirt that shows the medals of honor awarded to the 100th Battalion and 442nd Regimental Combat Team from WWII. I'm proud to say that my grandpa was part of the 442nd RCT, an all-Japanese-American unit, the most decorated unit for its size and length of service in US military history.
I'm homesick for Hawai`i a lot, but whenever I look at this quilt, I'll be reminded of home and all the awesome memories I have. There's a saying in the islands, 'Lucky we live Hawai`i,' and I know I'm truly lucky to have been born and raised in such a one-of-a-kind place.
Thank you, Zaida M. (Pronounced Zah-ee-duh)"
~Zaida M.
---
A Spousal Best Friend
---
"My story is a story of unending love for my husband. Our MemoryStitch quilt is made from our life together. My amazing husband built our dreams with me. We had a love story for the ages. He was born and raised in Ireland. We were meant to be. We met in Florida in the 80's. We fell in love and decided we needed to find a way to be able to stay together. We filed for a fiancée visa and were finally able to get married. Our story is long, and our quilt marks many things. He skied in the World Waterski Championship. We built a beautiful life. He loved motorcycles, music, life! He later battled leukemia and was in remission when he had to battle Covid. I lost the love of my life to that in 2020. This quilt helps me and family and friends with a wonderful quilt of memories of him. Seeing his shirts loving stitched together is everything! I could not have ever imagined how amazing this would be! Thank you, MemoryStitch, for giving me back a beautiful quilt that weaves our story together!❤️"
~Tracey K.
---
Tell Your Story of Friendship with MemoryStitch
From childhood mementos, inherited shirts, vacation souvenirs, former places of employment to personal interest t-shirts, t-shirt quilts allow for memories to live on in a special and visual narrative.