Spring Cleaning Your Way into a T-Shirt Quilt: Preserve Your Child's Memories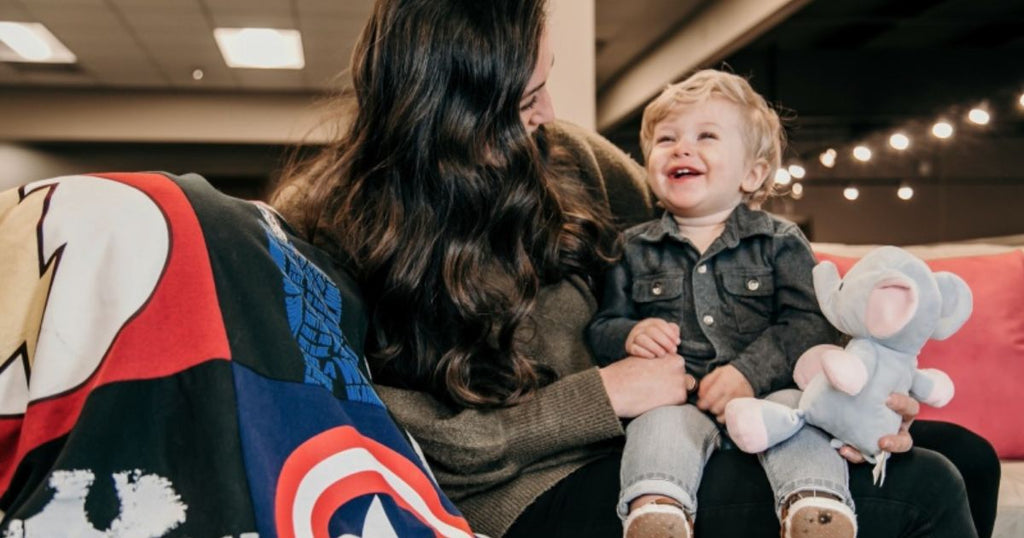 Spring is in the air, and it's time to switch out those heavy winter clothes for something lighter and brighter. As your sort through your child's closet, you may find yourself facing a dilemma: what to do with all those short and long-sleeved t-shirts they've outgrown? Instead of tossing them in the donation bin or consigning them, why not turn them into something special that will preserve those memories forever? We'll explore the benefits of creating a t-shirt quilt for your child, and how MemoryStitch can help you make it happen.
See how Angela used her children's shirts and made a memorable t-shirt quilt keepsake. 
Easily Maintain a Child's Memories with a T-Shirt Quilt
Children grow up so quickly, and it can be challenging to hold onto those precious moments. One day, they're wearing a shirt that fits them perfectly, and the next day, it's too small. What if you could hold onto those memories forever? By creating a t-shirt quilt using your child's outgrown clothes, you can preserve the memories they made while wearing each shirt. Plus, involving your child in the process can be a fun and meaningful bonding experience.
Check out Kelly's son wrapping up in his favorite memories with a MemoryStitch T-Shirt Quilt.
"I got the blanket for my son when he graduated from 5th grade. He loved having all of the memories preserved in a cozy blanket!" – Kelly B.
T-Shirts & More in Their Memory Quilt
At MemoryStitch, we specialize in turning t-shirts into one-of-a-kind quilts. Did you know that we can also include other types of clothing in your child's memory quilt? If they fall under our list of acceptable materials, we can include hoodies, jerseys and other articles of clothing. This makes it easy to create a truly personalized and meaningful quilt that your child will cherish for years to come. 
See Jessica G.'s Premium Long-Arm Stitched Memory T-Shirt Quilt.
Let Your Child Snuggle into Their Memories
One of the best things about a t-shirt quilt is that it's not just a sentimental keepsake – it's also a functional and practical item. Your child can snuggle up under their quilt on chilly evenings or use it as a cozy addition to their bedspread. It's a tangible reminder of their childhood, and a way to hold onto memories that might otherwise fade away. 
Carol M. used her daughter's outgrown t-shirts and created a MemoryStitch t-shirt quilt full of special memories they can remember forever.
Customized T-Shirt Quilts in Various Sizes
At MemoryStitch, we offer a range of t-shirt quilt sizes to suit your needs. From lap-sized throws to full-size bedspreads, we can create a custom quilt that fits your vision. We also offer a Kids & Baby Clothes Quilt option for smaller children and infants who have outgrown their onesies. No matter what size you choose, each quilt is crafted with care and attention to detail, ensuring that it becomes a cherished family heirloom.
"My son had his favorite BSA shirts from troops and camping for years. He has made Eagle Scout and I just had to put them to better use than in a bag at the corner of his closet. He was so happy with his blanket and just smiled all day when he got it." – Cary S.
Get Started on Your Child's T-Shirt Quilt Today
If you're ready to turn your child's outgrown t-shirts into a special keepsake that will preserve their memories for years to come, MemoryStitch is here to help. With our easy online ordering process and quick turnaround times, you can have your quilt in no time. Let us help you create a quilt that you and your child will treasure for a lifetime.
Have other great kid's quilt ideas? Leave them in the comments and let us know! For questions and inquiries about our products, email info@memorystitch.com or call 1-855-792-4205.