Special Memory Gifts for Sports Fans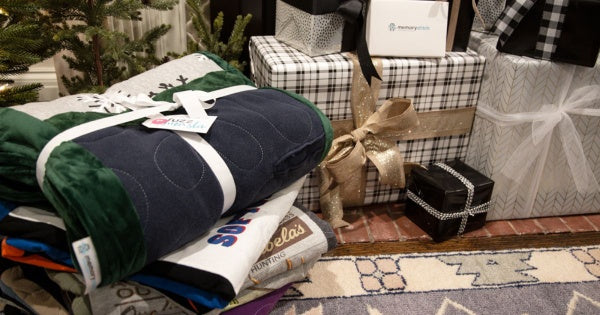 Before the holiday season and the rush to purchase presents begins, many professional sports seasons have started. The NFL kicked off their season last month, the NHL just began their season and the MLB post-season is heating up. Typically, fans enjoy wearing their favorite team's or player's jersey while watching the game, yet they could have an even more enjoyable viewing experience if they were wrapped in their own customized memory gift.
For Naps in Between Games
Coming up with unique gift ideas for a sports fan can be difficult when they have plenty of merchandise from their favorite team(s) already. I mentioned before that my dad loves the Chicago Blackhawks, but after I made him a custom canvas, I was not sure what I could get him as his next present.
I discovered that MemoryStitch can turn t-shirts into different memory gifts, so I got started on gathering enough shirts for a Father's Day t-shirt quilt, though these were to tell his story. For Christmas this year, I am going to surprise my dad with a pair of t-shirt pillows that go with the personalized Blackhawks t-shirt jerseys he had made for himself, my sister, my stepmom, my stepbrothers and me. These jerseys have each of our first names on them, so having a matching t-shirt pillow with our last name on both would complete this decor set.
Of course, I could always have pillowcases made instead, similar to the one Loretta H. created with MemoryStitch's help.
Loretta H.'s T-Shirt Pillowcase Created by MemoryStitch
To Stay Warm During Tailgates
If a t-shirt pillow or pillowcase are not what you have in mind, a memory quilt to gift to a sports fan for the holidays is even better, like the ones that Cynthia S. and Judy B. had created for their sports-loving family members. 
Cynthia S.'s Fuzz Monsta Created by MemoryStitch
 Judy B.'s Premium T-Shirt Quilt Created by MemoryStitch
If the sports fan in your life also participated in sports, you can combine their favorite professional teams with the minor ones they played on because to the recipient, these memories were nothing less than major. Betsy G.'s son most likely felt this way when he received his memory quilt. 
---
"I wanted to give my son a memory blanket of his favorite sport team jerseys and shirts for his high school graduation. I had saved jerseys from his baseball, soccer, track, and flag football teams, including a few special team t-shirts, and could think of no better way to surprise him than with a blanket to treasure the memories. I didn't expect to receive the blanket in time for his graduation and was so surprised the FedEx truck pulled up with it two hours before the ceremony! I was stunned with how beautiful the craftwork was, and my son absolutely loved receiving it. He got very choked up since it was such a special surprise. I had MemoryStitch do all the cutting and organizing of the layout - so happy I did because they did such a fabulous job! I chose the long arm stitching with Minky soft backing. Thank you!"
~Betsy G.
---
Capture Their Love of Sports
Although they may not be able to win a Super Bowl ring, become an NBA champion or win the Stanley Cup, sports fans can receive a more meaningful memento of their beloved sport(s): the memories of watching all those games while cheering on their favorite team with their loved ones.
The holiday rush will begin at MemoryStitch soon, so it is a great idea to get started on gathering the necessary t-shirts to ship to us so that we can help create the perfect present.