"Since I've Been Loving You": Passing on the Memory of a Father to the Next Generation with Memorial T-Shirt Pillows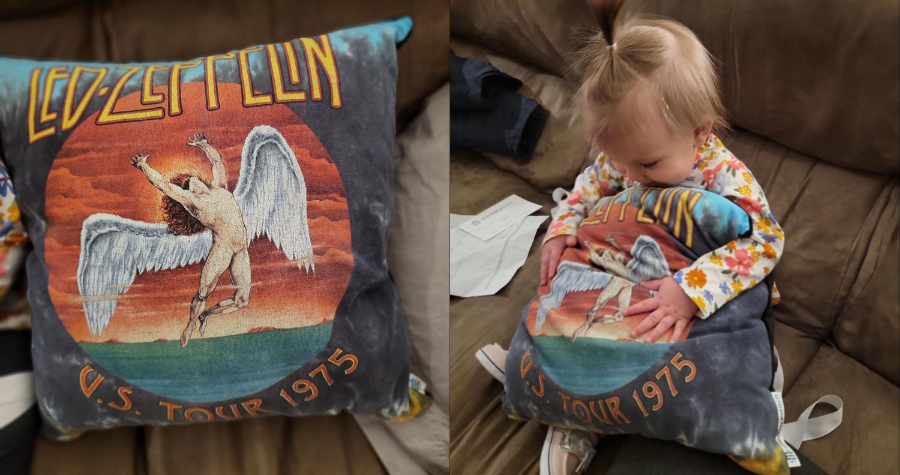 How do you honor the memory of a loved one? How do you tell their story to your children and family? Many people have found their answer in transforming old t-shirts of departed loved ones into memorial t-shirt pillows. These pillows not only preserve the shirts of past events and titles, but they can also tell the story of who a family member was, how much they were loved and even what music they listened to.
Interview with Melissa H.: Memorial T-Shirt Pillows in Memory of a Father, Grandfather and Music Lover
WHAT INSPIRED YOU TO PRESERVE THE MEMORY OF YOUR LOVED ONE? 
Melissa: My dad had passed away, and I wanted something that would last a lifetime and something that my daughter could have to remember her grandpa. My daughter was only 7 months old when my dad died, and I want her to be able to hug something that she knows was her grandpa's.
Melissa found a fantastic way to honor her father's legacy: MemoryStitch's T-Shirt Pillows. In the memory of her father, she ordered 4 pillows for her daughter, her mother, her brother and her niece. Together, Melissa and her family celebrate and cherish the legacy of her father with the warm embrace she wanted for her daughter.
Melissa H. used a memorial t-shirt pillow to preserve her father's love of music.
WHAT MEMORIES DO YOUR T-SHIRTS REPRESENT?
Melissa: The t-shirts that we used all belonged to my dad. Three of the pillows were used with his Led Zeppelin shirts. That was his favorite band. For the last pillow for my niece, we used a shirt that she had bought for him that said "grandpa" on it. It was very special to her. She gave it to him on Grandparents' Day.
T-shirts hold special meaning for everyone. For Melissa and her family, these shirts told the story of not only who her father was but the music he loved as well. And for Melissa's niece, the shirts hold a cherished connection to memories of gift-giving and love between her and her grandfather.
Melissa's niece now has a memorial t-shirt pillow with a shirt she gifted her grandfather.
HOW HAS HAVING MEMORIAL T-SHIRT PILLOWS HELPED KEEP THE MEMORY OF YOUR LOVED ONE ALIVE?
Melissa: Our pillows have helped us all in different ways. For me it has helped me be able to show my daughter and tell her all about her grandpa and how he loved Led Zeppelin. It's nice to look on my couch and see my daughter laying on the pillow that was made out of my dad's shirt.
Although Melissa's daughter was young when her grandfather passed away, her memory of him will forever be woven together with the music he loved. For Melissa, the joy of preserving his memory for the next generation of her family defies description.
Melissa's daughter cherishing one of the memorial t-shirt pillows.
WHAT DOES MEMORYSTITCH MEAN TO YOU?
Melissa: The pillows we got mean the world to us. We love looking at the pillow and using it. We love to just see my dads shirt there. It's hard to explain what it means. 
WHAT WOULD YOU SAY TO OTHERS CONSIDERING MEMORYSTITCH MEMORIAL T-SHIRT QUILTS OR PILLOWS?
Melissa: I would tell them to get one. It's a nice thing to keep their memory alive or to be able to show your kids who were either too young to meet them or not born yet. 
Closing Thoughts
Memorial t-shirt pillows are comforting, powerful and huggable keepsakes to preserve the memories of a departed loved one. As profound displays of histories, hobbies and music tastes, these pillows help tell the story of family members to generations to come.
Through working with MemoryStitch, Melissa H. was able to pass on the legacy of her music-loving father to her daughter and niece. After a simple selection of shirts and styles, she found the perfect way for MemoryStitch to bring her and her family indescribable joy through memorial t-shirt pillows filled with love, passion and warmth.
If you or a loved one wants to preserve the story of a friend or family member with a wonderful keepsake like Melissa's, we here at MemoryStitch are here to help you on that journey. For every person, there are so many stories to tell and memories to cherish, and memorial t-shirt quilts and pillows can let those live on in your hearts and homes for generations to come. 
Written by Zander Gibney
Get started on your memorial t-shirt quilt