Remembering Their Service Memories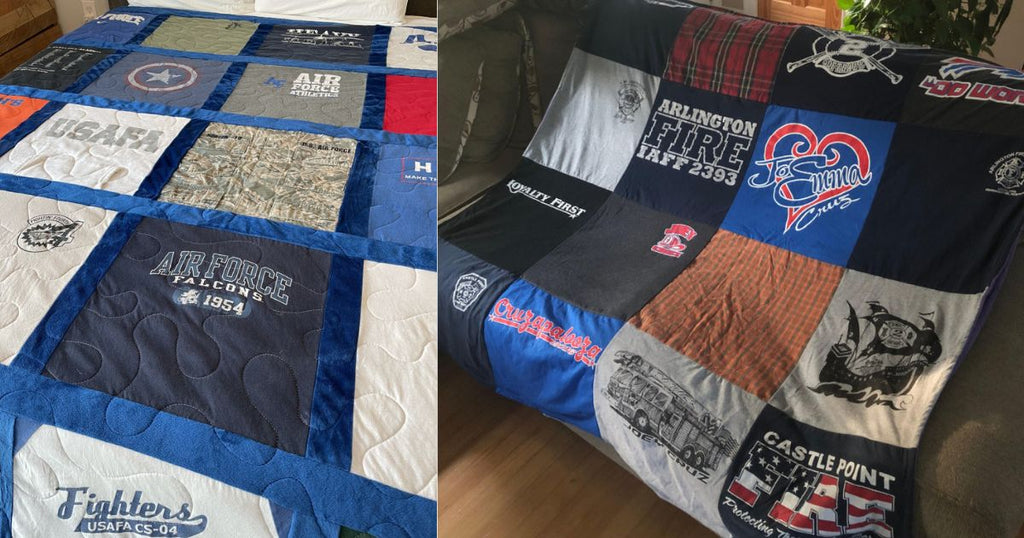 The "home of the brave" rings true for those who dedicate themselves to helping others and keeping them safe. Police officers, firefighters, and individuals in the armed forces are some service members who provide assistance and/or protection to those who need it. Once they retire, they are left with plenty of memories of their service time, and one way to preserve these memories is with a memory quilt.  
Create A T-Shirt Quilt for Yourself
While a major aspect of being a service member is being on duty, service members also have free time. One way to enjoy their time off duty is by participating in recreational activities. During his time in the Air Force, Zachary N. did just that. 
Zachary N.'s Fuzz Monsta Quilt by MemoryStitch
Based on the t-shirts featured in his memory quilt, Zachary N. actively joined his regiment's athletics teams during his free time. Adding the top of his uniform within his design to further remember his entire experience in the Air Force was also a great touch.
Participating in sports isn't the only activity service members take advantage of during their free time. As his t-shirt quilt shows, Steve S. attended other events while off duty.
---
"I graduated from the Air Force Academy in 1976. I saw the very first Star Wars in 1977, waiting in line around the block at a theater in Merced, CA, while I was going through navigator training in the Air Force. My tennis buddy dragged me to it, but by the time the opening title scrolled through, I was into it.
"The green '7th A.R.S.' crew dog is from my very first job in 1978 as a 2nd Lieutenant Air Force navigator as a member of the 7th Air Refueling Squadron at Carswell AFB, Texas. We flew with 4-man crews (pilot, co-pilot, navigator, boom operator) and we referred to ourselves as 'crew dogs.' Thanks for asking for these details because it was good for me to sit down and remember all of this."
~Steve S.
---
While Steve S.'s t-shirt quilt illustrates several aspects of his life, including his passions, he fondly recalls serving six years in the Air Force and the memories he created within and outside of his service. We are glad that Steve S. was grateful to recall these memories and can continue to do so whenever he uses his memory quilt.  
Make A Memory Quilt for Others
Honoring a service member who has passed away by preserving their memories is one way loved ones can overcome their grief. Lisa S. was able to honor her granddaughter's firefighter father with a memory quilt.
---
"My granddaughter's father was a firefighter. He died 6 years ago by suicide. She was young, but she still has great memories of him. I wanted to give her something she could have forever. My best friend's wife had a blanket made by MemoryStitch when he passed away. I thought this would be the best Christmas gift she would ever receive! Thank you for the awesome work! I am so happy with the outcome!!"
~Lisa S.
---
This comforting present was a very thoughtful way of preserving the memories Lisa S.'s granddaughter has with her father. Whenever she is missing her dad, she can hold onto and hug this sentimental gift to remember her father and the great memories he created with her.
Honor Service Members' Time with MemoryStitch
Whether you want to create a pillow, pillowcase, or t-shirt quilt, MemoryStitch can help capture time spent in service with special keepsakes. Gift yourself, the service member in your life, or the loved ones of a service member a memory quilt!