Personalized Picnic Quilts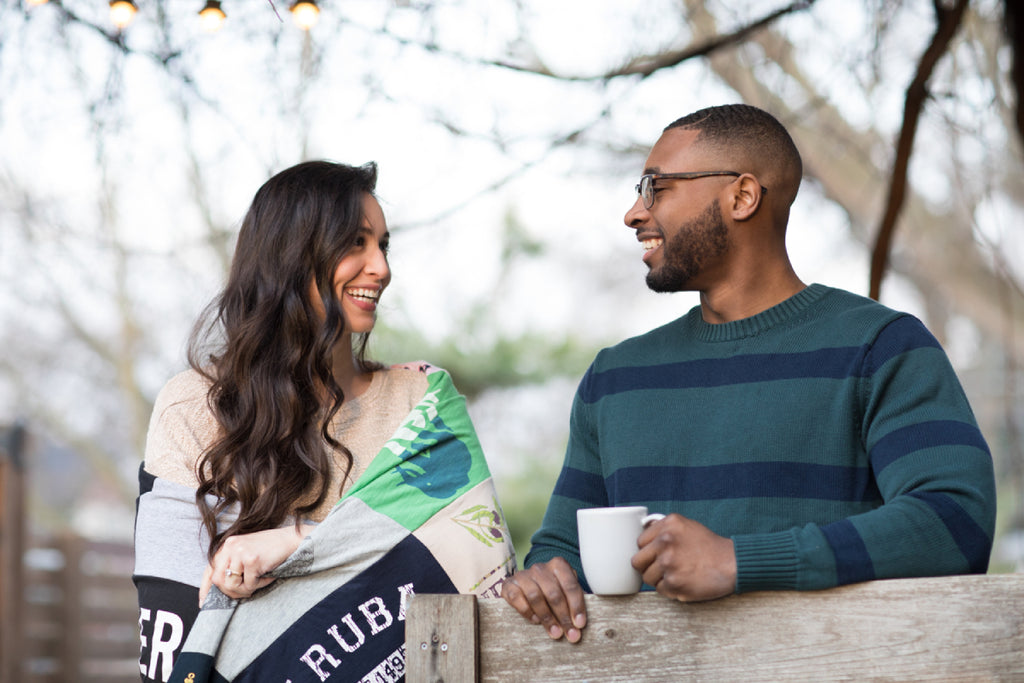 International Picnic Day is June 18, but that does not mean you can only have a picnic then! With a personalized t-shirt quilt from MemoryStitch, you can make any picnic special.
Picnics with the Family
Having a picnic with the family is an exciting way to enjoy the summer weather, especially when you have a sentimental memory quilt to use for your picnic blanket. Both Kerry M.'s and Tom H.'s families are even luckier to have their own personal t-shirt quilts to use for summer picnics.
Kerry M.'s Premium Lap T-Shirt Quilts by MemoryStitch
Although the picture shows that they received their t-shirt quilts during the holidays, Kerry M.'s family can use their gifts while travelling to milder climates or during the summer where they are from. The best part about each of these memory quilts is how they both hold each recipient's memories they created while enjoying their passions.
Tom H's Premium T-Shirt Quilts by MemoryStitch
Tom H.'s family received their own t-shirt quilts as well. The conversation during a family picnic is sure to be filled with nostalgia as they remember and discuss their memories of high school activities and musicals with their respective memory quilt beneath them.  
Enjoying Solo Summer Days
While having a picnic with others is fun, having alone time is a great way to recharge for your next social event. Using a t-shirt quilt filled with one's travel and event experiences is sure to make each relaxing moment even better.
---
"I love to travel and everywhere I went, I would get a shirt. I tried to wear them, but we all know the tourist t-shirts can shrink rather quickly, so I set them off to the side. Then, I found MemoryStitch and I was ecstatic to have a way to preserve them and the memories of my trips. Such an easy process and the quilt turned out absolutely amazing!"
~Andrew B.
---
Being able to explore other parts of the world is exciting, but having a physical keepsake from each trip is a wonderful method of remembering those fun times. However, Andrew B. took this a step further and created a memory quilt of the t-shirts he purchased while traveling. From mild or tropical to cooler climates, these destinations are sure to help Andrew recall pleasant memories while having a nice picnic.
---
"Each year, once Cornell University and Ithaca College have had their commencements in Ithaca, NY, the Ithaca Festival of the Arts takes place. It features performances, craftsmen/artists, lots of food, and activities, along with an incredible parade celebrating the unique community in Ithaca. To help defray the cost of the Festival, tee shirts and buttons are sold. I have purchased many of these shirts. MemoryStitch provided a perfect way to utilize the shirts since I rarely wear them. I love the result and hope others will be inspired to order their own quilt."
~Jane G.
---
Based on her story, it sounds like Jane G. loves these summer festivals! A beautiful way to support these events was purchasing t-shirts and preserving them forever in a t-shirt quilt for an even more sentimental way of memorializing these experiences. Jane G. is sure to have a delightful picnic while sitting on this memory quilt.
Sweeter Summer Picnics with MemoryStitch
Being able to recall fond memories while having a lovely picnic in the summertime is just another perk for this tranquil experience.