Memorial Quilt Ideas for Bereavement & Loved Ones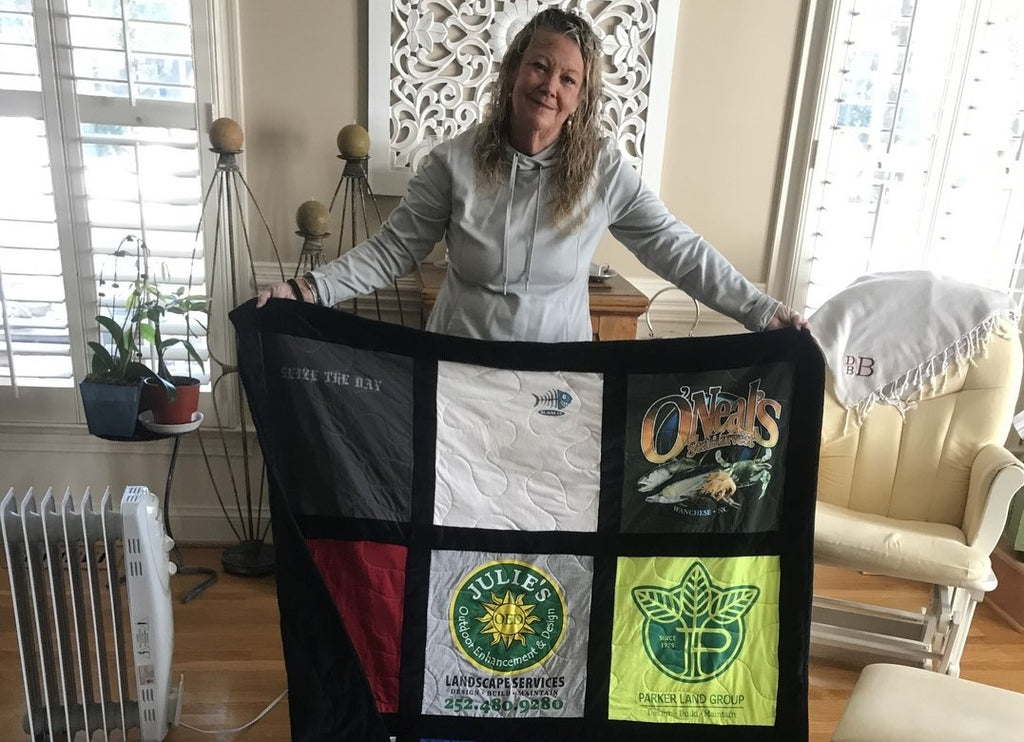 Memorial quilts are designed to honor the life of a loved one. Constructed of the loved one's clothing, or other items, memorial quilts may also allow their family and friends to continue to feel close to them.
T-shirt quilts make great memorial quilts, as they are made with items a loved one wore and loved. They hold memories of them, and each memorial quilt a unique keepsake to remember them by.
In this blog post, we've highlighted some memorial quilt ideas and different options available. We've also included some customer stories about memorial quilts they've made. 
Standard T-Shirt Memory Quilts
One of our more simple memory quilt square ideas is to make one using standard t-shirts. A t-shirt quilt is a great way to pull together eight to 64 clothing items into one blanket. This memorial quilt idea allows for a more affordable t-shirt quilt option while still keeping all those special memories in one place. 
Turn your loved ones favorite clothing into a memorable keepsake here.
Take a look at how Shannon and Kristen used our memorial quilt square ideas to remember their loved ones.  
"My grandmother passed away this year and I wanted to give my mom a special gift to remember her by so I sent in all my grandmothers shirts to have them made into a quilt. The blanket turned out better than I ever could have imagined." -Shannon H.

 
"My dear friend Sue died of cancer in August of 2020. I knew right away that a memory quilt from MemoryStitch would mean a lot to her dad and brother. I gave the quilt to her dad and brother last night and they love it very much. Thanks so much!" -Kristen L.
Premium T-Shirt Quilt
A premium t-shirt quilt is another great way to pull together anywhere from eight to 64 clothing items, all into one blanket. This memorial quilt idea is a more traditional t-shirt quilt option. The batting and long-arm stitching add additional weight and design, creating a unique quilt.
Check out how Carol and Kim used our memorial quilt ideas to make something to remember their loved ones by. 
"When our daughter passed away 6 years ago, we knew we wanted to create a tangible memory for our then 3 year-old grandson, something that would offer comfort and help him feel connected with the mother he barely knew. Memory Stitch was the perfect answer! I am so impressed with their customer service and timely communication, the quality of the lap quilt and the quick turn-around just as holiday time was near. We love the quilt and the memories it has preserved of her elementary school days, high school, college, sports teams, favorite places she visited, and most importantly her pink ribbon tee honoring how hard she fought for her son. Our memory quilt is a keepsake that will wrap him up in the stories that she was unable to share with him herself." -Carole D.
"My mom was diagnosed with cancer right after Christmas last year. On Feb 4th she went home to be with Jesus. My daughter saw the idea about a memory quilt and did research and chose Memory stitch. We were not disappointed! If anything, amazed at the result! We gave my father the quilt on what would have been their 62nd anniversary. He loves it and uses it! I can not recommend this company enough! Thank you for making our memory so beautiful!" -Kim A. 
Fuzz Monsta Memory Quilt
A Fuzz Monsta quilt is a great memorial quilt idea for those who only have six to 20 t-shirts to work with. They are also great for shirts with larger graphics. Fuzz Monstas have larger panels, added borders, and optional panel sashing. They can also be made standard or premium with long-arm stitching.
See how Dianne and Heather used our memory quilt ideas to create a memento of their family. 
"This blanket is made with my son's t-shirts. It is my most treasured gift from him as I lost him on April 17, 2020. I love to snuggle with it as it melts my heart ♥️ Thank you so much Memory Stitch!!!"

-Dianne D.
"My husband passed away September 2020. I ordered a blanket for my step son with all of his dads favorite t-shirts. It came out amazing. We both cried when he opened it on Christmas. It was so soft and exactly what I wanted. He sleeps with it every night. Brings him so much comfort..." - Heather S. 
T-Shirt Pillow Memory Quilt
A t-shirt memory pillow works for those who only have one to four t-shirts to work with. T-shirt pillows come in two sizes, and our soft minky backing is your color choice. They are a great option if you only have a couple of items to work with or if you have a lot of people you'd like to give a memorial keepsake.
Notice how Janice and Aimee took inspiration from our memorial quilt ideas to make something special for their families. 
"My courageous daughter, Juliet, was not expected to live past the age of five. She fought hard against the Mitochondrial Disease that weakened her body each day. We celebrated her 16th birthday with her In September, and she passed shortly thereafter. Juliet was a miracle, and she loved to snuggle. I love snuggling up with this awesome pillow each day as I remember her sweet smile."

- Janice B. 
"This was one of 3 pillows that were given as gifts. They were a hit! These were my dad's shirts, all came from our vacations in Maine. He passed away in early 2020. I gave the pillows to my cousin and his kids. It's like a hug from heaven. 😊" -Aimee R.  
Get Premium Memorial Quilts You'll Love
Have other great memorial quilt ideas? Leave them in the comments and let us know! For questions and inquiries about our products, email info@memorystitch.com or call 1-855-792-4205.