It's Time to Prepare Your Holiday Gifts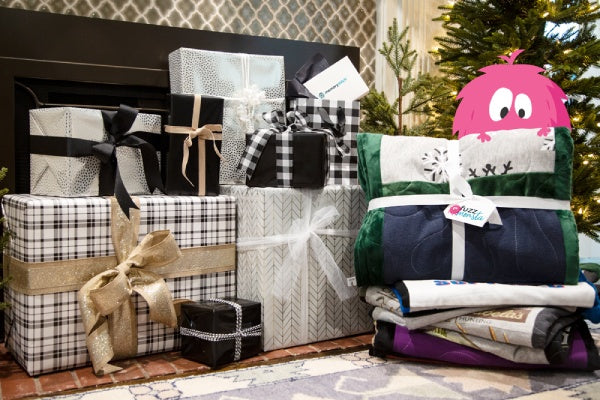 With fall just about to begin, now is a great time to start planning holiday gifts for your loved ones, friends, and family members. With National Family Day taking place on September 26 in the United States, we have the perfect gift idea for you to kickstart the gift-giving season: a t-shirt quilt!
A Smooth Process With MemoryStitch
MemoryStitch offers a variety of t-shirt quilt products as well as physical and e-gift cards. The general process to create a t-shirt quilt is easy:
Collect all the loved and memory-filled shirts you would like to be included.
Choose the t-shirt quilt product you would like.
Prepare the shirts or have MemoryStitch prepare them for you.
Ship everything to MemoryStitch.
Once your t-shirt quilt product is ready, MemoryStitch will ship it back.
It really is that simple! You can expect to receive your quilt around two to four weeks after the date you ship your shirts to MemoryStitch. Sending shirts in sooner than later, especially for custom orders, will allow for your gifts to arrive on time as the holiday rush begins.
Wondering how your loved one will feel about their t-shirt quilt when they receive it during the holidays? Check out these testimonials from guests who created these wonderful memory gifts for their family!
---
"My daughter, Molly, gave me her t-shirts about four years ago when she was a sophomore at OSU and told me she'd like a t-shirt quilt made from them. She has since graduated from OSU and has a job that she loves in her chosen field. I surprised her this Christmas with her quilt – she loves it! Thank you!"
~Melissa S.
---
---
"My son loves musical theater and has missed performing on stage and going to live performances during the pandemic. He always asks for theater tickets for his birthday and Christmas. For Christmas this year, I sent MemoryStitch all of his musical theater t-shirts that he has outgrown. They created an amazing quilt for him! Not only is it cozy, but it reminded him of all the wonderful performances he has seen and gave him hope that he would be back in the theater soon! Thank you, MemoryStitch, for helping me give the gift of theater when I thought it wasn't possible!"
~Kristine C.
---
---
"Our 21-year-old daughter passed away this year after a 21-month long battle of Melanoma Cancer. I had saved some of her shirts knowing I wanted to do 'something,' but not quite sure what. Then, I came across your company and seeing that you were in the Omaha/Lincoln area clinched it for me as that is where I grew up and I knew it would be done right. :)....which it was done beautifully.
I surprised my husband with this morning to him from our daughter so he can now have his own 'blankie' and feel close to our daughter.
Thank you doesn't seem to say enough, but a humble thank you for your beautiful service you offer."
~Bobbie A.
---
---
"I'm absolutely in love with the blanket. It was a Christmas gift for my mom. It's her father's button up shirts and MemoryStitch made it possible to make it the most special blanket for my mom as well putting all his button up shirts on this blanket. Thank you so much, MemoryStitch!!!"
~Bree P.
---