Immortalized Love: Cherishing Nearly Three Decades Together with a Memorial T-Shirt Quilt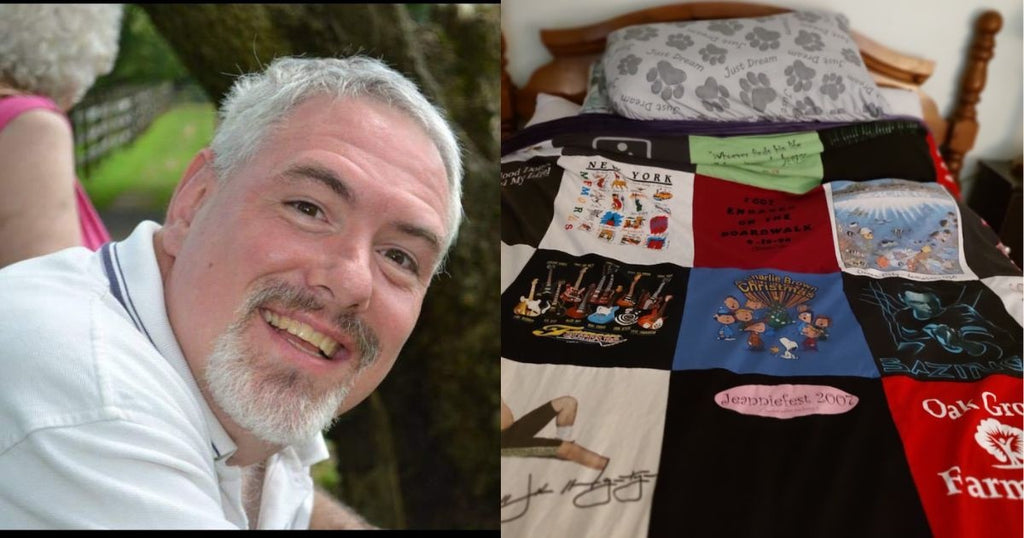 It happens often: two people meet at a young age, fall in love and begin an intertwined life journey. Their relationship is solidified when they pledge to spend the rest of their lives together, but sadly, most times, one of them passes away before the other. After spending years as a couple, it can be challenging for the surviving partner to move on without their loved one. They have created plenty of cherished memories that they do not want to forget, and one way to preserve these memories is by creating a memorial t-shirt quilt.
Tammy C. Created This Memorial T-Shirt Quilt to Cherish the Love She Shared with Her Husband
Interview with Tammy C.: Preserving Memories with a Memorial T-Shirt Quilt
Tammy C. Was Able to Enjoy Her Husband's Smile for Almost Three Decades
How did you discover the concept of memory quilts? 
Tammy: I researched t-shirt quilts and came across MemoryStitch, looking into the company more once I found them.
After seeing the various products MemoryStitch offers, Tammy C. ordered a Standard T-Shirt Quilt for herself.
What inspired you to create a memorial quilt?
Tammy: I lost my husband, Greg, from COVID suddenly in 2020. He was the love of my life, my soulmate and best friend. My life has never been the same. We were together for 29 years and made it to 24 years of marriage. We were looking forward to 25 years. I miss him every second of every day. My heart is broken 💔.
Tammy C.'s pain is easily understandable after being with her husband for nearly three decades. It can be difficult to begin a new life without them, though Tammy C. was able to keep her husband's memories alive with a memorial quilt.
Tammy C. and Greg on Their Wedding Day
What t-shirts can be found in your memory quilt?  
Tammy: I used my husband's t-shirts and some of my own that I wore throughout the years. Every shirt has a story, and my husband is part of it. I absolutely love my quilt. It's on my bed and I sleep under it every night.
It is touching that Tammy C. combined both her own t-shirts and her husband's to represent how their lives have been one since they first started dating. Keeping these t-shirts close to her brings Tammy C. comfort at night.
Tammy C. Keeps Her Memorial Quilt Close to Provide Her with Comfort
How has having a memorial t-shirt quilt impacted your grieving process?
Tammy: It has comforted me a lot. I show it to my friends and family when they visit. Some of the shirts remind me of times with him and make me sad, but others make me smile.
MemoryStitch's mission is to create cherished one-of-a-kind keepsakes by reviving people's well-loved mementos so that they can continue to tell their stories with them for years to come. With her memorial quilt, Tammy C. can keep sharing stories from her life's journey with her late husband.
Tammy C. Can Always Remember the Love She Shared with Greg
What does MemoryStitch mean to you?
Tammy: It means so much to me. It's priceless. Instead of boxing up or giving away all these shirts, this is a special way to have them as a keepsake for every day.
MemoryStitch cares about how we make people feel, and we are so glad that Tammy C. has loved her memorial quilt since she received it.
Some of the T-Shirts Tammy C. and Her Husband Wore During Their Life Together
What would you say to others considering a MemoryStitch memorial t-shirt quilt?
Tammy: I have already told others to get their t-shirts made into a quilt from MemoryStitch. I recommend it to everyone.
Tammy C. also shared that her sister-in-law, Jean M., passed away from Leukemia four months after her husband, Greg. Since her experience with MemoryStitch has been exactly what she had been looking for, Tammy C. plans to use her sister-in-law's t-shirts to create another memorial quilt to keep Jean M.'s memories alive, too. 
Closing Thoughts
Memorial quilts honor those who have passed away. While their surviving loved ones cannot create new memories with them, the stories their t-shirts tell within the memorial quilt can live on forever.
Tammy C.'s journey with MemoryStitch demonstrates how much a memorial quilt can help guide her through the grieving process as she begins a life without her late husband. By striving for careful attention to detail, committing to telling each person's story and understanding how emotional this process may be, MemoryStitch transformed the t-shirts Tammy C. sent in into a physical reminder of the love she shared with her husband.
While you consider beginning your own memorial t-shirt quilt journey, know that MemoryStitch is here for every step of the way. We realize how important it is to preserve memories, so we promise to work with you to make a fully customized and sentimental tribute to your loved one. Let their legacy continue with a memorial t-shirt quilt so that their stories and memories can be shared with future generations.