A Treat For You and Them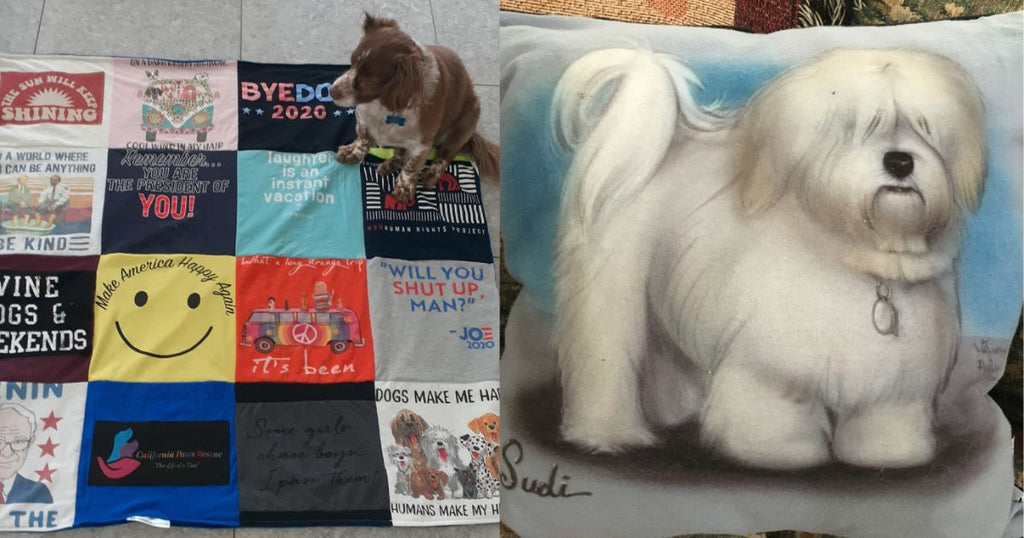 A fun mantra to have is to treat yourself when you have earned it, but what about your beloved pet? They might get a daily treat or a new toy that does not last for very long, but getting your animal companion an adorable t-shirt gift on National Splurge Day (June 18th) is a great long-term treat.
For the Snugglers
Owning a pet is one of the many joys in life. If you are able to, playing and cuddling with your animal friend is a rewarding experience for both owners and pets since it allows for fun breaks, comforting times, and plenty of love.
Tiffani L. is one of many owners who loves her pets (and all animals).   
---
"As you can see from the panels of my quilt, I'm passionate about equality and animals, especially my dogs – one of them thinks he's a supermodel. MemoryStitch is a great organization; they keep the fabric of our memories alive!"
~Tiffani L.
---
Tiffani L. had a standard lap size t-shirt quilt made by MemoryStitch that features a few t-shirts with graphic images of a variety of dogs. One shirt in the top row has dogs in an old school van where they are presumably enjoying the "cool wind in [their] hair." Another t-shirt in the third row offers an image of dogs sitting on the roof of another old school van, and a shirt in the last row shows a group of smiling dogs with the simple top line caption, "Dogs Make Me Happy."
Based on these t-shirts and her story, it is obvious how much Tiffani L. enjoys fun designs and loves dogs. Her picture she sent in is great because it features one of her dogs as a "supermodel," and is perfect to demonstrate how a lap size t-shirt quilt can make a wonderful addition to a pet's daytime nap.
To Memorialize Your Love
While many wish otherwise, sadly, pets do not live forever. Countless individuals want to remember their animal companions, and Barb P. created a t-shirt pillow to memorialize her dog, Sudi.
Barb P.'s T-Shirt Pillow by MemoryStitch
Pet portraits are becoming more common, and Barb P. took this a step further by having Sudi's portrait printed onto a customized t-shirt and sending it to MemoryStitch to be turned into a memory pillow. This t-shirt could have become torn or lost in a closet, but putting it onto a cozy pillow can allow Barb P. to hug it and be comforted in her moments of grief while remembering the softness of her beloved dog.
Keep Them Comfortable with A Memory Quilt
Pet owners often treat their pets, and a cozy quilt would certainly comfort a pet while their owner cannot be with them. Create a sweet memory quilt, t-shirt pillow, or t-shirt pillowcase so they can always be comfy while you cannot offer them cuddles!   
If a loved one is missing their pet after their animal friend has passed away, cheer them up with an e-gift card so that they can make the perfect memory quilt to remember their lost companion.