Forever Remembered: Honoring the Legacy of a Beloved Son with a Memorial T-Shirt Quilt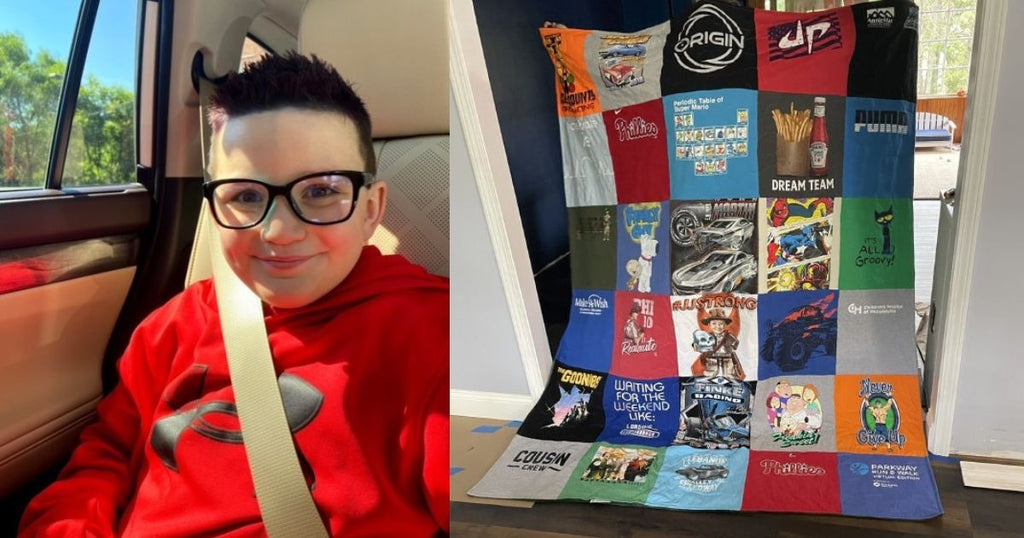 In a world where memories hold immeasurable value, there exists a profound way to preserve them using a simple fabric – the memory quilt. As the name implies, these unique creations breathe life into cherished moments, offering solace and comfort to those who have experienced loss. While some memory quilts utilize t-shirts from school or extracurricular activities, others embrace a deeper meaning by becoming a tangible tribute to loved ones who have departed.
Joseph P. Created This Memorial T-Shirt Quilt to Honor His Son's Legacy 
Interview with Joseph P.: Preserving Memories with a Memorial T-Shirt Quilt
One of Joseph P.'s Memories of His Son Is His Contagious Smile
How did you discover the concept of memory quilts? 
Joseph: I found MemoryStitch by researching places to make a blanket from t-shirts. My wife was telling me that she saw there were people who take t-shirts and make a blanket out of them. So, it was my mission to find a place – and find a place that I trust because I couldn't get more of my son's shirts.
Once Joseph discovered the exceptional services offered by MemoryStitch, he seized the opportunity to give his wife a remarkable Christmas gift – a Standard T-Shirt Quilt adorned with their late son's cherished shirts. This heartfelt gesture became a profound expression of love, allowing their shared memories to be beautifully preserved and treasured for a lifetime.
What t-shirts can be found in your memory quilt?  
Joseph: I used my son's t-shirts; we lost him at age 11 after a two-and-a-half-year battle with cancer. Those shirts are very special to us because we will never get any more shirts that were worn by him.
By incorporating their son's cherished garments into a memorial t-shirt quilt, Joseph P. and his wife find solace in knowing they need not part with their late son's belongings, preserving a tangible connection to his essence and providing comfort in their grieving process. 
Joseph P. Used His Son's T-Shirts to Preserve His Memories
How has having a memorial t-shirt quilt impacted your grieving process?
Joseph: Having that blanket on our bed helps us keep the memory of our son with us all night long. It's such a blessing because every time we walk in our room, we see some of his favorite shirts. Some remind us of the hard times fighting cancer while some make us laugh and remind us of the funny shirts he loved. Some remind me of the dreams that we had planned, but I can no longer fulfill them with him.
While Joseph P. cannot create new memories with his son, the ability to effortlessly recall and cherish the ones they shared through a simple glance at his memorial t-shirt quilt becomes an extraordinary means of keeping his son's presence in his mind and heart. 
Joseph P. Keeps His Memorial T-Shirt Quilt on His Bed to Always Remember His Son's Fun-Loving Personality
What does MemoryStitch mean to you?
Joseph: MemoryStitch means so much to me because it was very hard trusting a company that I've never dealt with before, and I'll tell you that they knocked it out of the park. The blanket they made for me exceeded my expectations by so much.
What would you say to others considering a MemoryStitch memorial t-shirt quilt?
Joseph: If you're thinking about using MemoryStitch and are nervous about it, I can tell you from the first email to the day I received the blanket, they were very nice, honest and we received our order very quickly. When I filled out the paperwork to mail in with all shirts, I checked a box wrong, and they got in touch with me to make sure they did what I wanted them to do before they cut any of the shirts. They made sure it was what I wanted. I can't say enough good things about MemoryStitch – they are an amazing company to work with.
With a Memorial T-Shirt Quilt, Joseph P. Can Always Cherish the Love He Shared with His Son
Closing Thoughts
The concept of memorial t-shirt quilts beautifully weaves together the threads of remembrance, offering a tangible way to honor and remember loved ones who are no longer with us. These quilts become cherished possessions, serving as a comforting presence and a testament to the enduring power of love.
Joseph P.'s journey with MemoryStitch showcases the transformative impact of a memorial t-shirt quilt. Through careful craftsmanship, dedication and empathy, MemoryStitch brought his vision to life, exceeding his expectations and providing solace during his grieving process.
As you consider embarking on your own memorial t-shirt quilt journey, take comfort in the knowledge that MemoryStitch stands ready to guide you. We understand the profound significance of preserving memories and will work with you to create a unique and meaningful tribute. Let your loved ones' legacies live on through a memorial t-shirt quilt, ensuring that their memories remain forever etched in your heart.