Snuggle in Love: Couple T-shirt Quilts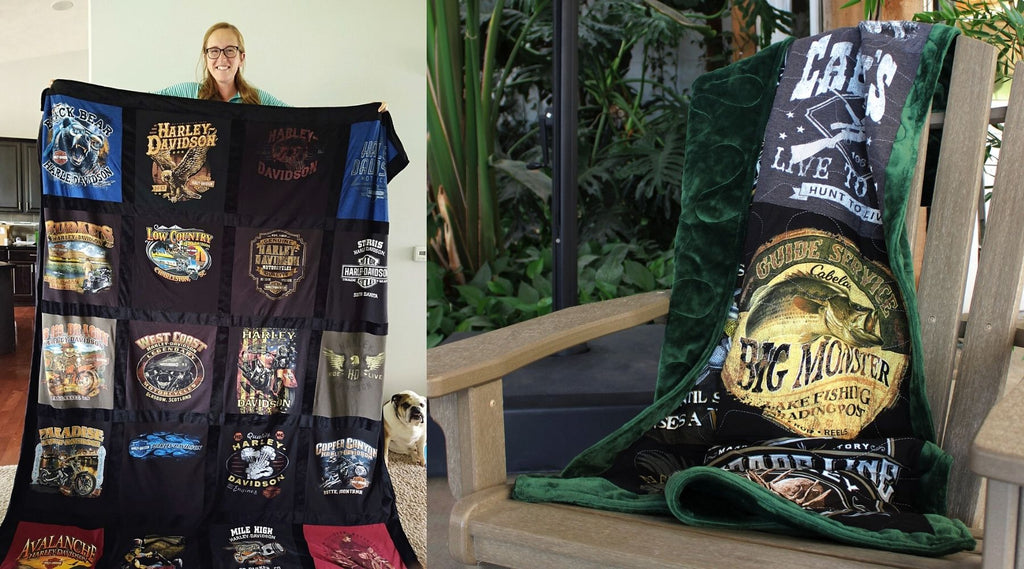 Many people spend endless hours searching for a unique Valentine's Day gift to show their love and find themselves succumbing to cliche gifts. If you're ready for a unique gift that will win you brownie points and help you tell the story of your love, then you've found it!
A Celebration of Your Love in a Quilt
Imagine snuggling up next to your loved one under a quilt filled with shared memories during a date night on Valentine's Day – and many dates after. A t-shirt quilt is the perfect Valentine's Day gift for cute couples who want to celebrate their love in a unique way.
Join your sweetheart this Valentine's Day, pick out your favorite t-shirts together, and create a memorable gift that you can snuggle up with every day of the year!
A Unique Valentine's Day Gift Filled with Love
Creating a quality t-shirt quilt to commemorate your love is fast and easy! There is an option perfect for every couple – the Fuzz Monsta quilt! This unique quilt gift is sure to become a cherished keepsake. But what makes it so perfect?
Why Tell Your Story with a Fuzz Monsta Quilt?
One reason is you can tell your story together. If you both only have a few shirts to use and want to snuggle up with the softest quilt EVER, then you're going to love this. Grab the t-shirts you've collected from your shared interests, adventures, or other memory-filled occasions and create a cozy Fuzz Monsta quilt.
The Fuzz Monsta has Minky backing, borders and sashing with large t-shirt panels – allowing you to wrap up in a super soft and plush cuddle fabric! There are two sizes available (3x4 and 4x5), seven Minky color options, and even an option for commemorating the occasion with a special embroidered message!
You can also make a t-shirt quilt with just your shirts for your partner to use – making the Fuzz Monsta a perfect gift idea for long distance couples, couples who travel a lot, or couples who don't live together. Once your partner has this quilt, they'll be able to wrap themselves in your love any time you are apart.
Wrap Yourself in Love
Don't waste time and money on a frivolous gift this Valentine's Day that does not hold any sentimental value. Wrap your partner in love with a cuddlable t-shirt quilt that will cherished for many years to come.
The Fuzz Monsta is a unique gift sure to delight your sweetheart. If you place an order on Valentine's Day, then you'll should expect it to be delivered in March.
Share how you'll tell your love story this Valentine's Day in the comment section below.