Commemorate Your Service with a T-Shirt Quilt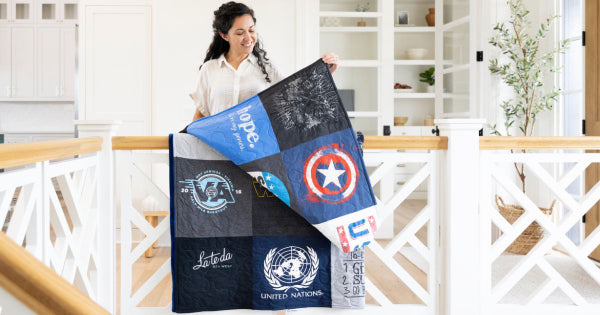 November 11 is a day for everyone to recognize Veterans for their service. With a t-shirt quilt, active military and Veterans themselves can remember their time in the Armed Forces throughout the year.
To Honor One's Service
Serving in the military can create a variety of emotions and memories for Veterans, yet a sense of pride and duty to one's country may be felt by Veterans and their families alike. Creating a t-shirt quilt can provide a physical reminder of those feelings for Veterans, their loved ones, and any viewer, much like the one Dana C. had made. 
Dana C.'s Fuzz Monsta by MemoryStitch
Memories for a Military Family
Countless individuals who are serving or have served in the Armed Forces have families who have also been affected by their service in various ways, such as by needing to relocate. A military family can collect memories from different locations and might also want to remember them fondly in a t-shirt quilt.
As Bobbie Jean M. states, her family accumulated plenty of t-shirts over the years as they were easy to travel and move with. She created a t-shirt quilt for her son's graduation gift as a way for him to readily recall his own life's story within a military family as he moves on to begin his next path in life.  
---
"A t-shirt quilt was the perfect way to utilize all the shirts I'd kept for my son. As a military family, we travel and move often. Shirts were an easy and usable souvenir. MemoryStitch did a fantastic job compiling his quilt and we gave it to him for graduation."
~Bobbie Jean M.
---
In Memorial
Veterans make a lot of sacrifices to serve their country, but that does not mean their service cannot be remembered once they have passed away. Memorial t-shirt quilts are a great way to find comfort in losing a loved one and honoring their time in the Armed Forces, much like Vicki H. did.
---
"My husband passed away unexpectedly about six months ago. I wanted to have a lasting memorial of his life and having his shirts made into a quilt was a great way to do that - from his favorites to my favorites, to places he worked and volunteered - they tell a story of his life! It's warm and cozy and I love wrapping up in it on these cold winter nights. Thank you for creating a beautiful forever memory of his life!"
~Vicki H.
---
Preserve Your Military Memories with MemoryStitch
Veterans have experiences and memories that the average individual may not be able to fully understand, but with a t-shirt quilt, their service can be honored forever.