A Parent's Love Lives Forever: Immortalizing a Close Mother-Daughter Relationship with a Memorial T-Shirt Quilt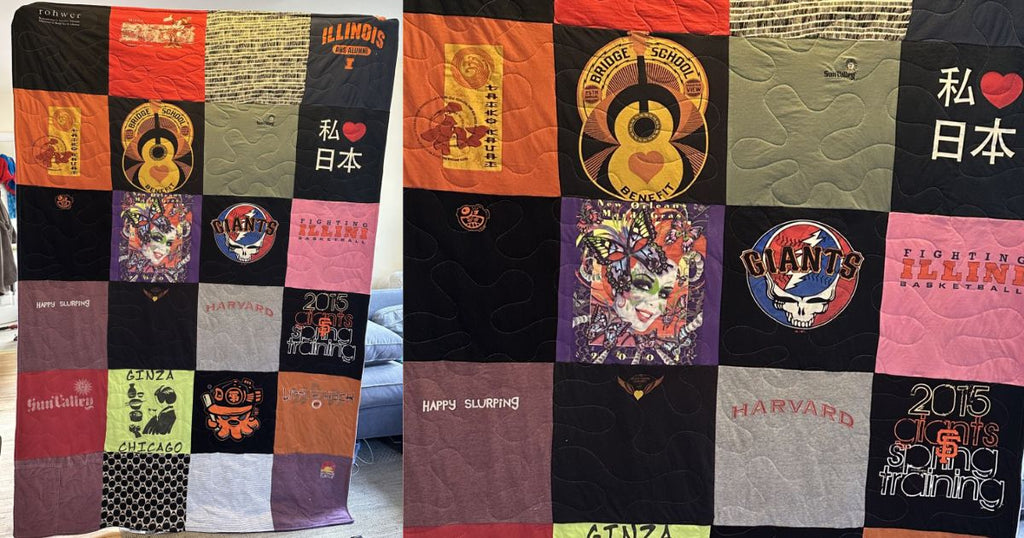 A parent's love can be the best gift one receives over their lifetime. Through fun experiences, difficult periods and in times of need, a parent is there to offer their support, encouragement, advice and love. When a child's parent passes away, it can be difficult to overcome this loss. Their first best friend and confidant is gone, but the memories remain. Creating a memorial t-shirt quilt to remember a parent who has passed away can preserve these memories for future generations, so that all their descendants can know how much love they gave while they were alive.
Erin B. Made This Memorial T-Shirt Quilt to Honor Her Mother and Capture the Love They Shared
Interview with Erin B.: Honoring a Mother with a Memorial T-Shirt Quilt
How did you find MemoryStitch?
Erin: I searched for t-shirt quilts and came across MemoryStitch, who offered the best price for what I wanted to create.
MemoryStitch offers high quality t-shirt quilts at an affordable price. After careful consideration, Erin B. chose a twin-size Premium T-Shirt Quilt with Long-Arm Stitching.
How has a memorial t-shirt quilt helped preserve the memory of your loved one?
Erin: My mom passed away unexpectedly in 2021. As I was cleaning out her closet, I wanted to save so many of her shirts that I remember her wearing so often. Then, I remembered hearing about t-shirt quilts and thought it would be a great way to honor her, help preserve the memories I have of her, and help me through my grief.
Erin B. turned a tragedy into a positive experience. After the sudden loss of her mother, she transformed the memories she had of her mother into a physical and sentimental keepsake to keep her mother's love alive.
Erin B. Incorporated Her Mother's Heritage in Her Memorial T-Shirt Quilt
What t-shirts are in your memory quilt?
Erin: All of the shirts were my mother's. She loved t-shirts and I have so many various memories return to mind when I see each one. The quilt feels like it embodies her essence. She had shirts relating to her Japanese-American heritage, including a shirt representing her birth place, inside a WWII Japanese-American internment camp. I also included a corduroy button-down shirt that she wore often.
Based on this statement, Erin B.'s mother must have had a rich life journey that made her just as unique as the love she shared with her daughter. Being able to showcase memories of her mother through her t-shirts is a special way Erin B. can keep their love close to her heart.
How has having a memorial t-shirt quilt impacted your grieving process?
Erin: I literally cried when I received my quilt. I hugged it, as if I was hugging my mom. I put it on my bed every night and know she's with me (in memory). I'll squeeze it tight or curl up on the couch with it when I'm missing my mom more than usual. The quilt has given me comfort and allowed me to feel connected to my mom, even though she has passed away.
A hug from a parent can bring a vast amount of comfort, and having the ability to continue hugging her mother using a memorial t-shirt quilt can help Erin B. positively overcome her grief.
What does this memory quilt mean to you?
Erin: This quilt represents my mom and I feel comforted having her shirts preserved in a beautiful and functional way!
Memorial t-shirt quilts remember the loved ones people have lost without sacrificing any of their memories. Their legacy can live on through a physical and snuggly reminder of the memories they created during their lifetime.
What would you say to others considering a MemoryStitch memorial t-shirt quilt?
Erin: I highly recommend MemoryStitch! The t-shirt quilt had a fast turnaround, I experienced great customer service, these are affordable prices, and clearly has high-quality workmanship!
Erin B. had such a wonderful experience telling and honoring her mother's story with a memory quilt that she will be making a kid's t-shirt quilt using her son's sports jerseys. She believes that a t-shirt quilt is a great way to honor memories for anyone.
Closing Thoughts
T-shirts can be an easy method of remembering memories of a person, place, time or event, and creating a memorial quilt means preserving these shirts without damaging them or the special moments attached to them.
MemoryStitch prides itself on delivering an outstanding way to tell someone's story. Careful attention to detail is used in every step of the process to create a unique memento for recipients to cherish forever. Erin B. was able to experience this firsthand and can always hug and remember her mother's memories while feeling the love they shared. 
As you decide to start your own memorial t-shirt quilt journey, remember that MemoryStitch is here to guide you and always happy to assist you. We understand how preserving someone's memories is important to honor them, and we promise to help you create a one-of-a-kind tribute to your loved one. Their life's journey can be told to future generations with a memorial t-shirt quilt, so the love they provided can be felt by all. 
Get started on your memorial t-shirt quilt