5 Tips to Increase the Longevity of Your Memory Quilt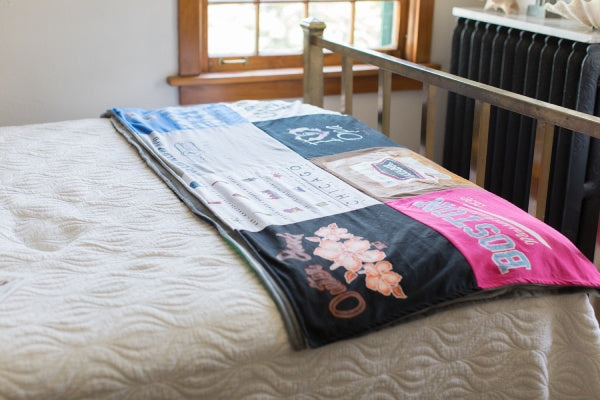 Memory quilts are filled with stories and passions of their owners. From Greek Life memories to music festivals, from sporting events to other moments commemorated with t-shirts, keepsake quilts benefit from proper care and upkeep to last a lifetime – just like special memories! Here are five tips to make sure that your unique MemoryStitch t-shirt quilt has a long lifespan!
 1. DO Wash Your Memory Quilt When It Gets Dirty
Just like any other quilt or blanket, your memory quilt will accumulate some dust or dirt over time. You can gently shake off any debris outside, brush it with a lint roller or use a vacuum with a hose attachment on low suction. If your keepsake needs further cleaning, make sure to machine wash on cold as the only item in the washing machine. You can air dry the memory quilt or tumble dry on the lowest heat setting.
 2. DON'T Use Harmful Products or Heat
To keep from damaging your memory quilt, avoid using excessive heat to speed up the drying process, such as ironing or machine drying on a high heat setting. Using bleach to remove any stains can also damage the memory quilt. Use safe stain-removing solutions, such as adding a degreaser dish soap over any stains before washing.
 3. DO Store Your Memory Quilt in a Safe Location
Your customized memory quilt is special, so be sure to keep it stored properly. This means that when it's not in use, you should keep it away from areas prone to moisture to prevent any water damage.
 4. DON'T Hesitate to Use Your Memory Quilt as a Quilt
While keeping your memory quilt in tip-top shape is essential, you can also snuggle into your memories as often as you want. This can bring comfort, nostalgia and coziness all at once.  
5. DO Share the Stories Your Memory Quilt Tells
Every memory quilt is a one-of-a-kind keepsake and deserves to be seen by everyone. Sharing the stories of the t-shirts in your memory quilt is what makes it a memory quilt!